Thursday, August 26, 2021 10:00 AM (GMT+7)
The US Department of Defense's X-37B spy plane is one of the most fascinating spacecraft in the world, performing routine covert missions for which its purpose is not fully known. But over the years, information about the technology used on this spacecraft, also known as the Orbital Test Vehicle (OTV), has come to light.
Secret spaceship X-37 of the US Department of Defense.
Here, we take a look at 10 things that can be said for sure about secret spaceships.
Basic information
The reusable X-37B, like a smaller version of one of NASA's now retired space shuttles, originally built by NASA in 1999, It's about 8.8m long and 2 feet tall, 9m, with a wingspan slightly less than 4.6m. It weighs 4,990kg when on the launch pad.
Like the space shuttle, the X-37B takes off vertically and is propelled by rockets. Once in orbit, it was able to maneuver on its own, and it eventually landed on a runway back to Earth, just like a regular plane. This vehicle has a small payload, roughly the size of a sleeper pickup truck, and can carry little furniture and satellites. It operates at an altitude of 240 to 805km above Earth, according to manufacturer Boeing.
Other military branches have had it for many years
NASA delivered two X-37Bs to the Pentagon's Defense Advanced Research Projects Agency (DARPA) in 2004. After being operated by the US Air Force for many years, robotic spy planes have within the sights of the newly created Space Force in 2020.
No one knows what it's supposed to do
The United States Air Force's X-37B spacecraft, an unmanned miniature space shuttle, is seen after landing at NASA Space Center's Kennedy Space Shuttle Landing Facility on October 27, 2019 to end its record 780-day OTV-5 mission.
Despite six missions to date, the X-37B's true purpose remains a mystery. Some possibilities include monitoring the Earth's surface from above and deploying reconnaissance satellites, though nothing has been confirmed yet.
Many outside theories have been proposed, such as the notion that the X-37B could be a space bomber, a vehicle for spying on the Chinese space station, or a vehicle for the military. The US jams other countries' satellites.
It can survive in space for many years
One of the two X-37Bs completed its first launch in 2010 and spent 224 days in space. Its partner vehicle flew for the first time a year later and remained in orbit for more than twice as long.
The spacecraft's current record is 780 days (more than two years) in orbit, which occurred during X-37B's fifth flight. However, what it did there during that time remains a mystery.
It can be launched with a SpaceX rocket
While the X-37B typically rides the United Launch Alliance's Atlas V rocket into space, the vehicle is capable of launching with different rockets. On its fifth mission in 2017, the military changed it up a bit and used a SpaceX Falcon 9 rocket to get it into orbit.
Civilians photographed X-37B
Although part of a secret military weapon, the X-37B is not immune to being detected by civilian skywatchers. The launch time of this spacecraft is publicly announced. This allowed satellite tracker Russell Eberst of Edinburgh, Scotland, to determine its position in the sky and see it through a telescope in October 2017. Sky management company Cees Bassa is based The Dutch headquarters did the same that year.
And a Dutch skywatcher and satellite tracker named Ralf Vandebergh was able to photograph the robotic car as it rotated overhead in 2019.
It can perform experiments
Not long before the most recent X-37B launch in 2020, the US military revealed that the spy plane has a new service module attached to the rear that allows a large number of tests to be carried out. experiment in orbit.
The mission deployed a small satellite called FalconSat-8, which contains five test payloads, some developed by the US Air Force and some developed by NASA.
Although NASA has stated that it has tested the X-37B flight before, this is the first time the military has revealed any specific details about it.
It won an award
In 2020, the X-37B was awarded the Collier Trophy, one of the most prominent awards in aviation, for pushing "the boundaries of flight and space exploration". "The X-37B's technology is very sophisticated and uses non-deformable technology. It can be reused and run experiments in space, and then returned to it," said Air Force Chief of Staff Barbara Barrett. Earth for further examination".
Source: https://tienphong.vn/10-dieu-it-biet-ve-phi-thuyen-bi-mat-x-37b-cua-my-post1369689.tpoSource: https://tienphong.vn/10-dieu-it-biet-ve-phi-thuyen-bi-mat-x-37b-cua-my-post1369689.tpo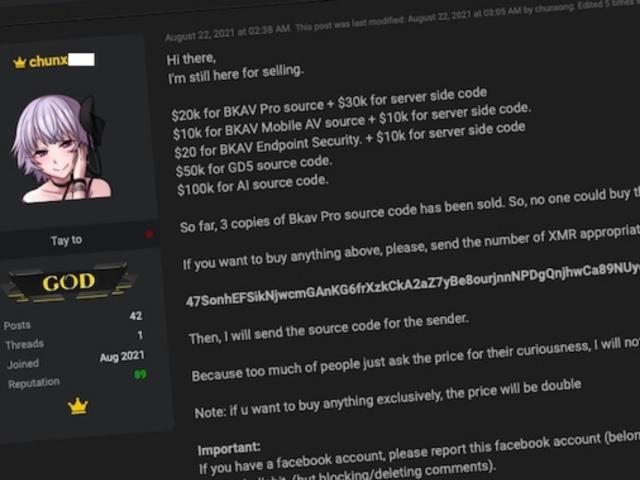 The case of hackers selling the source code of products and documents of BKAV technology group has caused a stir during the past time.
.