Tuesday, August 3, 2021 10:00 AM (GMT+7)
A Nasa project has shown that women are well suited for space exploration. However, so far, very few female astronauts have been sent to space.
According to unofficial statistics, so far in the world, more than 50 female astronauts from 7 countries have conducted space flights. However, this number is meager compared to the potential that female astronauts can have.
And in fact, female astronauts never seem to rank high on NASA's priority list. In its history of aerospace operations, NASA has only employed all-male crews for decades.
For example, of the 566 people who have traveled to space, only 65 people (accounting for 11%) of them are women. The reason, NASA has limited the sending of female astronauts into space because it thinks that only men can fully undertake this great mission, in addition, there is a very 'funny' excuse from not having a female astronaut. size protective clothing for women.
"Spacesuits mostly fit male astronauts rather than female astronauts. Because women are smaller in stature, it is quite troublesome to find a suitable suit to go to space," a Nasa member once stated.
Women are better suited to go to space
We are often familiar with images of tall, strong men in oversized space exploration costumes. However, a number of recent studies have shown many extremely convincing reasons that it is women who possess more advantages in this particular job.
Specifically, women are lighter than men, so when they have to carry a large load in space, there are a series of consequences such as the design of the spacecraft needs to be changed, more fuel consumption, logistics costs. more costly. Therefore, the presence of female astronauts will help reduce these problems.
Women eat fewer calories and use fewer resources: Studies have shown that women require 15 to 25% fewer calories than men, despite performing the same amount of work, with equivalent efficiency. Additionally, since women are (on average) smaller than men, they also produce less waste (CO2 and body waste), making the spacecraft's recycling system more efficient.
Space features have different effects on men and women: Due to the effects of microgravity and radiation, astronauts may experience some negative effects on physical health. Recent studies have shown that men are less affected by "motion sickness" during space flights than women, but are at a greater risk of developing hearing loss more quickly, as well as suffering from other health problems. higher vision problems.
Women frequently outperform men in situations where prolonged isolation is required. Not only that, when setting foot in the space environment, astronauts are exposed to cosmic radiation, and this ray causes a lot of harm to the body, including increasing the risk of cancer and other problems.
Some studies show that women are favored with special mental qualities, which are quite ideal for space exploration missions. In a survey at the International Space Station (ISS), a NASA researcher found that male astronauts are more likely to be upset and frustrated than female astronauts in certain situations. some difficulty.
Similarly, in a study of 349 people in the British Antarctic Survey, 20% of whom were statistically female 'specially adaptive' in the long run, tolerating long-term isolation good term. Men do best on short-term, goal-directed tasks, while women do better on longer tasks that present unexpected challenges.
In the fight for gender equality, women have proven they are capable of anything – including conquering space, showing that even the sky is not the limit for success. their.
In fact, female astronauts never seem to rank high on NASA's priority list. But now, the space agency seems eager to make up for its past mistakes. Specifically, NASA plans to send the first woman to the Moon in 2024, 55 years after the first man set foot on the Moon in 1969. The project was quickly announced after former President Donald. Trump agreed to propose Congress to spend an additional $1.6 billion on this historic expedition.
Famous female astronauts
Vladimirovna Tereshkova, Soviet nationality (born March 6, 1937) – the first female cosmonaut in the history of human space exploration. On June 16, 1963, she flew into space aboard Vostok 6, in a Chayka (Gull) flight around the Earth 48 times with nearly 3 days.
Svetlana Savitskaya (born August 8, 1948 in Russia) – the second female cosmonaut to fly into space, 19 years after Vladimirovna Tereshkova. She flew on the Soyuz T-7 spacecraft to the Salyut-7 Space Station in 1982. While on the Salyut-7 space station, Savitskaya was the first woman to perform a spacewalk (April 25). July 1984). She went outside the Salyut-7 space station in 3 hours and 35 minutes.
Sally Kristen Ride (born May 26, 1951) – the first female American astronaut to fly into space in the crew of the space shuttle Challenger on flight STS-7 on June 18, 1983. Before that, two Soviet women, Valentina Tereshkova, flew into space in 1963 and Svetlana Savitskaya in 1982.
Shannon Matilda Well Lucid (born January 14, 1943) – American female astronaut holds the record as the woman with the longest time living and working in space. In 1996, she lived and worked in space for 188 days, including 179 days in the MIR space station. In total, she made five space shuttle flights: Discovery (1985), Atlantis (1989, 1991 and 1996) and Columbia (1993).
Ms. Roberta Bondar (born December 4, 1945) – doctor of medicine, Canada's first female astronaut to fly and space. She is trusted by the US Space Agency (NASA) in the field of space medicine. She flew into space aboard NASA's space shuttle Discovery on mission STS-42 performing missions in the IML-1 space laboratory from January 22-30, 1992.
Chiaki Mukai (born May 6, 1952) – Japan's first female astronaut and doctor, and the first Japanese female cosmonaut to perform two flights into space. That was the STS-65 mission in July 1994 on the space shuttle Columbia (USA) and the second mission STS-95 in 1998 on the space shuttle Discovery (USA). Mukai's total time in space is 28 days.
Eileen Marie Collins (born November 19, 1956), the first female pilot and first female commander to fly the US space shuttle. In total, she spent 38 days and 08 hours in space, making 4 flights aboard the space shuttles Discovery (mission STS-63, 1995), Atlantis (mission STS-84, 1997), Columbia (mission only). commanded mission STS-93, 1999) and Discovery (mission STS-114, 2005).
Mrs. Claudie Haigneré (born May 13, 1957), the first female astronaut of France, worked at the European Space Agency (1999-2002). Ms. Haigneré was on the MIR Space Station for 16 days in 1996. In 2001, Ms. Haigneré became the first European woman to set foot on the International Space Station (ISS).
Yi So-Yeon (born June 2, 1978), Korea's first female astronaut, flew to the ISS aboard Russia's Soyuz TMA-12 on April 8, 2008. She is the second Asian female astronaut to fly into space after Chiaki Mukai.
Source: http://danviet.vn/1001-thac-mac-tai-sao-phu-nu-la-lua-chon-thong-minh-de-dua-len-vu-tru-50202138…Source: http://danviet.vn/1001-thac-mac-tai-sao-phu-nu-la-lua-chon-thong-minh-de-dua-len-vu-tru-502021389583141.htm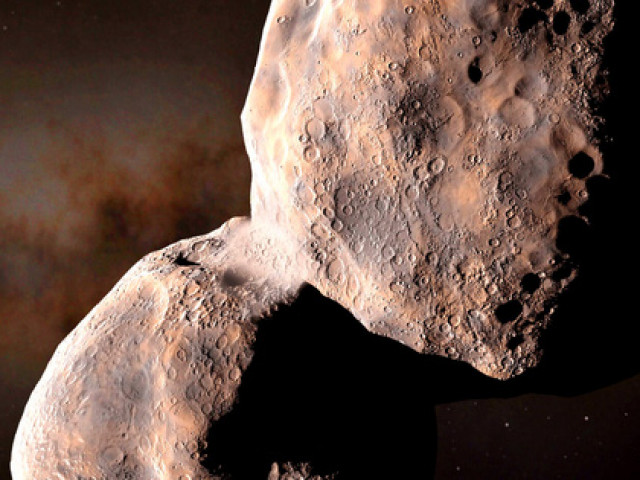 Japanese and American cosmologists have discovered 2 strange, huge and red objects that stand out in the middle of the sky…
.