Monday, October 18, 2021 08:20 AM (GMT+7)
One of them is to be wary of fake news and be cautious when transferring sensitive information.
Will cash still be the dominant means of payment in Asia-Pacific (APAC)? Recent Kaspersky research shows that this trend is continuing, but may not last.
The report titled "Building a Secure Roadmap to the Future of Digital Payments in the Asia-Pacific Region" studied user interactions in the region with online payment methods. available here, and examine their attitudes towards the methods, thereby providing a basis for understanding the factors that facilitate or hinder the adoption of this technology.
Online payments need to be secure. (Illustration: Internet)
One of the key findings of the study is that the majority (90%) of Asian respondents have used a mobile payment app at least once in the past 12 months, confirming the explosion of fintech technology. in the area. Of these, 15% just started using these platforms after the pandemic.
The Philippines recorded the highest rate of first-time crypto users at 37%, followed by India (23%), Australia (15%), Vietnam (14%), Indonesia (13%), and Thailand. Lan (13%). Meanwhile, this rate in China is 5%, South Korea 9% and Malaysia 9%.
China is the leader in mobile payments in the APAC region. Before the pandemic hit, China's leading local platforms, Alipay and WeChat Pay, were widely adopted and became role models for Asian countries.
Survey respondents also said that these platforms help them make payments during social distancing (45%) and that this is the only way they can make monetary transactions during this time ( 36%). 29% of users think digital payment gateways are more secure now than they were before the COVID-19 pandemic; The percentage of users who appreciate the offers and rewards program from the provider is equally valuable.
Although only a small part, newcomers to technology are also influenced by friends and relatives (23%) and from local authorities (18%) promoting the use of payment methods. number.
When asked about concerns before using mobile banking and payment apps, users of these apps admitted for the first time that they felt fear: Losing money online ( 48%) and fear their financial data being stored online (41%). About 40% of the interviewees said they do not trust the security of these platforms.
More than 25% of interviewees said the technology was too cumbersome, asking for too many passwords or questions (26%), while 25% said their personal devices were not secure enough.
To help users in the Asia-Pacific region safely use digital payment technologies, Kaspersky experts recommend:
Careless carelessness: Beware of fake news and exercise caution when transferring sensitive information. Do not put personal or confidential information online, especially when you are asked for financial information and payment details.
Use your own computer and Internet connection when paying online: Similar to how you would shop in person, be cautious online and only shop from trusted online stores. You won't be able to tell if a public computer contains spyware that can record everything you type on your keyboard, or if the public Internet connection you are using is being taken over by a cybercriminal waiting for its opportunity to emerge. attack or not.
Do not share your password, PIN or one-time password (OTP) with anyone: If someone else discloses your information, cybercriminals can take advantage of it to trick users into disclosing personal information in order to obtain banking access information.
Use a security solution: Helps against many threats, checking the authenticity of the websites of banks, payment systems and online stores you visit, and to establish a secure connection.
Source: http://danviet.vn/4-loi-khuyen-giup-bam-dao-an-toan-khi-thanh-toan-truc-tuyen-50202118108213977….Source: http://danviet.vn/4-loi-khuyen-giup-bam-dao-an-toan-khi-thanh-toan-truc-tuyen-50202118108213977.htm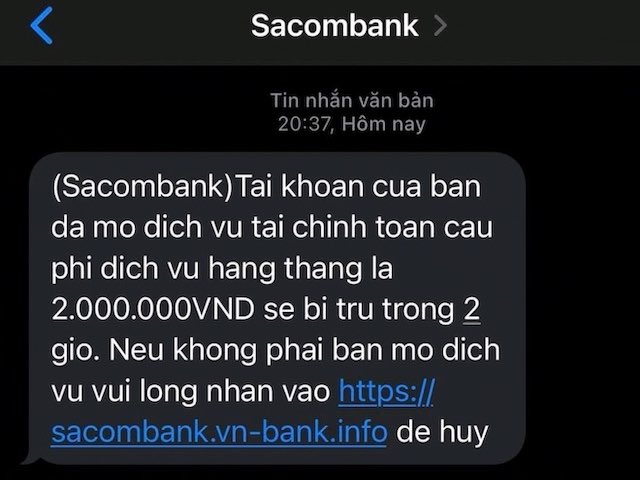 The message also states that if the user is not open to the service, click on the link provided in the message to cancel.
.