Wednesday, May 19, 2021 15:15 PM (GMT+7)
The results of pCloud's research have revealed the list of 50 most battery-draining apps on phones.
This study does not cover a specific platform, so it will most likely apply to both Android and iOS.
50 apps that require the most permissions
Topping this list are Fitbit and Verizon, both of which claim to be allowed to use 14/16 permissions (92%) available to work in the background, including Photos/Media/Files (pictures/videos) /file), WiFi information (WiFi information), Contacts (contacts), Identity (identity), Storage (storage), Call information (call information), App history (application history), Location ( location), Phone status & identity, Microphone, Camera, Other (other connections), Calendar (calendar), SMS (messages) and Mobile Data settings (mobile data settings).
The next positions belong to Skype and Uber with 87%. On average, Facebook, Instagram, Snapchat, YouTube, WhatsApp, and LinkedIn require about 11 additional features in the background (72-82%). Excessive use of features in the background will cause the phone to run out of battery faster.
The remaining battery draining apps (from top to bottom) include Airbnb, Amazon, Booking, Bumble, Telegram, Tinder, Zoom, Grindr, Likke, Microsoft Teams, Ryanair, Bet365, Lyft, Twitter, Amazon Music, Depop, My McDonald's Reddit, Shazam, Shein, Spotify, Zara, Missguided, United Airlines, Yelp, Pinterest, Amazon Prime, Houseparty, Netflix, TikTok, PayPal, ASOS, Duolingo, Klarna, Signal, Slack, SoundCloud, Trainline, and Uber Eats.
30 apps that take up the most space on your phone
Research shows that travel apps take up a lot of storage space, for example United Airlines (437.8 MB), Lyft (325.1 MB) and Uber (299.6 MB).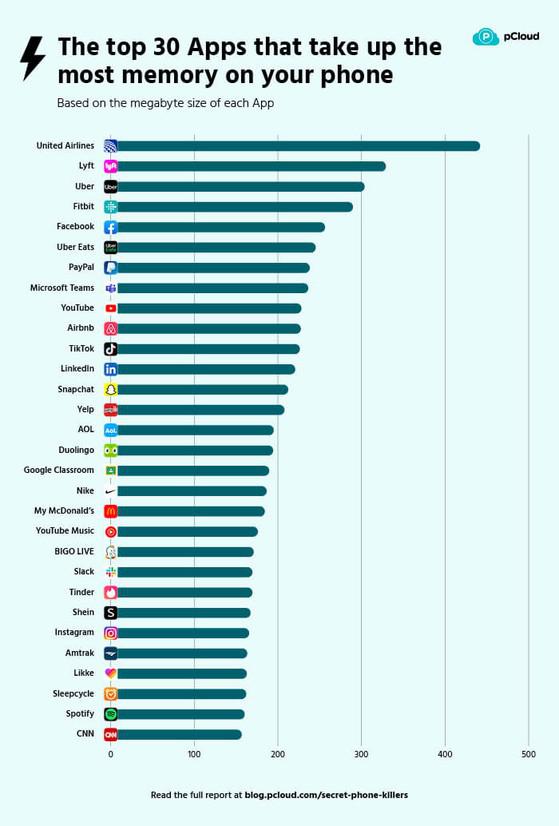 The next positions belong to Fitbit, Facebook, Uber Eats, PayPal, Microsoft Teams, YouTube, Airbnb, TikTok, LinkedIn, Snapchat, Yelp, AOL, Duolingo, Google Classroom, Nike, My McDonald's YouTube Music, BIGO Live, Slack, Tinder, Shein, Instagram, Amtrak, Likke, Sleepcycle, Spotify and CNN.
Microsoft Teams has become an important application for many companies around the world when the COVID-19 epidemic situation is complicated (making working from home and online meetings popular).
However, this video conferencing application requires up to 232.2 MB of space, while Skype only needs 111.2 MB and Zoom is 82.1 MB.
Source: https://kynguyenso.plo.vn/ky-nguyen-so/thiet-bi-so/50-ung-dung-ngon-pin-nhieu-nhat-tren-dien-tho…Source: https://kynguyenso.plo.vn/ky-nguyen-so/thiet-bi-so/50-ung-dung-ngon-pin-nhieu-nhat-tren-dien-thoai-986127.html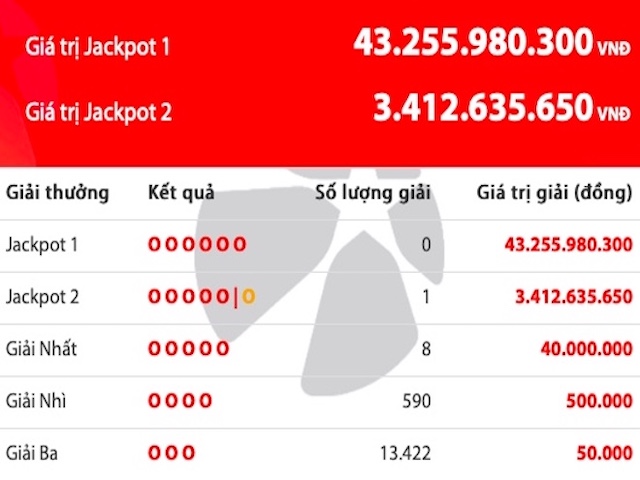 The owner of this lottery is a subscriber of a Vietnamese network operator.
.