Friday, June 11, 2021 17:00 PM (GMT+7)
Attacking others on social networks, feeling annoyed when others have more successful lives than you,… are some of the many situations that are happening on social networks.
Information on social networks today is extremely diverse with both positive and negative content.
According to Mr. Nguyen Minh Hong – Chairman of the Vietnam Digital Media Association (VCDA), online bullying, also known as bullying behavior when using digital technology, has always been a concern of the whole society. . This behavior not only affects users on the Internet environment, but also causes serious physical and mental harm in the real world.
Nguyen Thanh Hung – Chairman of the Vietnam Information Security Association (VNISA), said that in Vietnam, Internet users every day receive and share hundreds of information on online platforms. This requires the relevant organization and business to be responsible for formulating and developing an appropriate moderation policy to promptly prevent negative content and behavior on the platform.
Faced with that situation, TikTok has officially announced the global campaign #CreateKindness to raise awareness about online bullying and encourage kindness in the community. With the message "Create Kindness", the campaign continues to be an initiative to contribute to building a safe and civilized online environment.

The #CreateKindness campaign is happening on TikTok globally.
Specifically, TikTok also collaborated with 6 creators and animators to make a series of 6 clips sharing their real-life experiences using the online platform. Through this series of clips, the creators share their perspectives on how to fight bullying as well as describe the consequences of bullying, reminding the community to work together to prevent this behavior. .
Inside:
– "Prevent Bullying" by @milkymichii, talking about how she dealt with the issue of realizing her video was duet disrespectfully.
"Why would you…" shows @recokh's inner struggle when it comes to his intention to treat others unkindly and how he dismisses this thought.
– "Comments I keep in my heart" by @kellyemmrich, sharing how to overcome negative comments by focusing on the good and towards the community that always supports and encourages her.
– "Go away" is @amyrightmeow's advice when faced with people who deliberately distort their thinking.
– "The Power of Words" by @rosie.gif highlights that an unfriendly word or attitude can be a precursor to bullying behavior and urges people to think carefully before posting content.
– "What We Don't See" by @king.science encourages people to treat others with care and empathy.
Watch 6 clips that expose the dark side on social networks and teach us how to behave civilly.
By applying animated graphics, impressive voiceovers, and self-reveals at the end of the video, these creators have sent the community the message: Behind every account is a real person, and they deserve it. worthy of respect and fair treatment.
Before that, TikTok has launched many meaningful campaigns such as #thinkb4youdo (encouraging the community to think before performing dangerous actions) or #vudieuruatay (helping people remember 6 steps to wash hands to prevent COVID-19 epidemic) once made a strong impression on the domestic and international community), ..
In the past year, content about kindness and caring has been quite popular with the TikTok community. Videos using hashtags related to kindness like #love, #kindness have attracted more than 400 billion views and generated nearly 50 billion creative videos globally. In Vietnam, users also use many related hashtags such as #giupdo (help), #tuthien (charity) and #thiennguyen (volunteer) attracting more than 170 million views.
Besides, heart stickers and creative effects are also a popular feature group on TikTok. In 2020 alone, more than 2 billion videos worldwide use these features. In which, Vietnam is one of the 10 countries that use heart stickers the most with more than 150 million uses and more than 380 million hearts on the TikTok platform.
Source: http://danviet.vn/6-clip-phoi-bay-mat-trai-tren-mxh-se-khien-nhieu-nguoi-thuc-tinh-5020211161658…Source: http://danviet.vn/6-clip-phoi-bay-mat-trai-tren-mxh-se-khien-nhieu-nguoi-thuc-tinh-50202111616586473.htm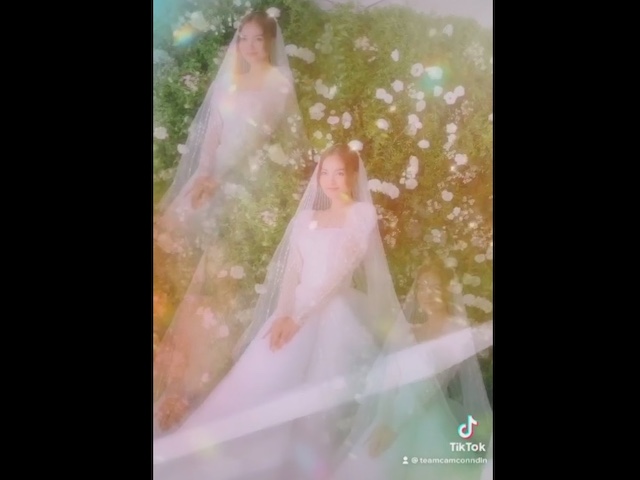 Ninh Duong Lan Ngoc became the focus of search on Google after releasing a new clip.
.