Friday, March 12, 2021 19:00 (GMT + 7)
Understand the strong security of banks, cybercriminals turn to attack consumers.
Over the past time, many users have become victims of Smishing attacks, whose money is stolen from their accounts. The portal of the Ministry of Information and Communications (mic.gov.vn) has just shared notes to help users protect themselves against this type of attack.
A phishing message in the form of Smishing.
According to the Ministry of Information and Communications, digital banking is increasingly widely used in Vietnam. There are about 30 million people using the banking payment system via the Internet every day. The growth rate of transaction volume on Mobile Banking in Vietnam is 200%, the value of money transactions with mobile phone channel alone is currently about 300,000 billion VND / day. The reason is the explosion of e-commerce, the rapid spread of financial technology and the impact of the COVID-19 pandemic.
Along with the realm of digitization, online malicious actors are always looking for ways to turn users into victims. One of the tactics used is Smishing – a social engineering attack that is increasingly popular with cybercriminals. This is a combination of SMS (short message service) and phishing (phishing). This type of attack works according to the same principles as phishing: Fake text messages will direct users to a fake website, which will then steal the user's sensitive information.
Understanding the strong security of banks, cybercriminals turn to attack consumers with social engineering tactics. They are becoming more and more sophisticated when creating a banking website that looks like a legitimate banking website in order to deceive users.
As Vietnamese online banking becomes more and more popular, users need to adhere to security principles set forth by governments and financial institutions to combat these fraudulent attacks. It is important to always be vigilant when making online payment transactions.
To protect financial information from this threat, users should note:
1. Be cautious about coupon redemption, discount codes or offers. These are signs of conspiracy from cybercriminals.
2. Financial institutions or sales units will not send text messages asking users to update account information or confirm ATM card codes. If the user receives a message that appears to be from a bank or business partner and asks to click on a link or certain information in the message, the user can identify it as a scam.
3. Do not access the link or call the phone number in the message if the user is not sure about it.
4. Do not store credit or banking information on your phone to avoid cybercriminals installing malicious codes from stealing all of the information.
5. Limit feedback to avoid attack.
6. Device security: Install reputable antivirus software on computers, laptops, tablets and phones. Selected anti-virus software can update automatically to protect against malicious software changes.
7. Browser protection: Install an add-on for the browser to warn if the user accesses an unsafe website. This program displays a warning before visiting a website that contains active security threats, such as malicious code or malicious cookies.
Source: http: //danviet.vn/7-luu-y-de-khong-bi-cuom-tien-trong-tai-khoan-ngan-hang-boi-sms-lua-dao-502021 …Source: http://danviet.vn/7-luu-y-de-khong-bi-cuom-tien-trong-tai-khoan-ngan-hang-boi-sms-lua-dao-50202112318595844.htm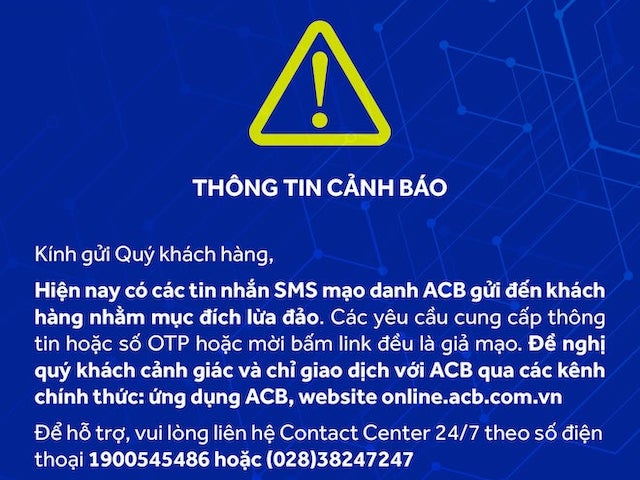 The content of the message shows signs of fraud when asking users to click on a link that is not managed by ACB …
.