Tuesday, 11/23/2021 20:00 PM (GMT+7)
Many restaurants overcame post-lockdown business difficulties and recorded many positive growth results thanks to timely investment in "online branches".
The number of orders is so stable…unbelievably
Although the stressful days have passed, the busy food alleys in Hanoi are not as busy as before. However, the restaurant Nem Nuong – Bun Cha Dieu Anh (Cau Giay district) did not cool down because of that. Nearly three months ago, Ms. Huyen (owner) excitedly shared when the shop previously sold only about 100 orders per day, now the number has increased by nearly 300. At peak times, orders jump continuously, 3 employees have to always process, pack and deliver to the shipper.
Shippers adhere to a safe distance and wait to receive orders for customers
"I've been opening the shop for a few years now, and selling on the app has only been 2-3 years. When the epidemic was new, online orders were almost the main source of revenue for the store. I thought it was a good thing, who would have thought that just 3 months ago I signed up for the Cheap and Delicious Grab model, but the order increased by nearly a hundred seats every day. The average amount of spring rolls and spring rolls consumed at the restaurant can sometimes be up to 20-30 kg, about the same as before the outbreak. Huyen said excitedly.
Like Ms. Huyen, thanks to participating in the Grab Ngon Cheap model from the early days of Bun Dau Met 395 (Go Vap District, Ho Chi Minh City) as a "salvation" thanks to many incentives to attract customers, improve revenue . Although the number of orders has decreased compared to before the epidemic, restaurants are still excited by the opportunity to quickly stabilize their business, especially thanks to supporting business models.
"In the past, this whole Cay Tram street had 4-5 noodle shops, but now I still get to meet shippers to receive orders every day, mostly thanks to participating in the model early. A day of 200 orders, there are 70-80 orders from Grab Ngon Cheap", Mr. Tan, the owner of the restaurant, said.
Increase visibility, more revenue
In fact, new models and initiatives like Grab Ngon Cheap are no longer strange to GrabFood's restaurant partners. However, back after the separation period, Grab Ngon Cheap integrates the necessary advantages, helping restaurants to troubleshoot both temporary and long-term difficulties.
First of all, the fixed costs such as cash, raw materials, or human resources,… to the budget for brand promotion and sales channel expansion are all big "obstacles" for many stores. goods upon re-operation. However, with this model, restaurants are displayed on the Grab application, thereby reaching many potential new people. "Joining Grab is delicious and cheap, it's like opening an online branch without any fees," said Mr. Huy (representative of Ni Map broken rice restaurant, HCMC).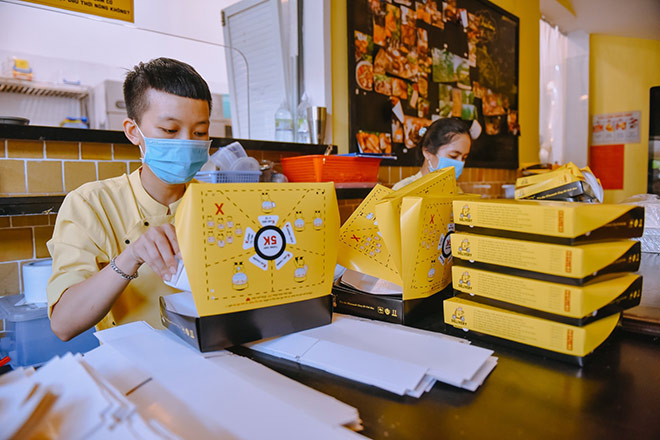 Human resources, materials, operations… three difficult problems for restaurants after the distance
In addition, when participating in the Grab Ngon Cheap model, store owners will receive maximum support in all operating stages. As a result, they can devote themselves to improving product quality. Ms. Huyen (Nem Nuong – Bun Cha Dieu Anh, Hanoi) shared: "After the epidemic, diners are more sensitive to hygiene and safety issues. Thanks to participating in models like Cheap Grab, I don't have to worry about promotion and transportation, so I can focus on improving packaging and preparing food carefully to satisfy customers."
Particularly for Mr. Tan, the point he appreciates the most about Grab's delicious and cheap compared to Grab's previous models lies in attractive promotions for users. "More promotions means more opportunities to reach new users. After a few months of translation, the shop lost a salary of its customers, but thanks to the codes from Grab Ngon Cheap, many new customers know about the shop", Mr. Tan said. Accordingly, currently, Grab Ngon Cheap is having a triple promotion program for users, including: 5% discount on the price of the dish, enter the code for an additional discount of 40,000 VND, and free delivery within a radius of 3km.
The improvised model of delivery platforms brings many benefits and incentives to both restaurants and users
Post-pandemic business, restaurants face many obstacles in terms of operating conditions, safety assurance or fluctuating revenue because of the erratic number of customers. Having more support from applications also helps store owners "lighten" some of their worries, have more motivation to recover business and increase revenue.
Source: http://danviet.vn/hau-gian-cach-hang-quan-tap-nap-don-hang-nho-len-app-502021231119594303.htmSource: http://danviet.vn/hau-gian-cach-hang-quan-tap-nap-don-hang-nho-len-app-502021231119594303.htm
.