Friday, August 13, 2021 15:15 PM (GMT+7)
FacePlay is an application that is attracting a lot of social network users recently.
Through the FacePlay application, users can pair their own faces into the available videos provided by the application. They can then share this video on social networks with its impressive processing ability and quite matching, so it gets the attention of a large number of users. This is a partially free app so many people are interested, although there are some caveats that many people may not be aware of, costing them large sums of money without realizing it.
FacePlay is storming.
FacePlay is a product of software company BigHead Bros (based in Shenzhen, China). This application originally had both Android and iOS versions, but now the FacePlay version on the CH Play platform for Android has been removed and is only available on iOS.
When installing the application, it only allows users to try it for free for 3 days with a lot of ads, post-processing video copyright labels and very slow processing speed. To solve this, the only way is to upgrade to the paid version. But this is also the path that the developer has outlined to put users in a trap if not paying close attention.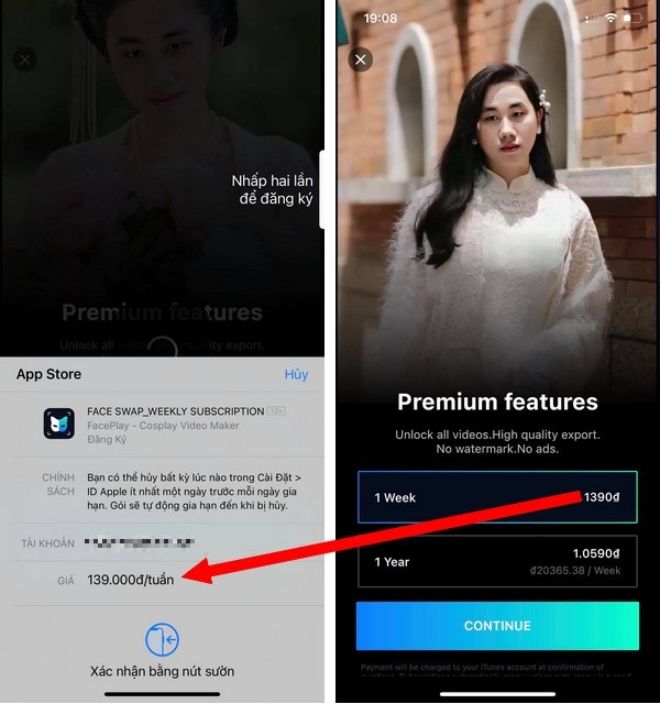 FacePlay subscription fee per week is 139,000 VND, not 1,390 VND.
Instead of offering the app as an outright purchase, FacePlay only offers it as a trial subscription for a certain period of time in weeks or years. Every week, the amount that users have to pay for it is 139,000 VND, while every year is 1,059 million VND. More importantly, the amount displayed in the paid version is masked by the company with two zeros, making them mistakenly buy it for VND 1,390 or VND 10,590 respectively. Many people think that the amount of money spent is small, so they keep paying without knowing that the final amount they pay to the FacePlay developer is 100 times higher.
And yet, the application has an auto-renewal feature of the paid version, which means that if you sign up for a 1-week subscription for VND 139,000, it will automatically register after the usage period expires. another week without consulting the user. This causes the amount of money in the user's credit card to fly without wings.
The application has an automatic renewal function.
Privacy Warning
FacePlay is a free app for iPhone. Users can also choose the Pro version (paid) if they are not bothered by ads, are blocked by application marks and speed up processing, but especially are interested in personal information security based on the privacy policy. Secret of BigHead Bros.
Although it only takes a short time to download the application and create effects to experience even when using the free application, the privacy policies are very interesting. According to the developer, they will collect images of faces, thereby helping the application to recognize and process faces on videos more effectively and accurately.

FacePlay privacy with a lot of data collected unrelated to its activities.
Even when using the paid version it also collects many other privacy-related user data, including the user's right to locate, contact information (email, phone number, etc.) , transaction history… More importantly, for users of the free version, the developer will share such personal data with partners and third-party advertisers in countries outside of their own country. users, including advertisers, can track user activity on the web.
At the present time, FacePlay is still approved to appear on Apple's App Store application store without any warning about the problems of collecting personal information of users.
Source: http://danviet.vn/muon-kieu-lua-dao-cua-ung-dung-faceplay-gep-mat-vao-video-dang-gay-bao-mxh-50…Source: http://danviet.vn/muon-kieu-lua-dao-cua-ung-dung-faceplay-ghep-mat-vao-video-dang-gay-bao-mxh-50202113815161746.htm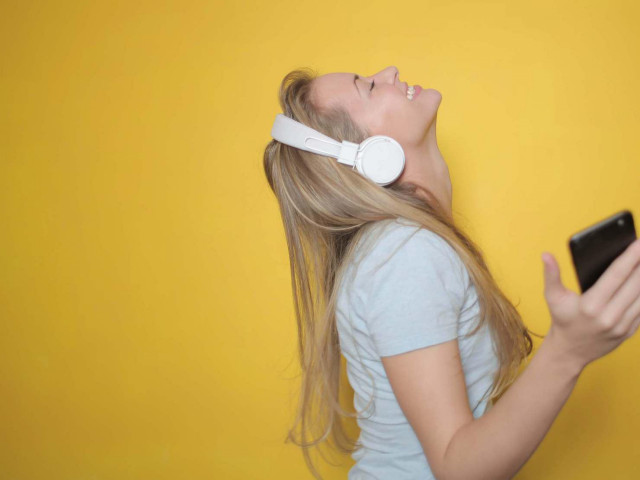 If you are not satisfied with the sound quality on your phone, you can apply some of the following tips…
.