Sunday, June 13, 2021 11:20 AM (GMT+7)
Among the content young people look for are the Minecraft minesweeper game, YouTube videos and the social network TikTok.
A new study on keeping children safe online through Kaspersky Safe Kids, has revealed what children care about online between May 2020 and April 2021. Accordingly, in the past year, children are more interested in "software, audio and video" and "e-commerce", while "internet media" and games are less interested.
Children are experiencing changes in Internet use behavior. (Illustration)
According to the report, 2020 has turned out to be one of the most unusual years for children today. The pandemic has dramatically changed the global landscape of living, including education, meeting friends and family, and entertainment. Kaspersky analyzed anonymized data provided by Kaspersky Safe Kids users, including search queries, the most popular Android apps and websites visited, to learn about children's preferences and needs. How have you changed in your new situation?
The results show that, around the world, children love listening to and watching music videos on YouTube – YouTube searches account for 17.35% of music and video genres. Some trending videos also appear in the statistics, accounting for 4.43% of the queries. Inquiries regarding video game maker Gacha Life also topped the rankings of children's queries from around the world with a rate of 4%.
Cartoons account for 50.21% of all children's video searches worldwide. The most searched movies are Lady Bug and Super Cat, Gravity Falls and Peppa Pig. In second place are TV shows – the most searched for English-language TV show is The Voice Kids. In the movie and TV series, the most popular ones are Godzilla vs Kong, Justice League.

The types of content kids are most searching for on YouTube.
As for video games, the most popular with most kids include minesweeper Minecraft (22.84%), Fortnite (6.73%), Among Us (3.80%), Brawl Stars (6 .34%) – a new game that has attracted children's attention recently, and Roblox – a very popular and loved game by many children (3.82%). In the 10 most popular applications, there are also 2 games, namely Lien Quan Mobile (3.69%) and Free Fire MAX (3.44%).
Kazakhstan became the region with the highest number of children accessing computer game websites (accounting for 26.01%). In second place are children in the UK (19.40%). The situation is completely different in India, where children almost never visit websites dedicated to video games on PC (only 5.08%).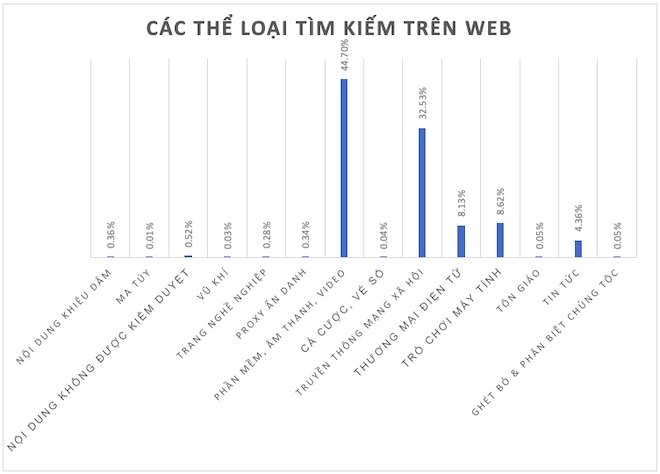 The most searched genres on web browsers.
In Vietnam, the most popular types of websites for children are "software, audio, video" (44.7%), "social media" (32.53%) and "games" playing computer" (8.62%). YouTube ranks first in the most popular apps, outpacing others (28.82%). In second place is the messaging application Zalo (15.67%) and third is the social network Facebook (15.01%).
TikTok remains the top app for kids, as perceptions about the social network have begun to change. Now, TikTok is no longer a social network just for parody clips and songs, because on this platform begins to appear a lot of educational and creative content. To create a TikTok video, one will have to do the work of the cameraman, the actor, the director, and the entire crew – these skills can be useful not only for the future of children, but also for the future. can help children in choosing a career.
"Understanding and analyzing children's preferences on the Internet helps us understand more about safety," said Anna Larkina, web content analyst at Kaspersky. By knowing what kind of music a child likes to listen to, who their favorite blogger is or what games they play, parents can strengthen their relationship of trust with their children. For example, parents can record TikTok videos with their children, which allows parents to help their children protect themselves from potential dangers online."
To ensure children have a positive online experience, Kaspersky recommends that parents:
– Learn more about your child's interests.
– Surf the web and learn with your child: Find out your child's online habits to keep them safe in the best way.
Teach your kids to limit sharing sensitive information via messaging apps, and only share it with people they know in real life.
– Consider downloading a parental control app and talk to your child about it, to explain how the apps work and why they need them to stay safe online .
– Spend more time talking to your child about online safety measures. Teach your child not to publish information on the Internet under any circumstances and explain why.
Source: http://danviet.vn/o-nha-phong-dich-covid-19-tre-em-san-tim-nhung-gi-tren-internet-50202113611215…Source: http://danviet.vn/o-nha-phong-dich-covid-19-tre-em-san-tim-nhung-gi-tren-internet-50202113611215980.htm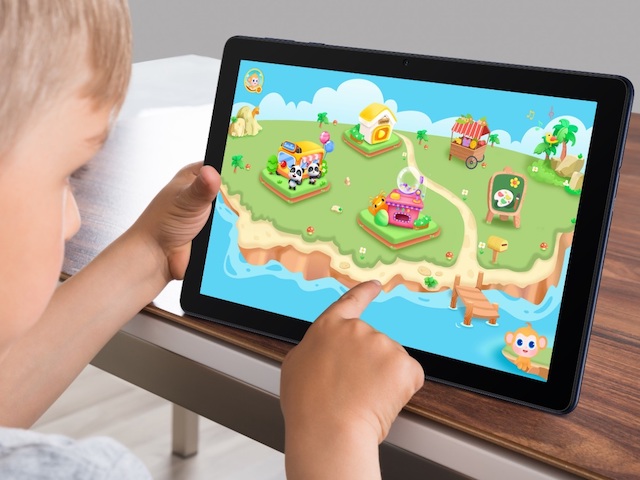 Parents need to have solutions to protect children, especially children's eyes and the dangers that are always lurking…
.