Wednesday, October 20, 2021 10:00 AM (GMT+7)
Many hydroelectric and thermal power plants in the US are using part of their electricity production capacity for tens of thousands of computers to mine Bitcoin.
The environmental impact of 'mining' cryptocurrencies, especially Bitcoin, is still a topic of constant debate and debate, among those involved and advocates of the cryptocurrency world. and on the other are environmental activists and those who want to strictly manage this currency.
However, the indisputable fact is that with the development of the Bitcoin market, the energy consumed to mine and trade this currency is increasing. This has led to many Bitcoin mining companies and organizations looking for cheap energy sources, even using old power plants just to mine Bitcoins.
Power plants "take advantage" to dig Bitcoin
In Mechanicville, New York state (USA), a hydroelectric power plant that has been in operation since 1898 is now partially used to mine Bitcoin, according to the Albany Times Union.
Jim Besha, CEO of Albany Engineering Corp. – the operator of this plant, said that using electricity generated by the plant to mine Bitcoin is more profitable than selling electricity to the national grid.
However, Mr. Besha also said that the factory only mines Bitcoin as an auxiliary income, uses used computers to reduce the cost, and sells Bitcoins immediately after mining because of the volatile value of this currency.
Jim Besha, CEO of Albany Engineering Corp., stands inside the Mechanicville Hydroelectric Plant. Photo: Karen Dewitt/New York State Public Radio
Meanwhile, in Dresden, also in New York state, Greenidge Generation operates a 106 MW thermal power plant that uses gas to generate electricity to mine Bitcoin, plus sell it to the state grid. Specifically, the 44 MW that the plant produces will be used for about 15,300 Bitcoin mining computers; This amount of electricity is enough to power more than 35,000 homes, according to AP News.
Greenidge's plant originally used coal as fuel to generate electricity. However, Greenidge renovated the plant to use gas in 2017 and started mining Bitcoin in 2020. The company also assures on its homepage that Bitcoin mining is completely carbon neutral. even when using thermal power plants, as the company has invested in carbon offsetting credits throughout its operations.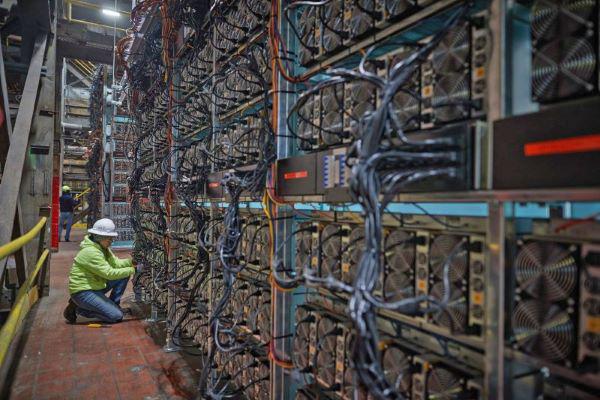 Greenidge Generation's Bitcoin Mining System. Photo: Greenidge Generation
In recent times, when the Chinese Government's crackdown on cryptocurrency mining and trading has made the country almost disappear from the world map of Bitcoin, virtual currency companies and "miners" in droves looking for places with cheap electricity to continue operating, with the ideal destination being the US.
This race has led to electricity infrastructure in many parts of the US having to gradually adapt to Bitcoin mining, along with growing environmental concerns.
The price to pay for Bitcoin
Opponents of the development of Bitcoin and other cryptocurrencies argue that mining and trading cryptocurrencies will increase greenhouse gas emissions and other pollutants from electricity generation.
At the moment, the entire Bitcoin network consumes around 104.04 TWh according to the Cambridge Bitcoin Electricity Consumption Index (CBECI). If this entire network is counted as a country, this country will have a power consumption that ranks 32-33 in the world. Bitcoin mining activity in countries outside the US also raises environmental concerns as Kazakhstan – another destination for Bitcoin miners – mainly uses coal-fired power to generate electricity.
Bitcoin mining is not only worrying about the environmental impact, but it can also become a headache for power grid operators and regulators, as in Politico's 2018 report on Bitcoin miners in Washington state, America.
Several places in Washington state have become ideal places for Bitcoin mining due to abundant electricity, good network infrastructure, and many abandoned buildings available to build large-scale mining systems. However, this operation also consumes a large amount of local electricity, which is exported to other states to benefit the local economy.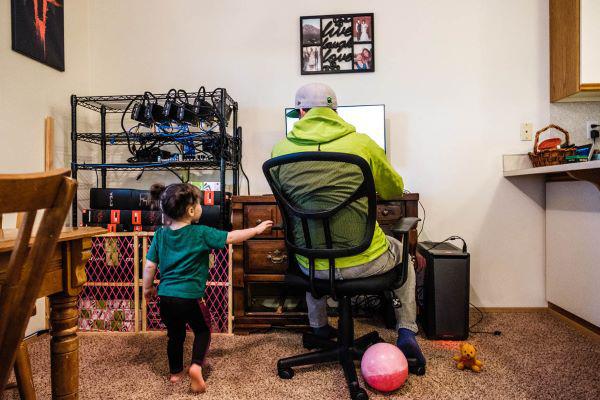 "Benny", a private cryptocurrency miner in Washington state, with a mining rig in his house. Photo: Patrick Cavan Brown/Politico
In addition, unsafe small miners have also caused dangerous problems to the grid – a big problem for the grid maintenance team in Chelan County, Washington. In 2017, a miner overloaded a transformer in Chelan, resulting in a small fire. John Stoll, the head of the grid maintenance team, even had to "hunt" with his staff to "hunt" for unlicensed miners and endanger the grid, the same way the police hunt for criminal criminals. drug transformation.
Source: https://www.nguoiduatin.vn/nha-may-dien-dao-bitcoin-lai-hon-ban-dien-va-cai-gia-phai-tra-a531183…Source: https://www.nguoiduatin.vn/nha-may-dien-dao-bitcoin-lai-hon-ban-dien-va-cai-gia-phai-tra-a531183.html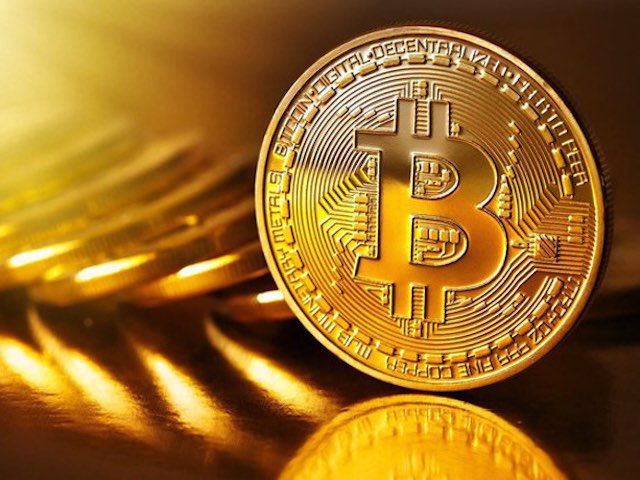 Currently, there are mixed opinions regarding the value of Bitcoin and its contribution to the…
.