Wednesday 23/12/2020 10:00 AM (GMT + 7)
Practical experience shows that the speed of VinaPhone 5G is up to more than 1Gbps, 10 times faster than 4G.
After a period of commercial testing at the end of November 2020, VNPT officially announced the VinaPhone 5G coverage area in Hanoi and Ho Chi Minh City. VNPT is also the only carrier that has been licensed for commercial testing and the license to use 5G bands in both cities.
Test speed of 5G network of VNPT – VinaPhone.
Specifically, in Hanoi are streets in Hoan Kiem district (the area around Sword Lake, Opera House, Cathedral, Trang Tien, …) and Hai Ba Trung district (Ly Thuong Kiet street, Tran Hung Dao , Quang Trung,…); in Ho Chi Minh City are the streets of District 1 (Nguyen Hue Flower Garden, Bach Dang Wharf, Notre Dame Cathedral, Dong Khoi Street, …) and District 3 (Pasteur Street, Turtle Lake, Youth Cultural House, …).
For the convenience of customers, VNPT said, they will actively scan for eligible subscribers to use 5G services to declare and open services on the system. To be able to access VinaPhone 5G, customers need to use a phone that supports and is compatible with the VinaPhone 5G network, the subscriber has registered for data service and has been declared 5G service, operating in the region. 5G coverage. Especially, customers do not need to change SIM, just use a 4G SIM to be able to access 5G network.
Currently, a number of phones currently support VinaPhone 5G network include: Nokia 8.3, Asus ROG Phone 3, Oppo Find X2 and Find X2 Pro, Huawei P40 Pro, Xiaomi Mi 10 Pro T 5G. As for the models of Apple, Samsung, and VNPT, they are working with the two above technology companies to upgrade the software so that users can soon use 5G services.
Especially on the occasion of announcing the coverage area, VNPT gives free 5G data when customers access and use the VinaPhone 5G network from now until January 31, 2021.
Also on this occasion, two showrooms to experience 5G service of VNPT in Hanoi and Ho Chi Minh City officially opened their doors to welcome guests. This will be an ideal space for people to visit and directly use modern 5G network technologies and applications such as virtual reality / augmented reality (VR / AR), robot control, watch 8K quality videos on Samsung and LG TVs, control the robot via 5G with absolute precision, connect to the Internet in the home through 5G, …
Source: http: //danviet.vn/chi-tiet-nhung-noi-bat-duoc-song-5g-cua-vinaphone-tai-ha-noi-va-tphcm-50202023 …Source: http://danviet.vn/chi-tiet-nhung-noi-bat-duoc-song-5g-cua-vinaphone-tai-ha-noi-va-tphcm-50202023129584862.htm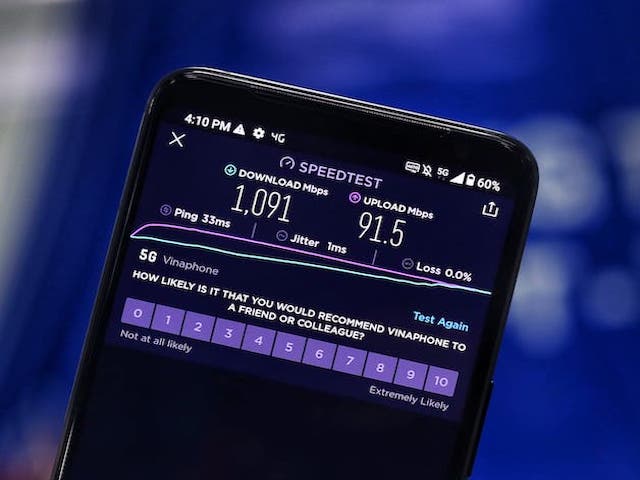 Next time, when commercializing 5G networks with even more optimal bandwidth, this speed may even increase.
.