Vulnerability of the HomeKit application causes iPhone to freeze, fall into a restart loop without the user being able to intervene.
According to Tom's Guide, a major bug that causes iPhones and iPads to fall into an endless boot loop when using Apple's HomeKit app has just been announced. The researcher who discovered this vulnerability claims that Apple "didn't care" for a quick fix.
"I believe this bug is not receiving the appropriate attention from Apple. It poses a serious risk to users, and months go by without a complete patch. Customers should be informed of the problem to prevent it, not keep it a secret," security researcher Trevor Spiniolas wrote in a report earlier this month.
According to Spiniolas, his team discovered the problem and named it "doorLock". The above error creates many security risks in addition to the user's iPhone becoming "brick" and unable to recover.
According to PhoneArena, researcher Trevor Spiniolas found that by changing the name of the HomeKit device to a string with a large number of characters (Spiniolas used 500,000 characters for testing), it would damage the iPhone involved. Also, since the device name will be backed up to the user's iCloud account, restoring the iPhone and re-signing to the iCloud account associated with the HomeKit device will again trigger the error.
Spiniolas said the bug he discovered poses a significant risk to iOS users' data, but users can protect themselves from the worst effects by turning off home devices during control center to protect local data.
Spiniolas decided to go public with the bug after reporting it to Apple on August 10, 2021, and Apple promised to fix it "before 2022." On December 10, 2021, Apple informed Spiniolas that the fix would arrive "early 2022", which is when he decided to make the bug public on January 1, 2022.
"People should be aware of this vulnerability and how to prevent it from being exploited, rather than being hidden in the shadows," Spiniolas said.
If unfortunately, the iPhone keeps restarting because connecting to the HomeKit network causes errors, users need to connect the device to a computer to restore factory settings using the iTunes application.
After the product is back up and running, the user absolutely does not sign in to the previous iCloud account if the operating system requires it. "Wait until the setup steps are complete. Then go to settings to sign in to iCloud. Also, turn off the option to show HomeKit controls in the iPhone Control Center," shared Spiniolas.
To avoid trouble, users should not allow unknown devices to join a private HomeKit network. Also, don't access anyone else's HomeKit unless absolutely necessary. Finally, Tom's Guide recommends that iOS users regularly back up important data to their computer so that they can be used without depending on iCloud.
Source: https://www.nguoiduatin.vn/loi-nghiem-trong-tren-ios-15-khien-iphone-khoi-dong-lai-lien-tuc-a539…Source: https://www.nguoiduatin.vn/loi-nghiem-trong-tren-ios-15-khien-iphone-khoi-dong-lai-lien-tuc-a539967.html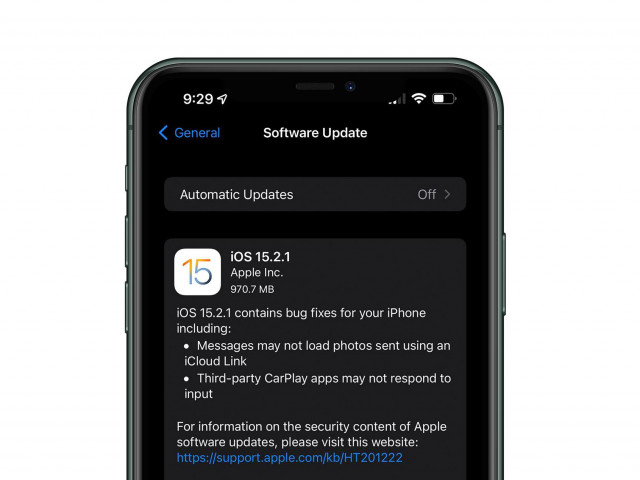 Recently, Apple has officially released the iOS 15.2.1 update to fix security holes related to HomeKit…
.