Tuesday, 11/03/2020 20:16 PM (GMT + 7)
The Huawei FreeBuds Pro is a wireless headset that outperforms many competitors, in both design and functionality.
On the afternoon of November 3, the launch event of the FreeBuds Pro headset in Vietnam attracted a great deal of technology experts and celebrities (KOLs) such as female streamer Misthy, Phuong Anh Payo or DJ Mie – The 9X girl is famous in the DJ world, …
Misthy: "Really convenient and smart"
Actually experiencing FreeBuds Pro at the event, female game streamer Misthy must say "really convenient and smart". According to Misthy, due to the nature of her work, she often has to move to many crowded places such as streets, supermarkets, offices, restaurants, … on the same day. Therefore, the fact that FreeBuds Pro can automatically switch between three noise canceling modes is the answer to what she needs to make her ears more comfortable when moving between work locations.
In case of using Huawei FreeBuds Pro in some public places, users can still perceive the surrounding sound through the environment-aware mode. At this time, users just need to touch and hold on the headphone body to switch from noise canceling to Awareness mode without removing the device.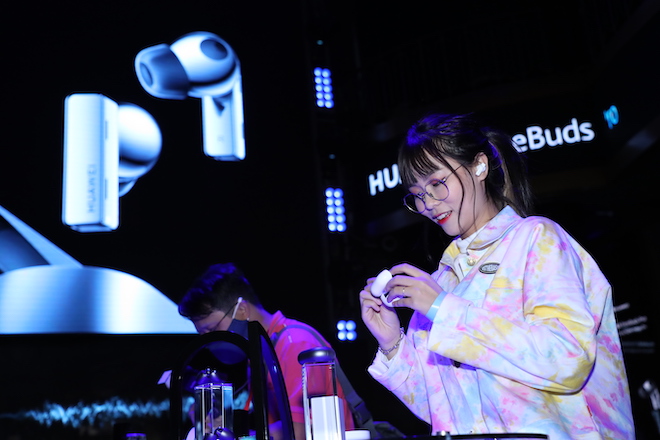 Moreover, Huawei FreeBuds Pro is also equipped with a unique voice recognition mode (Voice Mode). This mode helps to eliminate noise from the environment reasonably so that users can clearly hear other people's voices. Even with active noise canceling turned on, users can still speak and hear their voice clearly, as well as hear public warning sounds or communication in the office.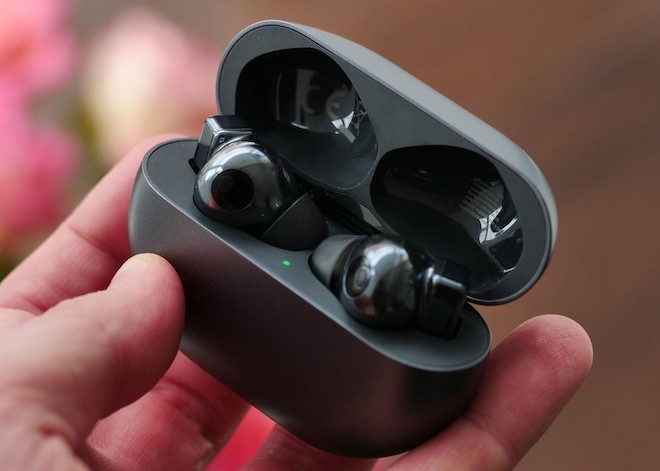 To do this, the Huawei FreeBuds Pro's built-in dual microphone trio intelligently identifies the surrounding noise environment and automatically switches between the three noise canceling modes: Loud Noise Cancellation Mode Small noise canceling, normal mode, to bring the best listening experience to users. Huawei FreeBuds Pro achieves noise cancellation up to 40dB – the industry's leading level of stabilization in wireless audio technology today.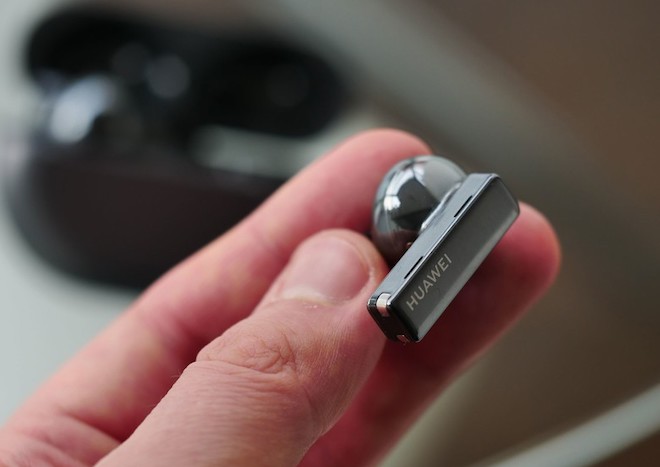 "I am very impressed with the design of the new Huawei FreeBuds Pro. Different from other products on the market today, Huawei's new wireless headphones have a square, streamlined design but still retain the luxury and modernity, "Misthy added.
DJ Mie: "The sound is very lively and realistic"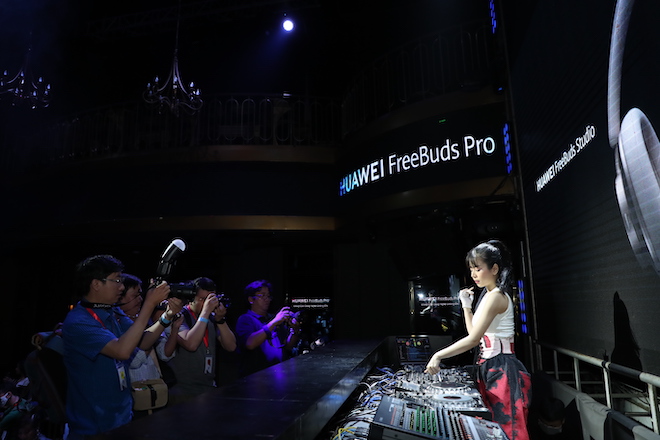 As for DJ Mie, she was also excited to experience Huawei FreeBuds Pro at the event. Female DJ born in 1995 wore FreeBuds Pro headphones and swayed to the lively music.
Indeed, with advanced audio processing technology, Huawei FreeBuds Pro promises to give users a superior audio experience thanks to a customized system between the speaker and the super-magnetic dynamic driver. This system, simulated by Hi-Fi technology, effectively directs the sound system of the entire headset, reduces vibrations that affect sound quality, and delivers clear and sharp sound. .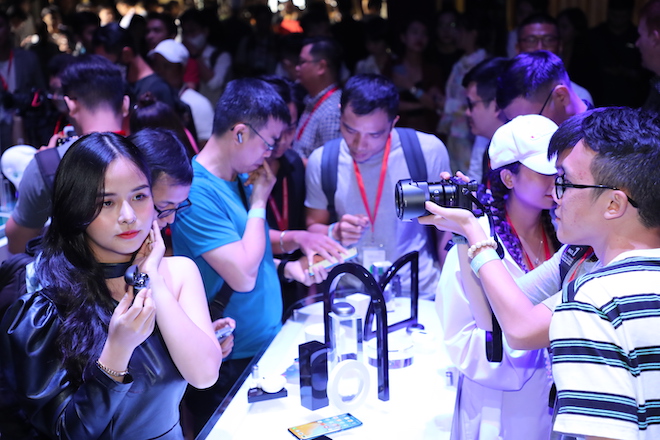 In addition, thanks to its high magnetic density and outstanding stability, the 11mm driver has been carefully tuned by renowned Grammy award-winning sound engineer Lu Xiaoxing. Real-world experience shows that Huawei Freebuds Pro is capable of handling different types of frequencies in a sound source, and provides users with a vivid, natural, and authentic audio experience as if they were enjoying the sound. live music. Pictured are technology experts testing the Huawei Freebuds Pro.
Phuong Anh Payo likes the "Dual Connection" feature the most.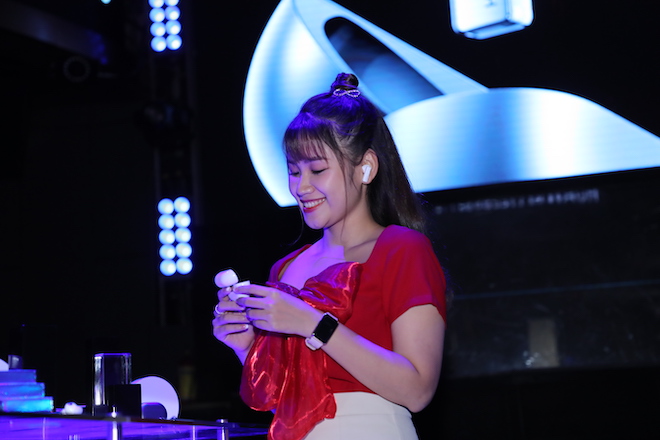 Phuong Anh Payo, with no less busy work than Misthy and DJ Mie, immediately saw the value brought back from the Huawei FreeBuds Pro headset. When asked the most valuable feature, the Hanoi-born "angel streamer" immediately analyzed: "For a person who works a lot on different phones, the feature I like the most on Huawei FreeBuds Pro is the dual connectivity. . I can connect my two phones on the same headset and don't worry about missing any calls ".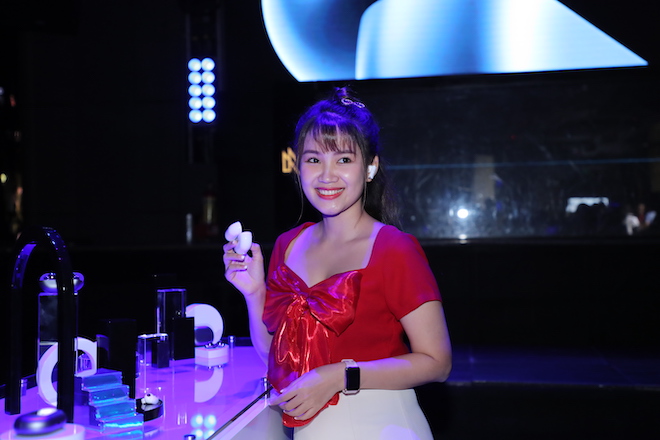 More specifically, Huawei FreeBuds Pro is the first product in the world to be equipped with dual connectivity feature, which allows product to be connected to two devices at the same time and switch seamlessly. Not only does it support dual connectivity with Huawei versatile devices, including smartphones, tablets, laptops, smartwatches and smart TVs, Huawei FreeBuds Pro also supports dual connection. devices at the same time as Android, iOS, macOS, and Windows smart devices.
Huawei FreeBuds Pro is launched in Vietnam with 3 versions: Silver Gray, White Porcelain and Black Carbon for 4.49 million VND. In particular, the first 200 customers buying on Huawei Super Brand Day (November 4, 2020) on Shopee will receive a super discount of up to 1 million dong and a free CM510 speaker worth 699,000 dong.
The product will be officially open for sale from 11/11/2020 at retail channels CellphoneS, Hoang Ha Mobile and Huawei experience stores nationwide, along with e-commerce sites such as Lazada, Shopee and Tiki.
To find more information on products and promotions, please visit:
– Huawei: https://consumer.huawei.com/vn/audio/freebuds-pro/
– Shopee: https://shopee.vn/product/93963889/6056939144
Source: http: //danviet.vn/theo-chan-misthy-dj-mie-trai-nghiem-tai-nghe-freebuds-pro-tai-su-kien-ra-mat-5 …Source: http://danviet.vn/theo-chan-misthy-dj-mie-trai-nghiem-tai-nghe-freebuds-pro-tai-su-kien-ra-mat-50202031120172325.htm
.