Tuesday, October 27, 2020, 19:00 PM (GMT + 7)
This is a GPS smart watch capable of tracking health 24 hours, integrating more than 20 sports applications.
Garmin has just announced the latest line of smart GPS watches with two versions Venu Sq and Venu Sq Music. The product has a maximum battery life of 6 days in smartwatch mode and 14 hours in GPS mode, the starting price from 4.99 million VND.
According to the manufacturer, the Elevate 24/7 heart rate monitoring technology of these Garmin smartwatches can take heart rate readings multiple times per second. In addition, the watch also offers other features, including: 24-hour blood oxygen monitoring, breathing monitoring and warning when the heart rate is too high or too low.
Garmin Venu Sq watch.
The user can also control the stress level and be reminded when there are signs of rest, monitoring the menstrual cycle and the amount of water in the body. Body Battery technology helps users to control the level of stored energy, so that they can plan exercise and rest.
In situations that require rest and relaxation, you can use relaxation and breathing modes, including: Tranquility – which reminds the user to sleep to recharge, Coherence – promotes balance and bottle Static, Relax and Focus – release stress and increase concentration.
At the end of the relaxation, the watch will briefly display information about the user's time, average breathing rate and heart rate, and the change in the user's stress level. The Garmin Connect application will help review the data in chart form.
The Venu Sq offers a wide variety of user options with workouts stored on the watch, and a range of workouts ready to download from Garmin Connect. In particular, many exercises allow users to adjust themselves to their liking. Venu Sq is connected to Garmin Coach, offering free workout programs tailored to each person's goals and abilities.
Besides, Pulse Ox function lets users know the level of oxygen in the blood. When you wake up, users can review their sleep stats in Garmin Connect to assess the quality of sleep, thereby planning appropriate rest. The Pulse Ox feature can be turned on all day in settings.
Particularly, Venu Sq Music version allows users to download music and create their own playlist, especially with Spotify, Amazon Music and Deezzer apps right on this watch.
The Venu Sq smartwatch lineup features a 1.3-inch rectangular Corning Gorilla touch-screen design with aluminum bezel and silicon strap. The Venu Sq lineup is available in light purple, gold-white, and dark gray. The Venu Sq Music version will be available in light yellow with rose gold dials, navy blue with gold trim, moss green and black with gray trim.
Source: http: //danviet.vn/garmin-gioi-thieu-dong-ho-thong-minh-co-gps-do-nhip-tim-nhieu-lan-moi-giay-502 …Source: http://danviet.vn/garmin-gioi-thieu-dong-ho-thong-minh-co-gps-do-nhip-tim-nhieu-lan-moi-giay-502020271018592458.htm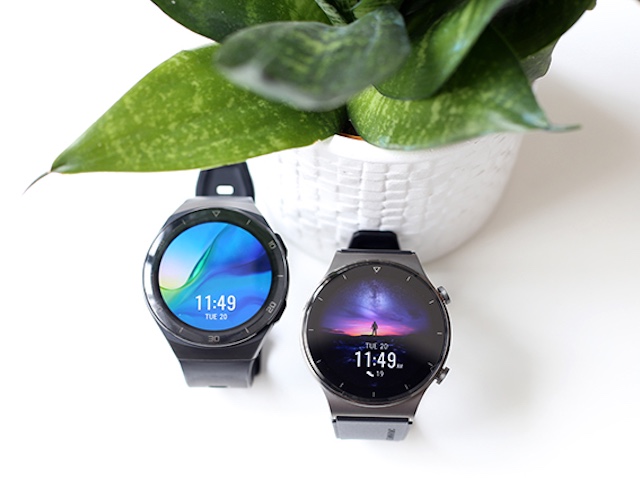 The Huawei Watch GT 2 Pro is a comprehensive upgrade of the GT 2 that was launched around this time last year.
.