Saturday, May 1, 2021 12:30 PM (GMT + 7)
After all, no one can trade on a dead planet.
Gojek in Indonesia has just released its "Three Zeros" commitment by 2030. Gojek's approach revolves around three specific themes: Environmentally sustainable (GoGreener) to achieve zero emissions. pollution and zero waste, socio-economic progress (GoForward), and equality and inclusion (GoTogether).
Gojek aims to use 100% electric cars by 2030. (Artwork)
Accordingly, Gojek will launch the GoGreener Carbon Offset feature in the app. This is the first time the industry calls for a car technology to compensate for carbon between an organization and an individual. In addition, they also participate in feasibility studies and pilot projects to accelerate the rollout of electric vehicles, towards the transition to 100% electric vehicles by 2030.
At the same time, Gojek plans to launch GoTransit service to better integrate first- and last-mile transport with public transport. The reduction of plastic waste is also done through many other projects.
Gojek adds that they have helped more than 530,000 driver partners save on daily costs through the Swadaya (driver partner benefit program); Create diversified income opportunities for driver partners through a partnership with PromoGo and launching GoCek. They also launched the GoFood Partner Community (with over 54,000 restaurant partners) to help hone their entrepreneurial and digitizing skills.
Gojek also helps to minimize the impact of COVID-19 for partners across the ecosystem. In 2020, they established the Anak Bangsa Bisa Foundation (YABB) to support their partners and the broader community affected by the pandemic, raising IDR 100 billion from senior leaders and Gojek employees and IDR 20 billion from corporate contributions and other donation programs.
The tech giant also leverages the size of its network to keep customers up-to-date with health and safety guidelines. Also put out some features and initiatives on the application to help stop the spread of COVID-19 and support frontline staff.
Through the Gojek report, Dr. Allinnettes Adigue – Director of the ASEAN Regional Center for Global Reporting Initiative commented: "Sustainability will be good for people, the Earth and the long-term profits of a public. ty. Because after all, no one can run a business on a dead planet.
"The private sector needs to act urgently and help solve the most pressing environmental and social problems that threaten the earth and our communities today," said Andre Soelistyo – Co-CEO Gojek added.
Source: http: //danviet.vn/gojek-he-lo-loat-tinh-nang-moi-de-trai-dat-khong-tro-thanh-hanh-tinh-chet-5020 …Source: http://danviet.vn/gojek-he-lo-loat-tinh-nang-moi-de-trai-dat-khong-tro-thanh-hanh-tinh-chet-50202115123039918.htm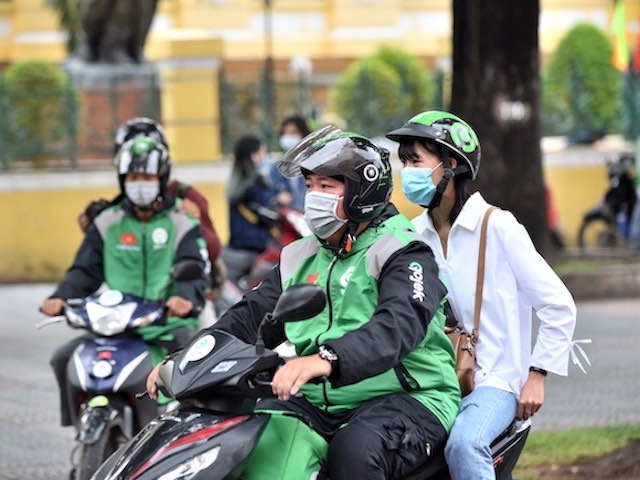 The current battle of using technology car is still quite fierce between the "big" Gojek, Grab or Be.
.