Monday, August 23, 2021 16:30 PM (GMT+7)
Many red or yellow roads appear on Google Maps, although the streets of Ho Chi Minh City are very open and traffic is convenient.
"Traffic" is an option displayed on Google Maps to see traffic conditions on routes. In which, the red sections are difficult traffic, may be congested or serious traffic jams; Yellow is interpreted as "breathable" and blue means ventilation. The intensity of the color is also used to indicate the level of traffic in that area.
Try to see the traffic situation on the roads in Ho Chi Minh City with Google Maps at noon on August 23 with "Traffic" mode activated, it is easy to see that many red or yellow segments appear on this map. While this is the time when Ho Chi Minh City is tightening the distance according to Directive 16/CT-TTg, minimizing people to go out when not really necessary.
Regarding the traffic situation on the first day of strengthening social distancing, Senior Colonel Le Manh Ha – Deputy Head of the Advisory Department (Ho Chi Minh City Public Security) said that from 0:00 on August 23, the number of vehicles was the highest. Motorcycles on the road have decreased by about 85% with August 22.
Some roads in Ho Chi Minh City are still in yellow and red traffic on Google Maps.
So why are there yellow and red segments? To answer this question, first learn how Google flags traffic for each section of the road.
In addition to information from the authorities of the host country, reports submitted by users, Google also uses data collected by itself through its services to analyze, thereby warning. traffic status report.
Follow Business Insider, Google Maps is able to do this thanks to all of us. Hundreds of millions of people around the world are providing Google with real-time data that they use to analyze traffic conditions.
Option to view traffic conditions using Google Maps.
Specifically, all iPhones that open Google Maps and Android phones that have location services turned on will send anonymous data to Google. This allows Google to analyze the total number of vehicles and the speed on each road at each point in time.
"Other popular GPS-enabled mapping apps like Apple Maps, Waze, HERE maps and Mapquest, etc. all provide similar traffic information. But Google's advantage is the number of people. use and huge amount of data", Business Insider said.
Follow Business Insider, Google even analyzes the history of traffic conditions on specific roads at specific times. That makes it possible for Google to predict how traffic will change when users (who are elsewhere) drive there.
Thus, it can be understood that the existing yellow and red segments on the Google Maps map are where the checkpoints are located in Ho Chi Minh City. Google has received and analyzed location data from smartphones of officials in the COVID-19 prevention and control force when they stopped at one place for a long time, plus people passing through these checkpoints had to run. Slow down and stop the vehicle and present the road permit for inspection.
However, with most of the streets in Ho Chi Minh City having green traffic on Google Maps and the procedure to check the road permit at the checkpoints does not take too long, who is allowed to go out during the day? At this stage, traffic will still be very smooth.
Source: http://danviet.vn/tphcm-nguoi-dan-han-che-ra-duong-tai-sao-google-maps-van-co-nhung-doan-do-vang…Source: http://danviet.vn/tphcm-nguoi-dan-han-che-ra-duong-tai-sao-google-maps-van-co-nhung-doan-do-vang-50202123816283520.htm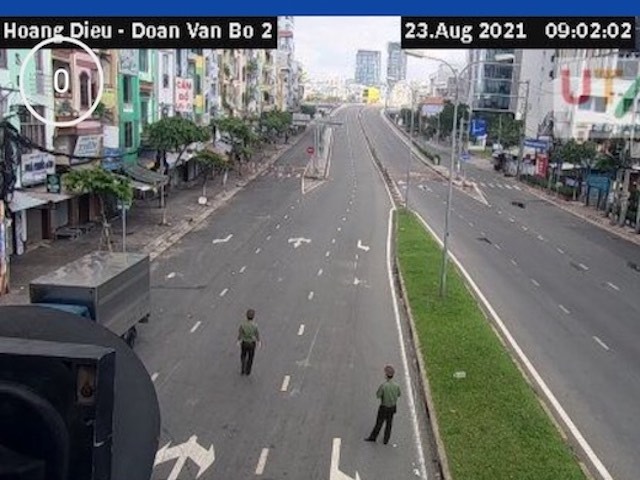 The main roads and streets in Ho Chi Minh City were quite deserted on the first day of stricter distancing to prevent and control the epidemic…
.