Thursday, August 26, 2021 12:00 PM (GMT+7)
Social media companies and media platforms are spending more and more money on payments to content creators each year.
The Google-owned video social networking service, YouTube, has just said that it is spending more money on creators joining its service. Over the past 3 years, the service has paid content creators more than 30 billion USD, and the number of people participating in the affiliate program has surpassed 2 million users and companies creating original content for the platform. .
YouTube began using a portion of its advertising revenue to pay content creators in 2007, during which an affiliate program was formed that allows users to publish content in a variety of ways. can monetize videos.
This was a timely decision as advertisers boycotted the service at the time due to the large number of inappropriate videos. In 2018, the company significantly reduced the number of channels with monetization enabled by tightening the rules. However, now the number of people participating in the YouTube affiliate program is increasing again.
YouTube's main competitors such as Facebook, TikTok and Instagram have tried to lure content creators with hefty payouts, but so far none have been successful enough to compete. beat YouTube when it is still the most popular platform.
YouTube also pays rewards to traditional media that post videos to the platform. It's unclear what part of YouTube's $30 billion total payments are made by the companies, but experts say a large portion of the payments go to independent content creators who have choose YouTube as a tool for them to make money from their videos.
It is known that YouTube's affiliate program is currently available in some countries. To qualify for the affiliate program, YouTube members must meet a number of requirements such as having more than 1,000 subscribers, more than 4,000 watch hours in the last 12 months, a linked Google Adsense account, and more.
Source: http://danviet.vn/google-da-chi-bao-nhieu-tien-cho-nha-sang-tao-youtube-trong-3-nam-qua-50202126…Source: http://danviet.vn/google-da-chi-bao-nhieu-tien-cho-nha-sang-tao-youtube-trong-3-nam-qua-50202126811596307.htm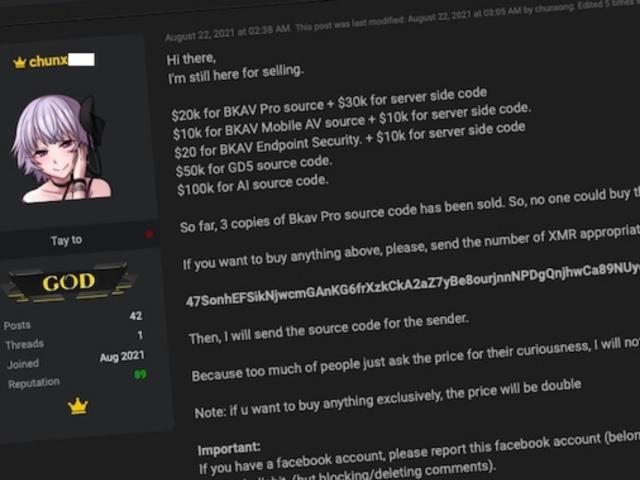 The case of hackers selling the source code of products and documents of BKAV technology group has caused a stir during the past time.
.