Saturday, February 27, 2021 10:05 AM (GMT + 7)
Youtube is the world's largest video sharing social network with billions of videos with a variety of topics and rich content. Do you also want to join this video social network and become a creator? Watch now how to create a Youtube channel extremely easy and detailed below.
In this article will guide you to create a youtube channel in the fastest and most detailed way to share videos with billions of users around the world, and you can make money from the videos you make.
First, to create a Youtube channel, you need a Google account. If you have, skip this step, if you do not have one, you can refer to how to create a Google account below.
Create a Google account
Step 1: Visit page: https://accounts.google.com/signin then click Create account. Select "For myself" if you create a personal google account, select "To manage my business" if you create an account for your company. Here we choose individuals.
Step 2: Enter First Name, First Name and Username (the same Google account name). Next, Enter and confirm your password >> Click Next.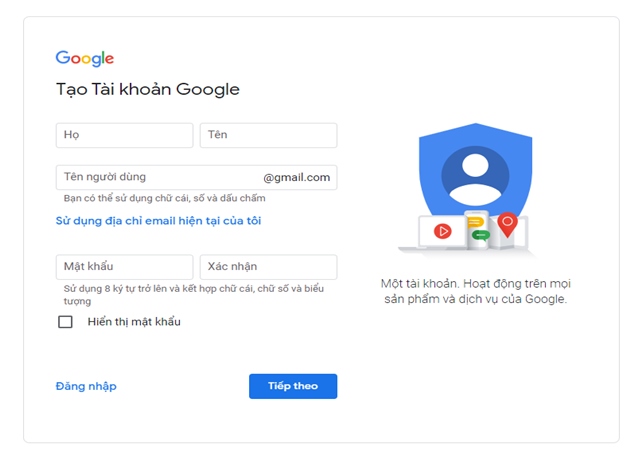 Note: If your username matches you must choose another name.
Step 3: Fill in security information such as phone number, recovery email, gender, date of birth, … Next, enter the activation code sent to the registered phone number.
Step 4: Click I agree to the Google policy terms. So your Google account has been successfully created. Proceed to create a Youtube channel.
1. How to create a youtube channel on the computer
Step 1: Access to Youtube.com and select Sign In. Fill in the account information and password as you signed up with Google.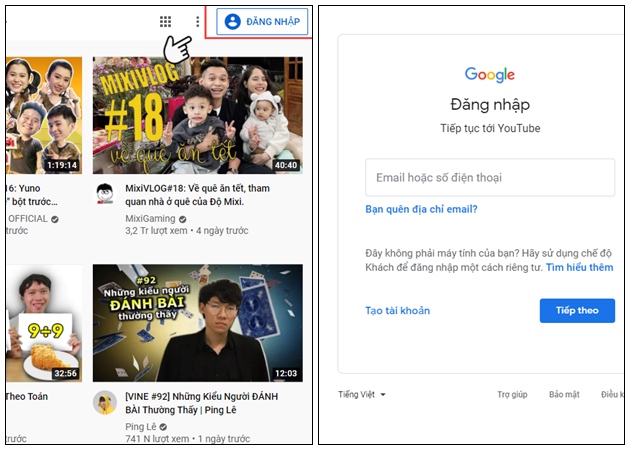 Step 2: After successfully logged in, click on the avatar in the upper right corner, select Create a channel >> Click Start to continue.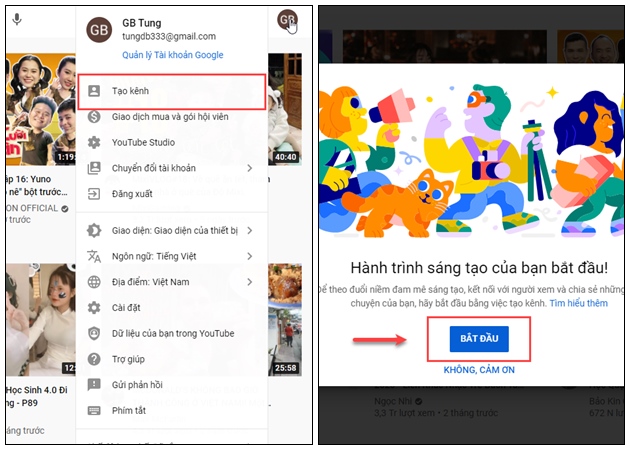 Step 3: Youtube will propose 2 options for channel selection:
Create a channel by name and photo on your Google Account
– Create a channel by brand or other name and photo.
You can choose to create a channel with a name and image on your Google Account.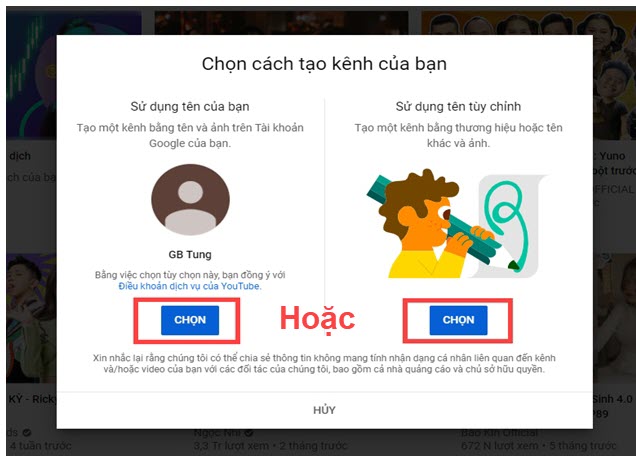 Step 4: Here, we choose the first option is Create a channel by name and photo on your Google Account to complete the steps to add channel information. You proceed to Upload profile picture as profile picture on Youtube.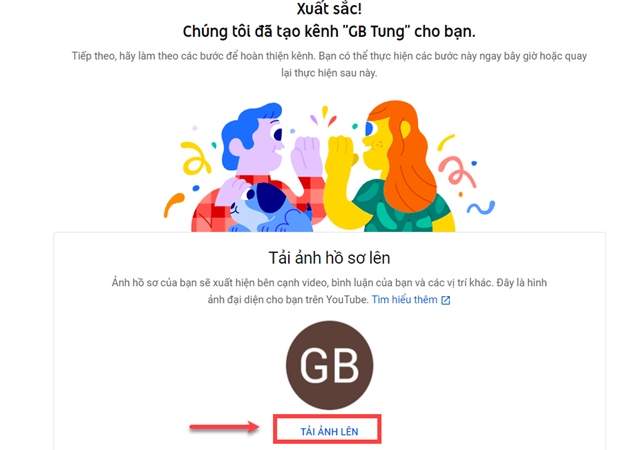 Step 5: Fill in information on Youtube channel
– Write content information that describes your Youtube channel so that people know what video information you are sharing about, what topic.
– Share other social networking links like Facebook, Twitter, Instagram to keep your viewers connected with you and your latest videos.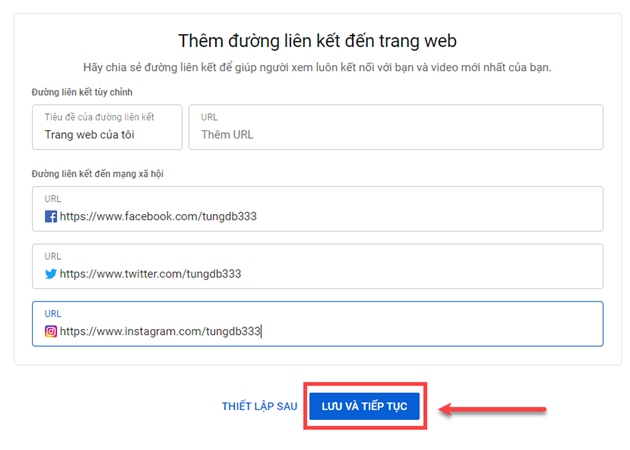 Then click Save and continue.
Step 6: After clicking Save and continuing, you have successfully created a youtube channel. At this step, upload your first video by clicking DOWNLOAD VIDEO TO Start sharing your story and connecting with your viewers. The videos you uploaded will appear here.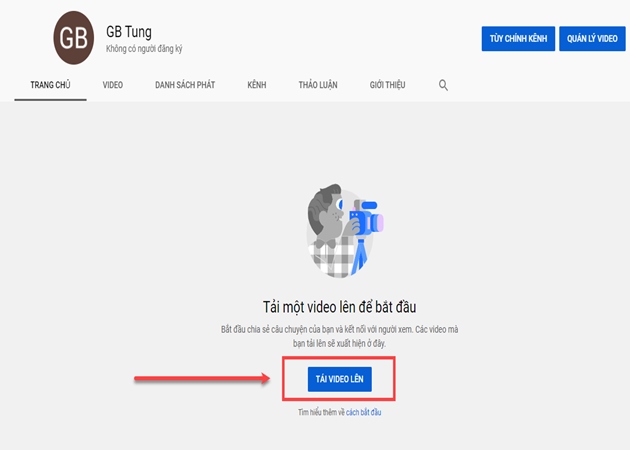 Create a brand Youtube channel from the main account
If you create content with many different topics, you can create a channel for each topic so that users can easily access the right content they need. At the same time, it is easier to manage videos. Other newly created channels are still managed from your Google account.
Step 1: Access to "Settings".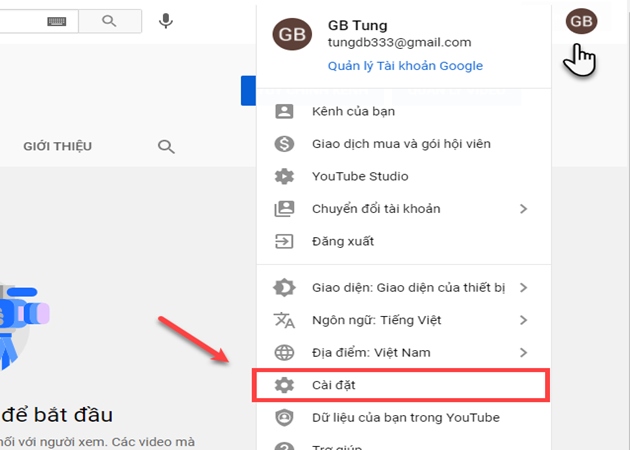 Step 2: Select Create new channel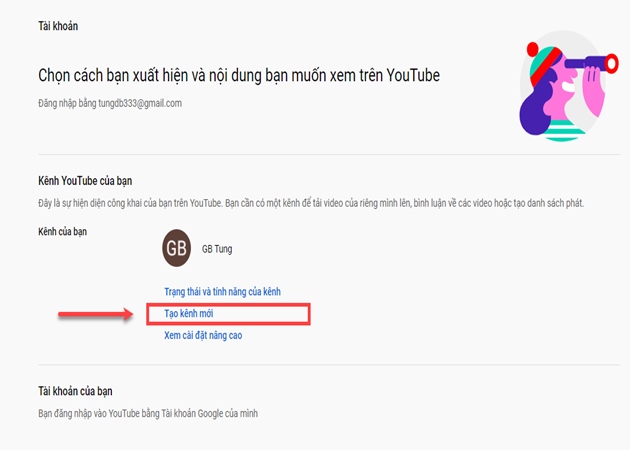 Step 3: Enter a brand new channel name and click "Create".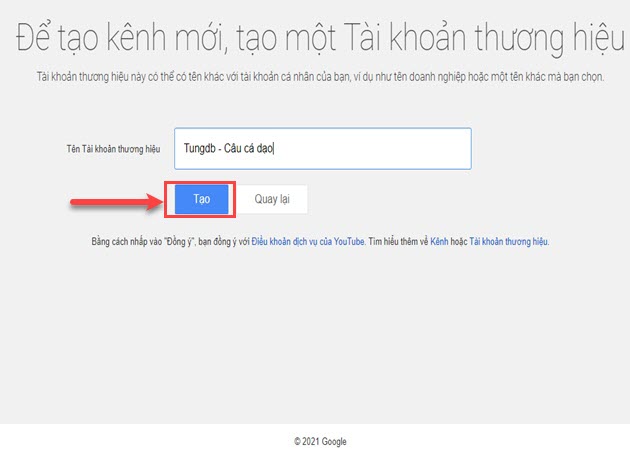 Step 4: The newly created channel has the same look and features as the newly created channel.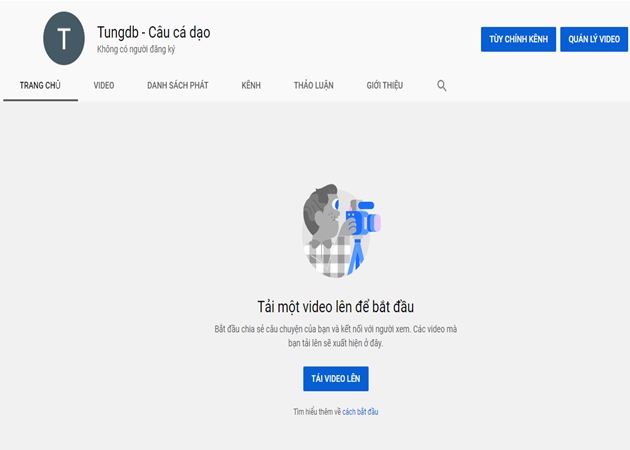 Step 5: To manage my youtube channel. Go to Settings >> choose "Add or manage your channel".
Here, if you want to create one content per channel, click Create channel and follow the same steps from Step 1 to create a new one.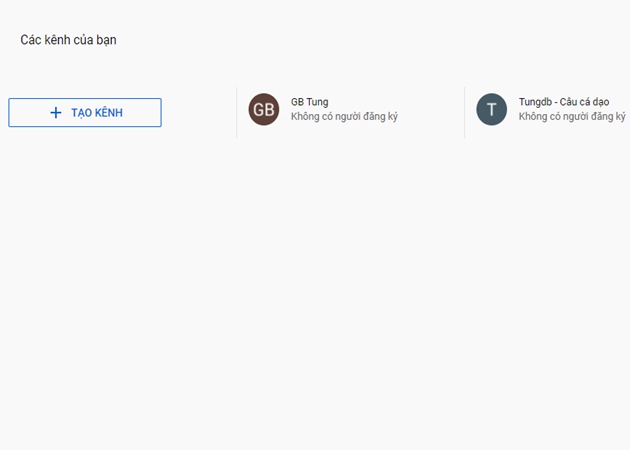 2. How to create a YouTube channel on Android and iOS phones
Step 1: Download and install Youtube app on CH Play and Appstore then open the app >> Sign in with your newly created Google account >> Select Your Channel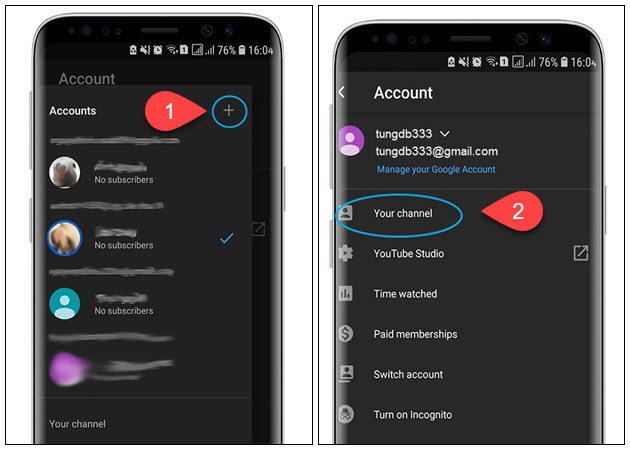 Step 2: Give a name to your Personal Channel and click "Create Channel". After creating a channel, you can proceed to upload your video and fill in the video description information and properly tag the target video content will bring a better user experience on your channel.
3. How to customize and optimize your YouTube channel
After creating a channel, you should add all the information about the channel and video content to promote and identify the brand, optimize search from Youtube and also the video and channel will be recommended in the top position.
In the My Channels section, you access Customize channels to proceed with the setup.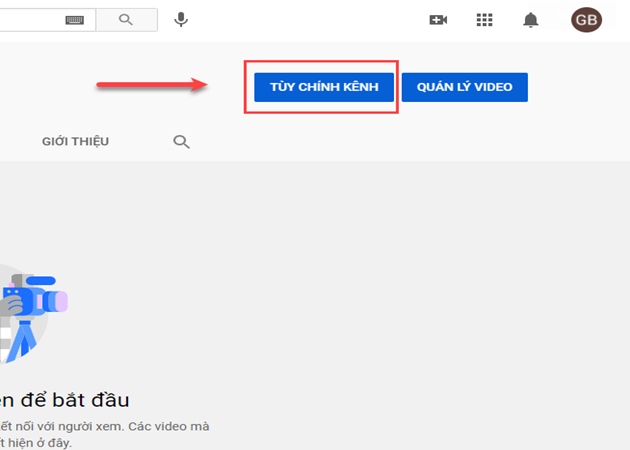 Layout
This is the first part of the channel customization you need to optimize. First: – Add a preview video to introduce the channel to the unregistered.
– Add featured videos for former subscribers. Subscribers who have watched this video will not see it again at the top of the channel page.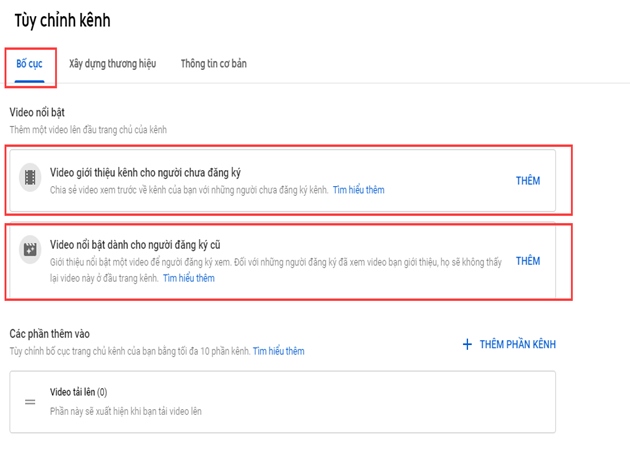 Branding
– Update profile photo: Add profile photo to increase brand awareness and show the professionalism of the creator.
Banner image: This image will appear at the top of your channel. Images with a minimum resolution of 2048 x 1152 pixels and maximum size of 6MB are recommended for best quality.
Video watermark: Load a watermark to insert into your videos, a watermark will appear in the right corner of the video player to increase brand recognition and copyright markup on each video. Choose a picture with a resolution of 150×150 pixels in PNG format with a maximum size of 1 MB.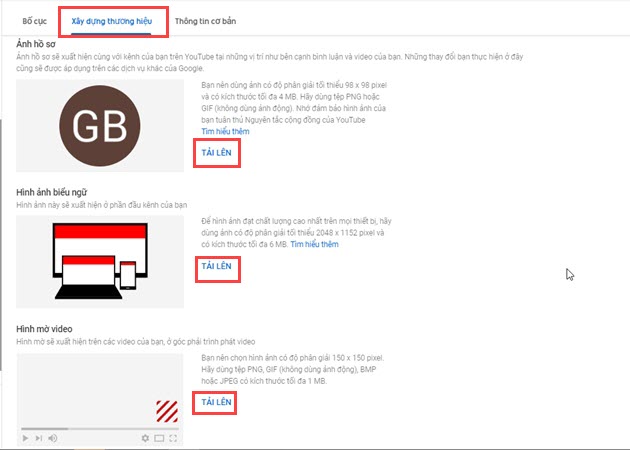 Basic information
In this section, you should fully update
– Name and Content describe their channel, cleverly put keywords on the video topic to optimize when users search for the channel.
Social media links: Increase your brand coverage and reach users by adding social media links to your YouTube channel like Instagram, Facebook, Twitter, …
– Update contact information if someone needs to contact you to promote your brand or comment on the videos you publish.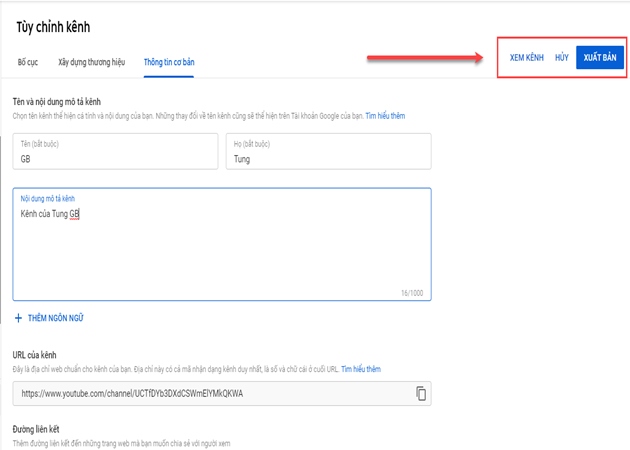 After updating, please click View channel to check the information, then click Publish to save the updated information.
4. Manage Youtube channel with YouTube Studio
Manage videos, view metrics and analyze word data about your channel professionally and intuitively.
Dashboard: Can upload videos, quickly update channel subscribers, views and watch time,
Content: Shows uploaded videos and live streamed videos. Includes metrics like Impression mode, restrictions, date posted, number of views, number of video comments and likes.
– Playlist: Update videos on the list of topics you post
Channel analytics: Shows the clearest and complete overview of performance, from the general channel level to each specific video. The design also has new metrics, such as impressions, click-through rate of impressions, and unique viewers …
– Comment statistics of users who commented on your video.
– Copyright: Statistics of whether videos infringe the copyrights of others and your removal requests due to unauthorized video use.
Monetization feature: Update subscribers and watch hours of eligibility Enable Google Monetization for Creators.
Sound Library: A huge store of royalty-free music you can use without charge or piracy.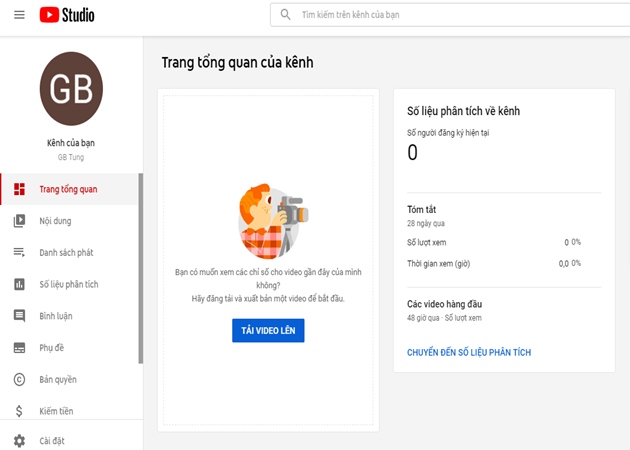 Source: http://danviet.vn/cach-tao-kenh-youtube-don-gian-nhanh-chong-5020212721045258.htmSource: http://danviet.vn/cach-tao-kenh-youtube-don-gian-nhanh-chong-5020212721045258.htm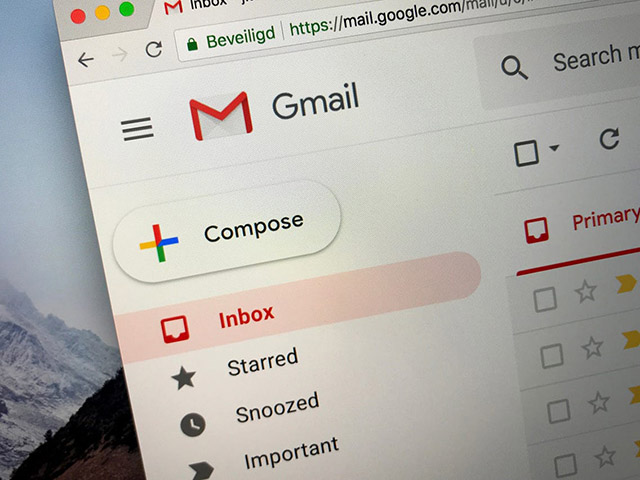 If finished reading the article, perhaps the user wants to know what to do to prevent his Gmail account from being deleted.
.