Sunday, February 28, 2021 08:00 AM (GMT + 7)
iPhone is disabled (iPhone is disabled) preventing you from using all of the iPhone's features. So how to unlock iPhone is disabled then let's see how below.
Even newer iPhones like the iPhone 12, iPhone 11 and XS Max can be disabled. Detailed instructions on how to fix a disabled iPhone and find out why this is happening.
Why is iPhone disabled?
The reason iPhone is disabled is due to incorrectly entering the screen lock code many times. Specifically:
– iPhone will be disabled for 1 minute after 6 consecutive unsuccessful passcode attempts.
– 7th incorrect passcode entry will be disabled for 5 minutes.
– 8th attempt in 15 minutes and incorrect 9th attempt will be void for 1 hour.
– If you pass 10 attempts and still have not entered the correct passcode to unlock iPhone, you will receive notification that iPhone is disabled – Connect to iTunes. (iPhone is Disabled – Connect to iTunes)
In addition, if you set up after 10 attempts to enter the wrong iPhone unlock password, all data will be deleted.
How to fix disabled iPhone
1. Restore disabled iPhone without a computer
One way to unlock a disabled iPhone or iPad without a computer is to use the service Find My iPhone (Find My iPhone) Apple's. This service allows to perform actions on iOS devices remotely. This method will only be used successfully when your iPhone has Find my iPhone search enabled.
Step 1: On another phone, open up your browser and access the address: https://www.icloud.com/.
Step 2: Sign in to your iCloud account with your Apple ID and Password to start using Find My iPhone.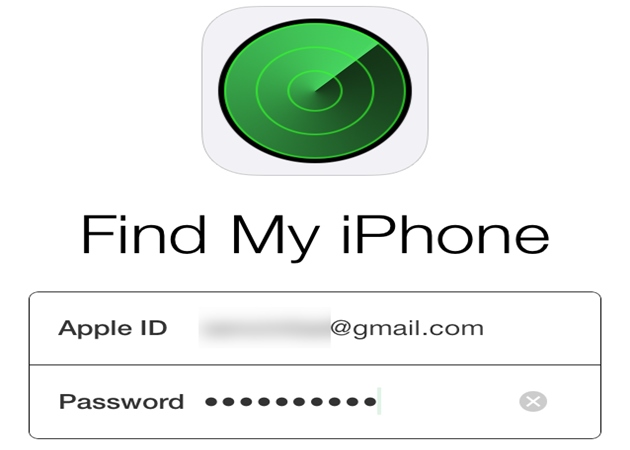 Step 3: Sign in successfully, you will see all your Apple devices using the same iCloud account.
Step 4: Tap your disabled iPhone in the list >> select Erase iPhone (Erase Phone) at the bottom right corner of the screen to remove the passcode and all data on this phone to get rid of the iPhone disabled. >> Click Continue.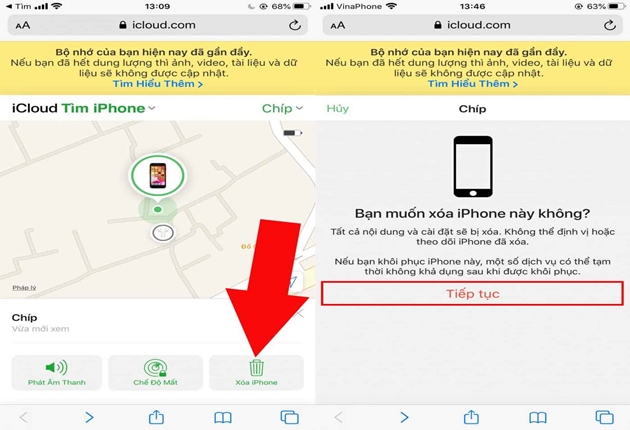 Step 5: Select the latest backup from iCloud to restore and reset your iPhone and use it normally.
2. Fix iPhone is disabled using iTunes
Case 1: iPhone has not synced via iTunes with computer
Step 1: Download the iTunes software at: https://support.apple.com/downloads/itunes Then install and launch the iTunes software.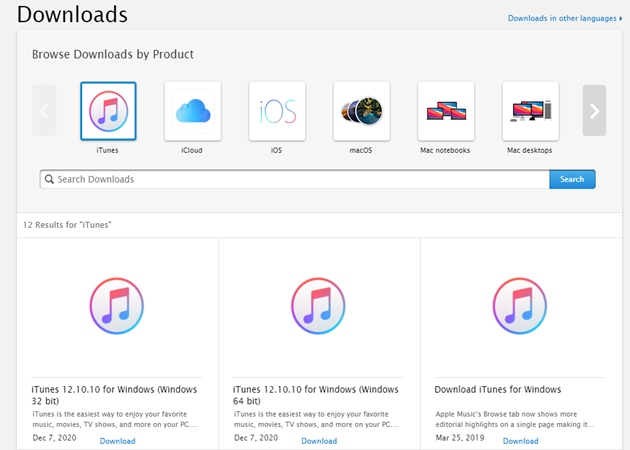 Step 2: Put the device in DFU mode and restore iPhone by:
– For iPhone 8, 8 Plus and above: Press and hold the Power button + Volume Down button until the screen goes black (not lock the screen) >> Release the Power button, keep holding the Volume Down key to bring to DFU mode and restore the iPhone.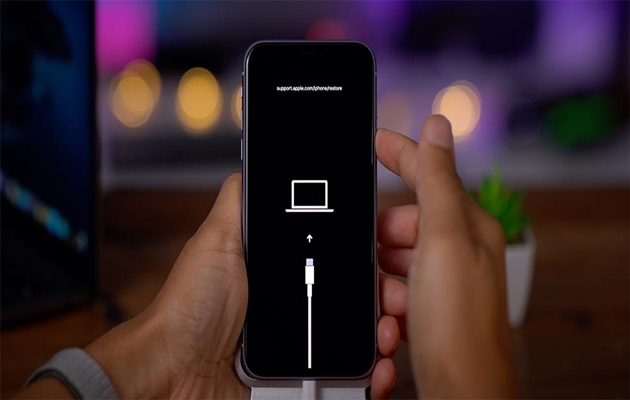 – For iPhone 7 and 7 Plus and below: Press and hold the Power button + Home button until the screen turns off, release the Power button, keep holding the Home button until the notification screen connects to iTunes.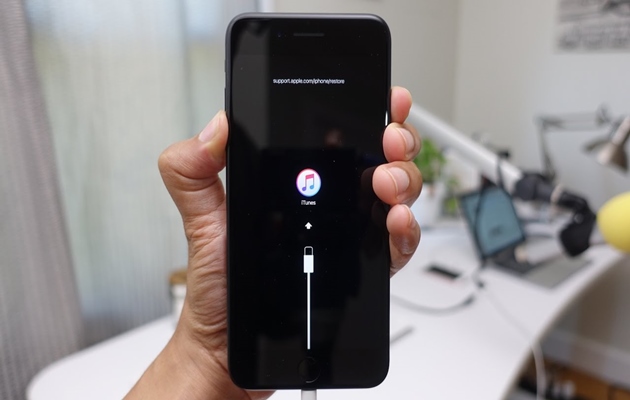 Step 3: Connect iPhone to computer using Lightning or Type C cable.
Step 4: At this point, the computer screen will show the content "iTunes has detected an iPhone in recovery mode. You need to restore this iPhone before you can use it with iTunes ". You need to click OK to continue.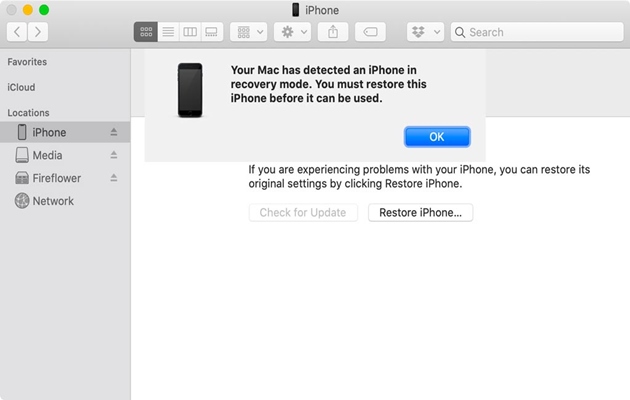 Case 2: iPhone already has backup via iTunes software
Step 1: Connect your iPhone to the computer that you normally sync with using a lightning or Type C cable.
Step 2: Open the iTunes software, click the Back Up Now button for the computer to back up all the information in your iPhone. Choose where to save the backup file is This computer or iCloud.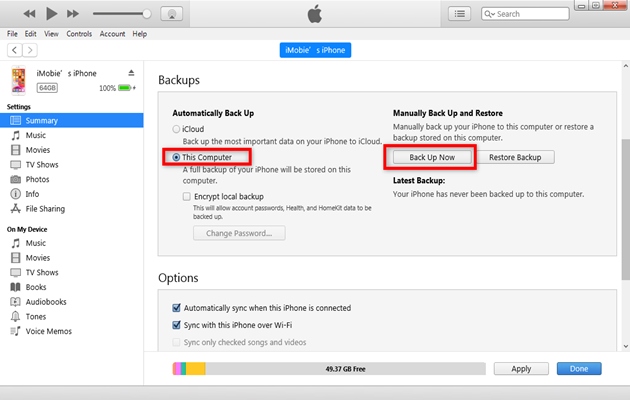 Step 3: When the Back Up process is finished, choose Restore Backup and navigate to the nearest data backup.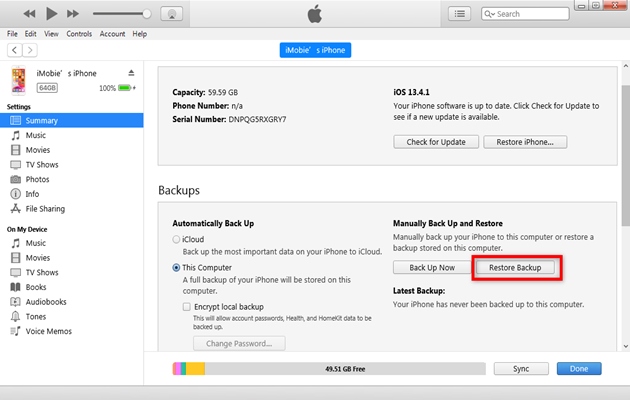 Then, just wait until the Restore process is finished and you can use your iPhone without a password.
3. Use the Recovery feature to recover
IPhone that has backed up data can use this method if disabled. Connect iPhone with iTunes software on your computer and put the device into DFU mode.
At this point, your iPhone is in Recovery mode, you can choose Restore or Update. Select Restore iPhone to proceed with the restore or Update to update to the latest iOS version.
4. iPhone unlock is disabled using Any Unlock software
Step 1: Download the Any Unlock software and launch it on your computer.
Step 2: Connect iPhone to computer using a cable. Wait until AnyUnlock recognizes the iPhone device then >> click "Unlock Screen Passcode".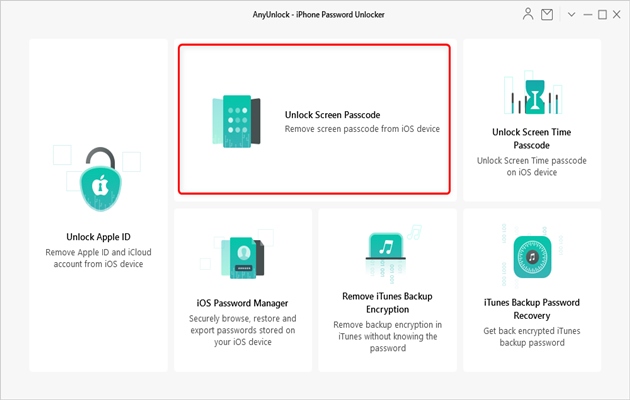 Step 3: Click Start >> Download and then wait for the software to download the latest version of iOS compatible with your iPhone.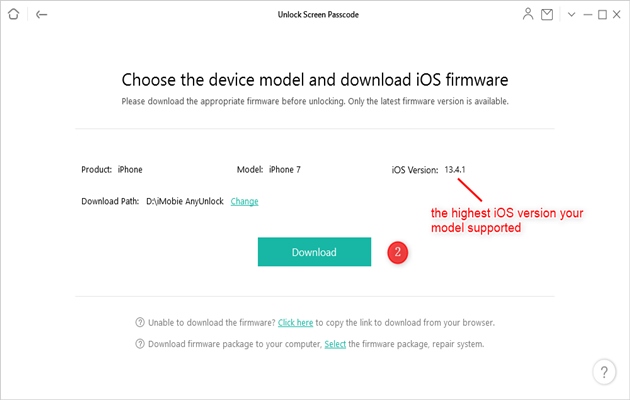 Step 4: When the download is complete, click Unlock Now. The Any Unlock software will then automatically unlock the screen passcode.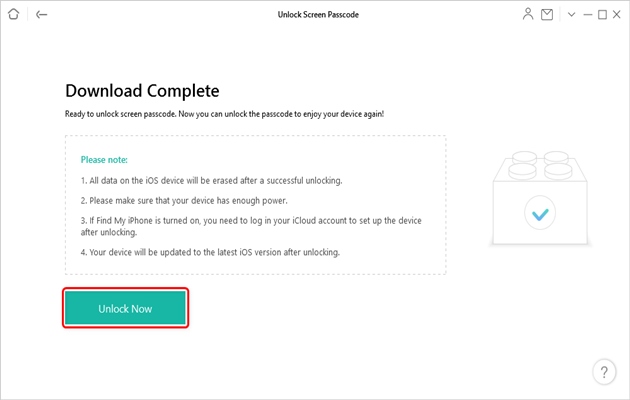 Step 5: When the recovery is complete, the software will say "The screen lock password has been removed". Proceed with the settings after the iPhone reboots. Thus, iPhone has exited disable mode and use normally.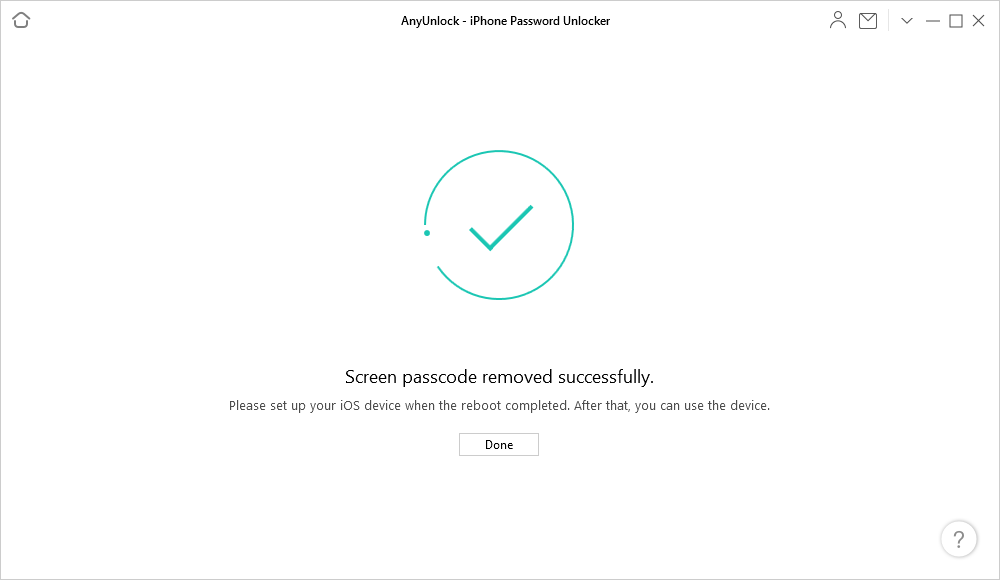 Note:
– All existing content and settings on your device will be erased once the erasure is complete, it is recommended to back up before restoring.
– Once unlocked, your iOS system version will be updated to the latest version.
– If Find My iPhone on the device is turned on, you need to enter your iCloud account password to set up the phone after unlocking.
What to do to prevent iPhone from being disabled
– Use Facebook or Touch ID: Limit forgetting or confusion when entering the iPhone unlock password and the iPhone is not annoyingly disabled. You can always use Touch ID or Face ID to unlock instead of having to enter a passcode.
Use Touch ID or Face ID, depending on which iPhone generation you own. From the iPhone 5S to the iPhone 8, there is a Touch ID option. If you have an iPhone X, XS, or XR, without the Touch ID option, you must use Face ID instead.
– Set a new password that is easier to remember: Set a simple, easy-to-remember password associated with outstanding events.
– Turn off Raise to Wake mode (bring up to turn on): In case when the phone is in the pocket when moving, the pop-up to turn on is accidentally activated and the password is entered incorrectly many times, causing iPhone disabled.
Source: http://danviet.vn/iphone-bi-vo-hieu-hoa-va-cach-khoi-phuc-don-gian-de-lam-5020212827586277.htmSource: http://danviet.vn/iphone-bi-vo-hieu-hoa-va-cach-khoi-phuc-don-gian-de-lam-5020212827586277.htm
.