Those are job recruitment messages, scamming people who are "cheap and gullible" and in fact, someone lost more than 822 million VND.
Recently, iPhone users continuously receive job recruitment messages via iMessage. It is worth mentioning that these recruitment messages are purely for fraud purposes, which have been regularly warned by the authorities as well as by network operators and banks.
" TIKI shop needs to recruit employees to work from home!!! Limited quantity is only 50 people. Job: Processing orders on application platform. Age requirement: 23+ years old. Income 280k – 1200k. Receive money within the day.", extracting the content of a scam message pretending to be Tiki.
Constant spam messages about work from home.
Regularly receiving a message of this type via iMessage every day from different email addresses (iMessage allows sending free messages via email or registered phone number), Mr. Thanh Nam (31 years old, TP. .HCM) could not help but be annoyed: "Just listen to ting ting, see the message displayed from the email, oh my god, you know spam. It's the same every day, it's indescribable".
Mr. Nam said that when he received these types of messages, he didn't know what to do other than delete them and select "junk mail" when the notification appeared. According to him, iMessage understands this is a spam message, but each time it is sent, the crook uses a different email, so perhaps Apple has to "give up".
Ms. Hanh (27 years old, HCMC) is in the same situation. From the day she switched to using iPhone, she constantly received such messages via iMessage. Not only recruitment messages pretending to be Tiki, she also received messages pretending to be Amazon, TikTok, Shopee,…
"It's not difficult to recognize these scam messages, but I'm worried that other less experienced users may be deceived because the recruitment information is too attractive. Fraudsters persist in sending messages continuously. That means they may have prey."Hanh said.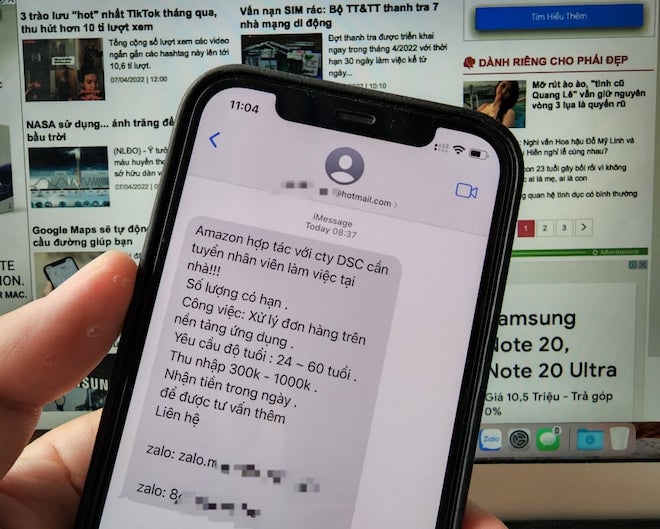 Detail a job recruitment scam message content.
Indeed, on April 18, the web portal of the Ministry of Public Security once reported that the Investigation Police Agency – Quang Ninh Provincial Police had prosecuted the case of "fraud to appropriate property", specified in Clause 1 of this Article. Article 174 of the 2015 Penal Code and is actively investigating for clarification. The victim in this case is Ms. PTH (born in 1990; living in Quang Hanh ward, Cam Pha city, Quang Ninh province) who was scammed to appropriate property with the amount of more than 822 million dong.
When receiving the job recruitment content as above, Ms. PTH took the initiative to leave her phone number, then a Zalo account named Nguyen Thuy Dung made friends and introduced herself as a Shopee consultant, asking Ms. provide personal information, including bank accounts.
Dung gave Ms. H. a collaborator code with the symbol A688, then sent the links (each link that Dung sent corresponds to a product, these products belong to Shopee.vn website) and requested. please Ms. H. Clicking on this link will see the product code with the price.
In addition, Dung also provided a Techcombank bank account named "PHAM THU HA" and instructed Ms. H to perform the operation to buy the product listed in the link and then pay by transferring money to the above account number.
After transferring money through the bank's application, about 10 minutes later, Ms. H.'s account received the amount of the product purchased along with a 10% commission of the product value. The crook explained to Ms. H. that this is a form of stimulus for stalls to increase sales.
With the above method, the first time Dung sent Ms. H. the link of the product code with the price of 340,000 VND, Ms. H transferred money to order this product and received 374,000 VND in return. Next, this subject sent a link of a product code priced at 220,000 VND and a product code priced at 639,000 VND, resulting in Ms. H receiving a total of 944,900 VND.
Due to the desire for profit, Ms. H. continues to be scammed and led around in buying and selling. In the end, Ms. H. transferred more than 822 million VND to the crook, and the subject named Dung also disappeared from here.
People must be wary of fraudulent tricks to appropriate property via social networks, with the following methods:
– Impersonating employees of sites such as Shopee, Lazada, Tiki, … entice users to join collaborators (CTVs) to sell online with attractive commissions of 10-20%.
– Ask the collaborator to place a virtual order and must pay for the order first, then receive the principal and commission for the order.
– Appropriating the entire amount of CTV paid for the order.
Source: http://danviet.vn/nguoi-dung-iphone-than-troi-vi-tin-nhan-spam-qua-imessage-502022304185923668.h…Source: http://danviet.vn/nguoi-dung-iphone-than-troi-vi-tin-nhan-spam-qua-imessage-502022304185923668.htm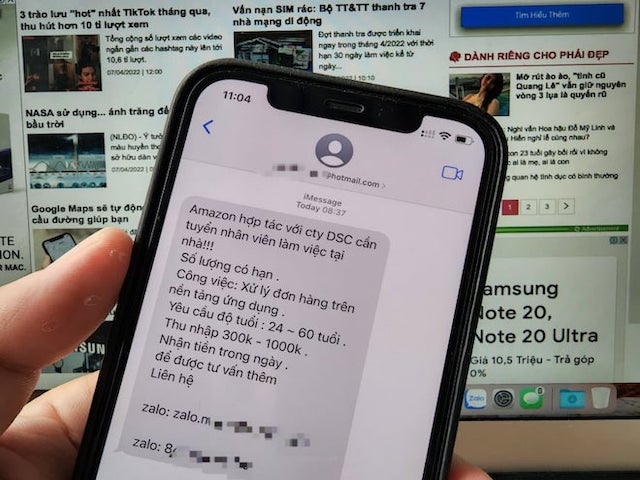 "This action is fraudulent and has no connection with Amazon or its employers," Amazon said in a statement.
.