Tuesday, June 8, 2021 18:00 PM (GMT+7)
Following the success of the past year, the "Vietnam CEO & CMO 2021" Conference will officially return with breakthroughs in content and scale on June 18.
CEO & CEO Summit is an annual event organized by the Global Mobile Marketing Association (MMA). With the participation of more than 1,000 C-levels from businesses and multinational corporations in many different fields, this year's event promises to give marketers the opportunity to meet and discuss with industry leaders and experts.
Let's take a look at the most anticipated hot topics at "CEO & CMO Summit 2021"
CEO & CMO Summit 2021 will revolve around the theme "Pivot to the New Normal". Guest speakers will share and discuss the issues of concern, the latest innovations and trends of the Mobile Marketing industry in Vietnam and the world. From there, businesses will have a more general view of the market and offer solutions for the most appropriate marketing strategy, especially in the situation of facing unprecedented fluctuations due to the Covid pandemic. -19 caused.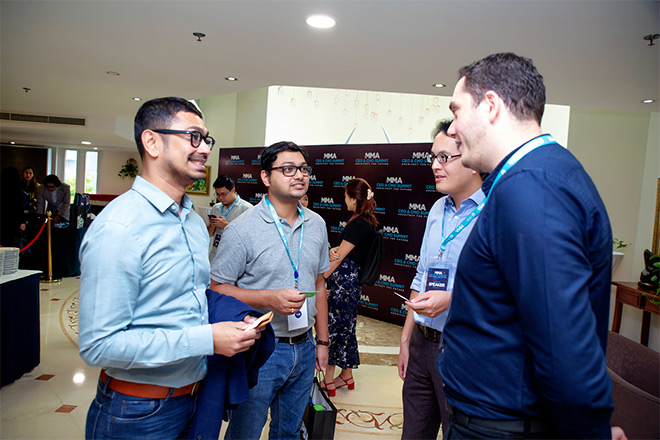 To kick off this year's event, Mr. James Griffin, Vice President of Marketing for Beauty & Personal Care at Unilever Vietnam, will discuss Purpose Led Marketing and its core role in the modern marketing industry. Participants will share about campaigns carried out with a specific purpose to build a brand image associated with social values, as well as how to grasp the power of Purpose Led Marketing to overcome the pandemic. translate this time.
Next, attendees will listen to the sharing from Mr. Pablo Gomez – Regional Media Lead from Kantar Media Asia on "Choosing effective media channels." During the complicated pandemic situation, marketers are working with increasing budget pressure. Pablo will present his 5-year research on how to build an effective digital marketing strategy that can help businesses successfully get through this difficult time.
In particular, in the morning session, the three "big guys" in the Facebook, Google and Unilever industry will have a direct dialogue in the panel with the topic of Marketing Effectiveness, a measure of the effectiveness of the business. result of a marketing campaign. Participants will listen to stories from Ms. Nguyen Thi Mai – Vice President of Marketing (Homecare) Unilever Vietnam, Ms. Nguyen Thi Giang Xuan – Head of Agency, Global Business Group Facebook Vietnam and Mr. Deepak Chandran – Head of Google Insights.
Marketing Growth Frameworks Rethink will be the topic of discussion Mr. Greg Stuart – CEO of the Mobile Marketing Association (MMA) shared during this year's conference, promising to be an effective model to help businesses reorient their strategic direction to attract customers and maximize profit.
In addition, attendees will be able to participate in sharing sessions about "Social Commerce in Vietnam" from Mr. Aniq Syed – Deputy Managing Director Publicis Media, "The Highlights of E-Commerce in Vietnam" from Mr. Nguyen Ngoc Dung – Vice Chairman Vecom, and "The New Era of Marketing" from Ms. Naree Nguyen – TikTok Vietnam. Representatives from this "storming" social media channel will share how TikTok has created a new wave of influence in a short period of time in different markets, thereby highlighting opportunities. to improve, change the approach of Reach and Relevance.
In the afternoon session, CEO & CMO Summit 2021 will focus on the latest trends and technologies in the industry such as Omni Channels, Cookieless Advertising, Blockchain, …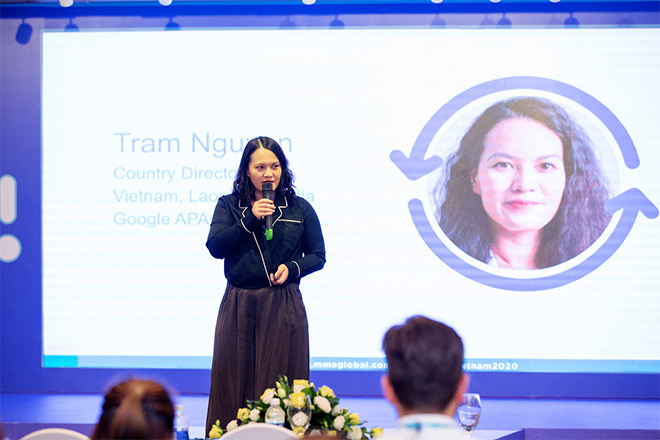 During the second keynote keynote of the event, Ms. Tram Nguyen, Google Country Manager (Vietnam, Laos and Cambodia), will discuss a very "hot" topic right now: "Privacy-First Future: Cookieless Advertising." As the number of online users is increasing due to Due to the impact of the pandemic, the security of user information has become more important than ever.A representative from Google will share the measures this global corporation is taking to protect the safety of users' information. users in particular and the Internet in general: through product development, allowing users to have full control over personal information,…
Following the program will be the sharing from CEOs and CMOs of famous enterprises. Mr. James Dong, CEO of Lazada Vietnam will share about the latest technology trends in the Marketing industry. Mrs. An Dang – CMO Provence and Mr. Cuong Nguyen – Marketing Director Biti's will lead the discussion about appropriate marketing models to approach during the pandemic such as building relevance, improving products, implementing brand partnerships, effective promotions ,…
Mr. Gowthaman Ragothaman – The CEO of Aquiliz will emphasize clarifying the topic "Reinventing MarTech with Blockchain". In the near future, digital platforms will eliminate the use of cookie data from 3rd parties for the purpose of protection. Therefore, Blockchain is one of the solutions that companies are aiming to adapt to an upcoming "cookie-free" future.

Photos shared from the MMA Global event – CEO & CMO Summit
In addition, industry leaders will share in face-to-face conversations about "Data" and its essential role in Modern Marketing with the participation of major financial institutions such as FE Credit, Techcombank and Coc Coc and representatives of Dentsu Group in Vietnam. In the CMO Talk, three Marketing Directors from Marico, Mondelez and Castrol will talk about the importance and how to develop customer relationships through "Omni channel" under the direction of the Director. Mindshare Vietnam Manager, Ms. Kristy Toomer. They will provide valuable experience on current innovations, technologies and trends, thereby helping businesses achieve the highest success.
With a "rich" list of speakers and more than 1,000 C-level guests from brands and agencies in the ecosystem inside and outside Vietnam, this is definitely a Mobile Marketing event not to be missed. passed in 2021.
CEO & CMO Summit 2021 will be held only on June 18, 2021 through an online platform. Just scan the QR code below to register. Stay tuned for information and event topics at the Podcasts that will be broadcast on the MMA Vietnam fanpage in the near future.
MMA CEO & CMO Summit 2021 will be held online on AirMeet at 9:00 – 17:00 on June 18, 2021. All CEOs and CMOs from businesses, brands… are welcome at the event.
Especially, quickly register today via QR code to receive a direct invitation from MMA Vietnam or contact Hotline: 0704874556.
For more information about the CEO & CMO Summit 2021 event, please see: bit.ly/MMACEOCMO186
Source: http://danviet.vn/cac-chuyen-gia-dau-nganh-hoi-tu-tai-ceo-cmo-summit-2021-502021861758524.htmSource: http://danviet.vn/cac-chuyen-gia-dau-nganh-hoi-tu-tai-ceo-cmo-summit-2021-502021861758524.htm
.