Thursday, May 13, 2021 19:40 PM (GMT+7)
Version 1.4 of PUBG Mobile will help gamers experience many unique content.
PUBG Mobile x Godzilla vs Kong
After surpassing the milestone of 1 billion downloads globally in March, PUBG Mobile once again affirms its position as the world's best survival game when collaborating with this year's box office blockbuster "Godzilla". vs Kong". This event really attracted the attention of many gamers around the world because the confrontation between Godzilla and Kong destroyed every theater system. Not to mention, according to estimates, this deal is worth up to billions of dollars.
Godzilla Monster.
In fact, since it was released in 2018, PUBG Mobile has always been considered the most popular survival game in the world and often generates more revenue than expected. Even the number of 1 billion downloads does not accurately reflect the dominance of this game when the statistics do not include the Chinese market. Therefore, the blockbuster "Godzilla vs Kong" in particular or many other popular brands want to cooperate with PUBG Mobile as well as inevitable.
Currently, "Godzilla vs Kong" has grossed $90.3 million in North America and $415.4 million worldwide. This film broke the COVID-19 box office record, with sales of more than $ 32 million in the first three days of its North American release in April. Not to mention "Godzilla vs Kong" also destroyed all the box office in Vietnam. , set a record for the movie with the highest early screening in 2021. Now, these two beasts will have the opportunity to come to the world of PUBG Mobile.
Kong Monster.
From May 11, Godzilla and Kong will appear on Erangel and Sanhok maps, respectively, to challenge a large number of PUBG Mobile gamers, for all to taste the real pressures of a survival game. Both Godzilla and Kong monsters will move around the map and directly attack the player, even destroying them. Not to mention in the map Livik, there will be a super monster MechaGozilla waiting for the bravest gunmen.
PUBG Mobile x McLaren
Also in the Update 1.4 version, the PUBG Mobile community will witness the collaboration of this survival game with the UK supercar manufacturer – McLaren. This is a car manufacturer famous for the famous super cars around the world. Its main products are supercars, products for F1 drivers.
McLaren supercars.
And in this 1.4 update, PUBG Mobile will introduce the McLaren 570S model in the game with 6 multi-color designs: Zenith Black, Lunar White, Raspberries, Glory White, Pearlescent and Royal Black. Gamers can own the skins of this McLaren supercar by performing the new mission system as well as buying directly with UC in the store. Besides the appearance of MacLaren supercar skins, PUBG Mobile's Update 1.4 update will also welcome the Royale Pass season 19.
With cult collaborations with major global brands in this version 1.4, PUBG Mobile has really brought a much-awaited May to its player community. In fact, in the past, this survival game has also had notable combinations with popular names, such as the group BLACKPINK or the Walking Dead and Angry Birds series.
Source: http://danviet.vn/sieu-xe-mclaren-quai-vat-godzilla-va-kong-vao-pubg-mobile-50202113519412890.ht…Source: http://danviet.vn/sieu-xe-mclaren-quai-vat-godzilla-va-kong-vao-pubg-mobile-50202113519412890.htm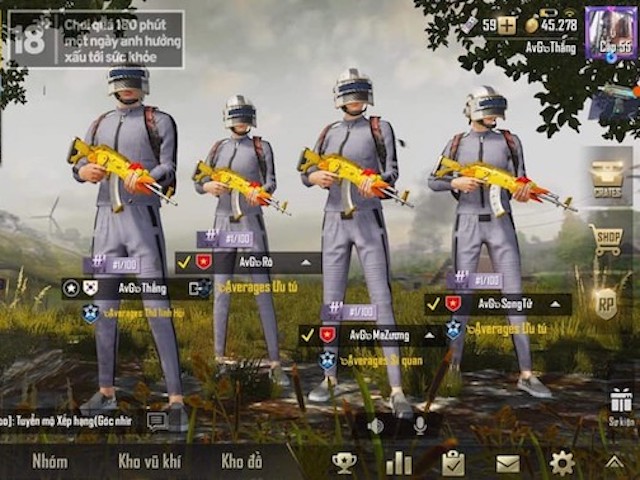 Not only possessing good skills can be "hundreds of battles" but much more is needed.
.