Thursday, July 22, 2021 19:00 PM (GMT+7)
Speedtest.vn or i-speed.vn developed by the Ministry of Information and Communications is free data and no ads.
According to Vietnam Internet Center (VNNIC), to promote the installation and use of i-Speed ​​​​by VNNIC application to measure access speed and Internet user experience, mobile telecommunications businesses VinaPhone, Viettel, MobiFone , Vietnamobile has made data free when using i-Speed ​​application for all mobile subscribers from July 2021. This activity is to support users to experience measuring the speed of regular Internet access through the i-Speed ​​application without data charges.
Unknown facts about UD I- SPEED. (Photo: VNNIC)
The i-Speed ​​application was built by VNNIC and the Department of Telecommunications (Ministry of Information and Communications). The free data fee has shown the determination of businesses to join hands with the management agency to improve the quality of customer service, creating a promotion of competition and fairness among service providers. In addition to free data when using i-Speed, telecommunications and Internet businesses (such as Viettel, VNPT) have integrated i-Speed ​​on their customer care applications, supporting users to measure access speed. Internet conveniently and accurately.
i-Speed ​​is a neutral Internet speed measurement tool, reflecting accurate, objective results, respecting users, without annoying ads for users. Besides the basic features of an Internet access speed measurement system (parameters reflect Internet access speed: Download, Upload, Ping, Jitter; information about connection type (Wi-Fi/3G/) 4G/5G); location of measurement; service provider…), i-Speed ​​also measures the ability to access the new generation Internet of IPv6, a parameter that is not currently supported by foreign systems.
Since its launch, the application has received great support from users with more than 30,000 installs, more than 1 million measurement samples. VNNIC has coordinated with units in Vietnam to deploy 50 measuring points nationwide, far exceeding foreign systems.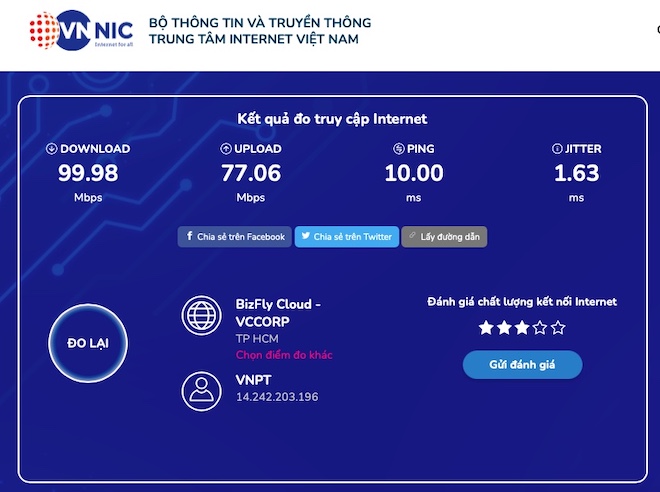 Test the speed of a fiber optic Internet connection.
In the coming time, VNNIC will continue to coordinate with authorities, telecommunications and Internet businesses to further improve the i-Speed ​​application, providing the best user experience; At the same time, they will analyze and share data towards the common goal of promoting sustainable development and building a safe and modern Internet infrastructure in Vietnam.
Detailed information and statistics about Internet connection speed are published on the website https://speedtest.vn or https://i-speed.vn. The Ministry of Information and Communications encourages users to install i-Speed ​​​​application on mobile phones for better use and experience.
Besides actively measuring and evaluating Internet speed, installing and using i-Speed, users are contributing to the construction of Vietnam's Internet. Each sample measured from users has contributed to building a database of Internet access speed, quality, and user experience; well support the state management, development of Vietnam's Internet network; promote competition, improve the quality of Internet service providers.
Source: http://danviet.vn/thue-bao-mobi-vina-viettel-khong-ton-data-khi-do-toc-do-internet-tai-day-50202…Source: http://danviet.vn/thue-bao-mobi-vina-viettel-khong-ton-data-khi-do-toc-do-internet-tai-day-50202122718593263.htm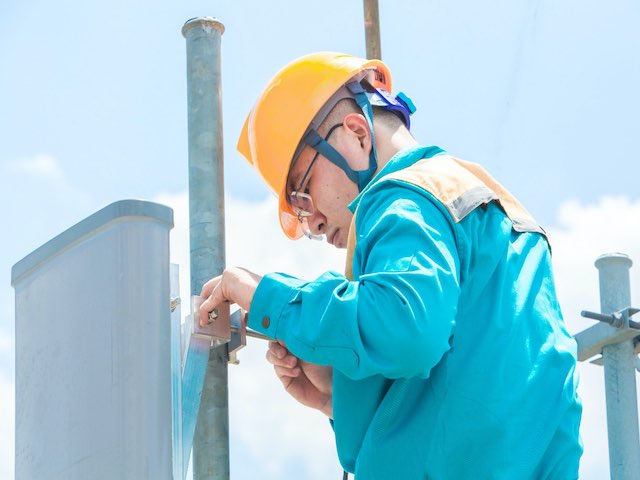 This is the test result in 4 provinces and cities: Hanoi, Hai Phong, Hai Duong and Hung Yen in July 2020.
.