Monday, July 26, 2021 18:00 PM (GMT+7)
Tennis player Nguyen Thuy Linh had an impressive performance at the Tokyo 2020 Olympic arena in badminton.
On the afternoon of July 26, Nguyen Thuy Linh (world No. 41) of the Vietnamese sports delegation had a match against rival Tai Tzu Ying (world No. 1) at the Tokyo Olympics 2020. This is one of the remarkable matches. of the Vietnamese sports delegation in Japan, when Thuy Linh had previously had an unexpected successful opening match with an opponent in the rankings.
In the midday match on July 26, Thuy Linh entered the game with confidence and continuously led the opponent in the first 2/3 sets. After that, the number 1 player in the world equalized and passed, winning both sets. Although she could not win against Tai Tzu Ying, Thuy Linh's performance was commendable, leaving many impressions on fans.
Immediately after the match, this female player born in 1997 shared a photo taken with Tai Tzu Ying on social networks. Thuy Linh shared her pride when she played her best, and especially with her idol in the badminton village. Immediately, the status received nearly 4,000 likes, dropping hearts after less than an hour.
Status of Nguyen Thuy Linh after the match.
"I see that Linh played not bad in this match, but looking at your face is sometimes very stressful because your opponent is the number one in the world. However, when you go out to the big sea, you should put aside the shy mentality before the players. stronger opponent aside In sports it's normal to win or lose but if your mentality is better in the last match then you can show this opponent that winning is really not easy. I will play well next game!", Facebooker Cuong Manh Nguyen sent encouragement to Thuy Linh.
"Honest advice! You hit very well, the technique, the difficulty, the cunning are all at the level of the top 10 athletes in the world. My weakest point is the champion's style. stubbornness, stalking, waiting and a cold head In this match, her face showed too much emotion after each broken bridge, which made the opponent excited. There was a time when she was cold, immediately the opponent failed. Maybe I don't compete internationally so that's why. Let's practice coldly like Momota even though I know that it will lose my cute drawing", Facebooker Binh Nguyen wrote.
Many fans praised both Thuy Linh's performance and her beauty.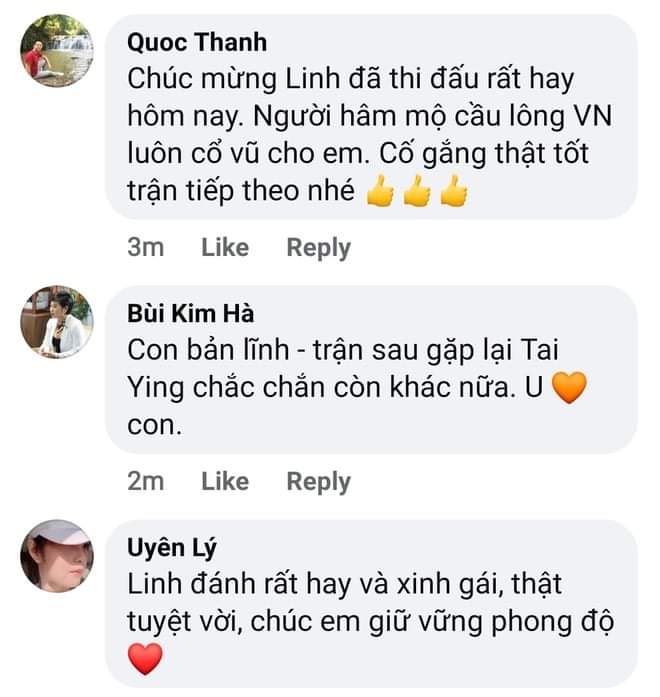 Much love was sent to Nguyen Thuy Linh by fans.
Along with that, fans also shared many statuses about this beautiful and talented "golden girl" of the Vietnamese sports delegation.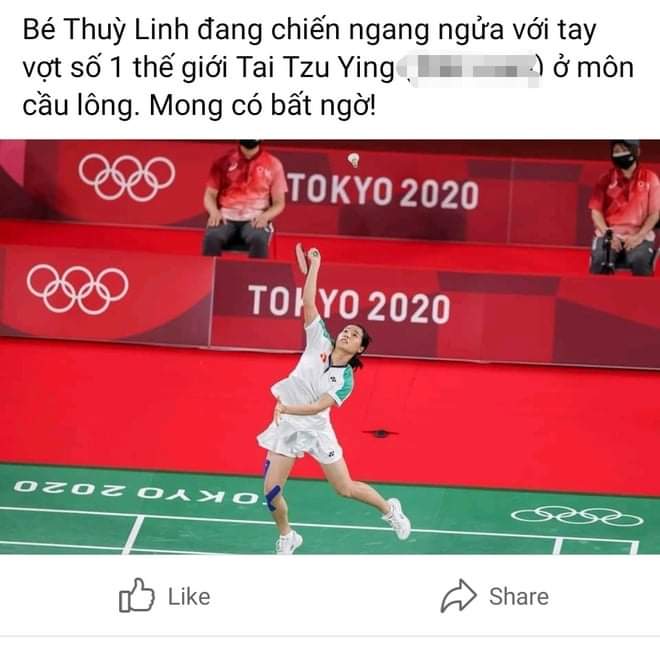 Thuy Linh's performance in the first 2/3 of set 1 received many compliments from fans.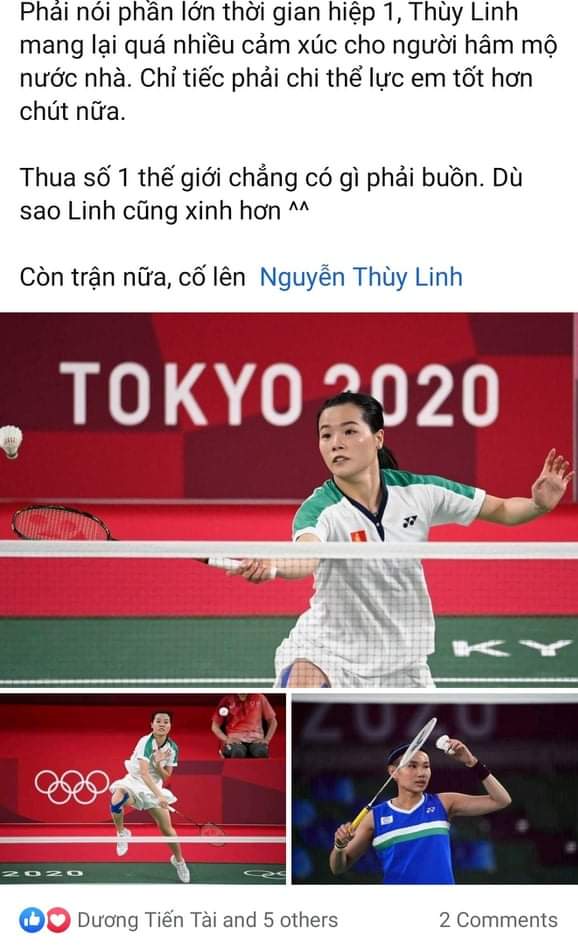 Playing her best in the Olympic arena, Thuy Linh has left many emotions for those who are watching her, including sports reporters.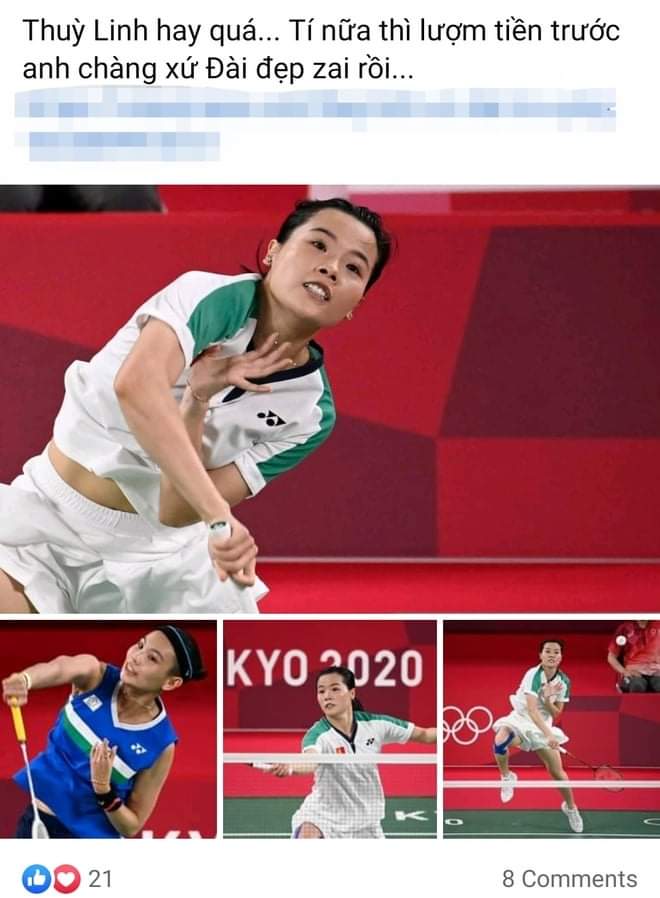 Some moments of Thuy Linh and rival Tai Tzu Ying were shared on social networks.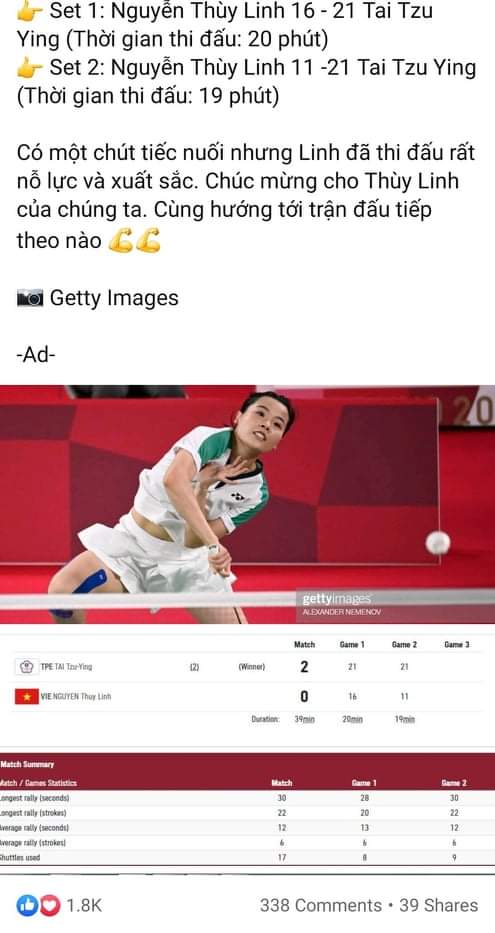 Some numbers about Thuy Linh's second match at the Tokyo Olympics 2020. On July 28, Thuy Linh will have her next match.
Before that, when going to the Tokyo 2020 Olympic arena, Nguyen Thuy Linh shared many lovely and lovely moments. She expressed pride when participating in the biggest sports Olympics on the planet for the first time.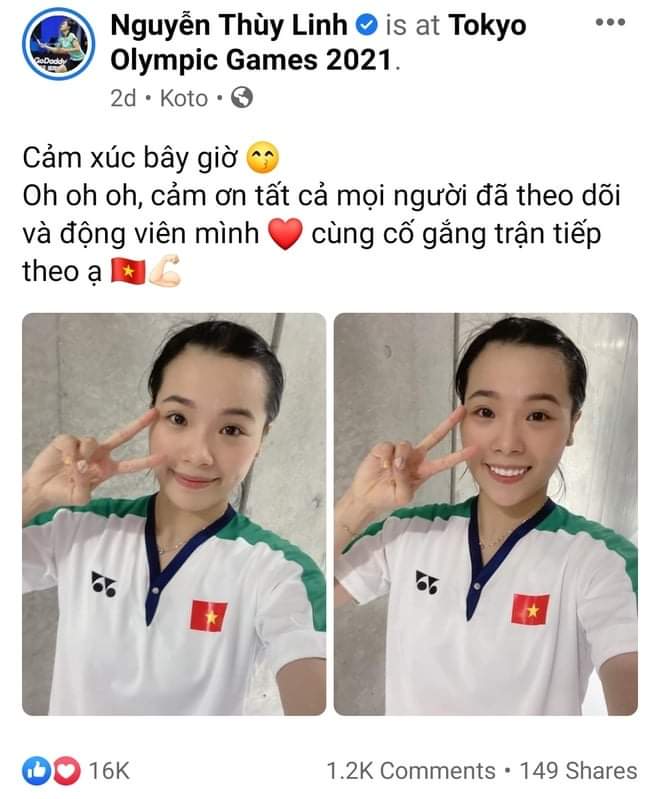 Photo of Nguyen Thuy Linh beaming at the Olympic arena.
Source: http://danviet.vn/olympic-tokyo-2020-dan-mang-goi-ten-hotgirl-cau-long-nguyen-thuy-linh-50202126…Source: http://danviet.vn/olympic-tokyo-2020-dan-mang-goi-ten-hotgirl-cau-long-nguyen-thuy-linh-50202126717582520.htm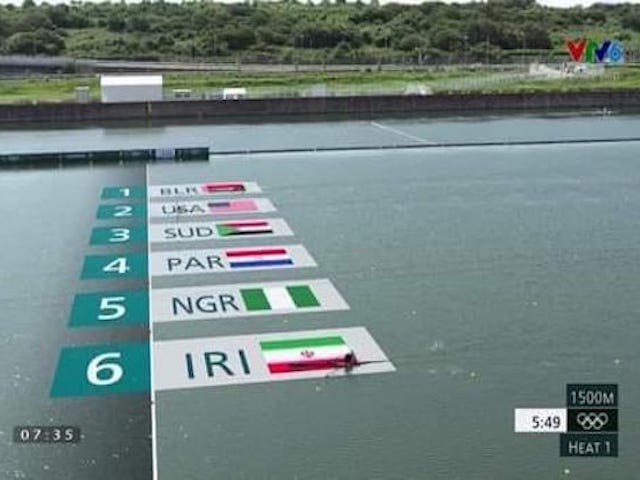 These graphics technologies are so realistic that the boats or water waves acting on them also create a very…
.