Monday, October 11, 2021 20:00 PM (GMT+7)
Many stories about the technology entrepreneur profession are shared on social networks, attracting attention and support from the online community.
Technology Entrepreneur – Strange but familiar
In the past few days, "Technology entrepreneur" has become a keyword that the online community enjoys exchanging in groups and forums on social networks. Not a stranger, Tech Entrepreneurs are a community of people doing business on online platforms, serving the needs of digital consumption in modern life, especially during the Covid-19 pandemic. complicated past.
Many people are excited to share about this new name as well as enthusiastic business stories. To them, "Technology Entrepreneur" is not only a common name but also a recognition of their dedicated efforts and serious investment; and at the same time bring a more correct view to society for this work. Above all, like many other professions, Technology Entrepreneur is a respectable and proud profession.
Derived from the post of player Van Toan on his personal facebook, he shared the feeling of being "a salad" when he was called a Tech Entrepreneur and the journey of starting a business on Lazada e-commerce platform. Being loved as a player in the Vietnamese national team, fans were surprised and delighted when for the first time Van Toan shared about his enthusiasm for his "beloved child" – a clothing shop. VATO9. After more than a year of tinkering and learning business, Van Toan has "pocketed" quite a bit of online business knowledge on e-commerce and achieved certain successes with his own brand.
The post of player Van Toan attracted the attention of netizens with the name "Technology entrepreneur"
After Van Toan's post, a series of posts with the hashtag #Doanhnhancongnghe continued to spread pride and attachment to the profession. The online community has also expressed positive support for this industry and predicts that this will be an explosive career trend in the near future.
Recently, an account shared interesting and funny content on Fanpage The Anh 28 Entertainment about the profession of "Technology entrepreneur". Accordingly, this account confidently shows off the results achieved after doing business online after being teased by friends for only "selling online", and asserting "from now on, let's call yourself a technology entrepreneur". . This passbook display attracted tens of thousands of supportive interactions and comments, and netizens pulled in and "named" their friends who are tech entrepreneurs.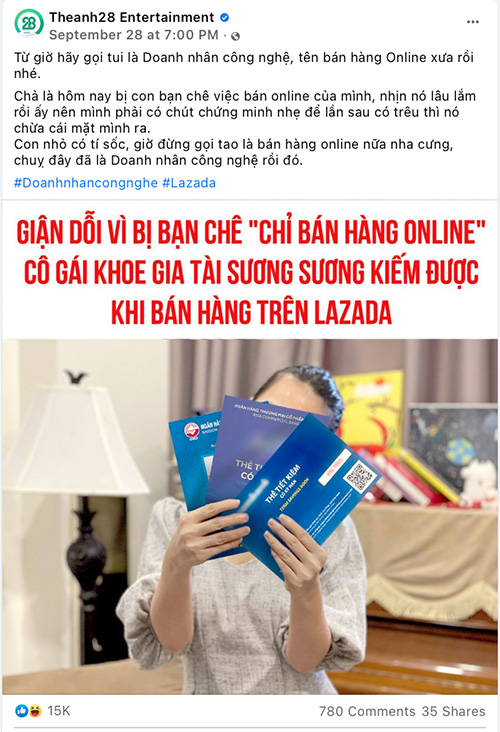 Or a famous "mother of milk" in the online business world, Tue Thu account also tells about the 10-year journey of online business with so much sweat, tears and gray matter to get the result of life. wish like today. Tue Thu expressed joy, pride and emotion when those efforts were recognized and appreciated by society.
"Mother of milk" shows a proud 10-year business journey
Spread positive values ​​to the community
From the online community's interest in the technology entrepreneur profession, it can be seen that this job is no longer seen as a fad. Today's technology entrepreneurs have spread practical and positive values ​​to the community, not only helping many people to stabilize their jobs and income but also make a significant contribution to the development of society.
In the past few days of implementing the distance, Tech Entrepreneurs have accompanied and ensured essential shopping needs for people to prevent epidemics and leave good impressions on the community, thereby affirming even more. determine the important role and development potential of this profession.
Before the contributions of the Technology Entrepreneur community, on October 10, Lazada Vietnam e-commerce platform pioneered to announce the Day of Honoring Technology Entrepreneurs, and officially recognized the role of Technology Entrepreneurs in the world. digital era as well as the practical values ​​they create for society.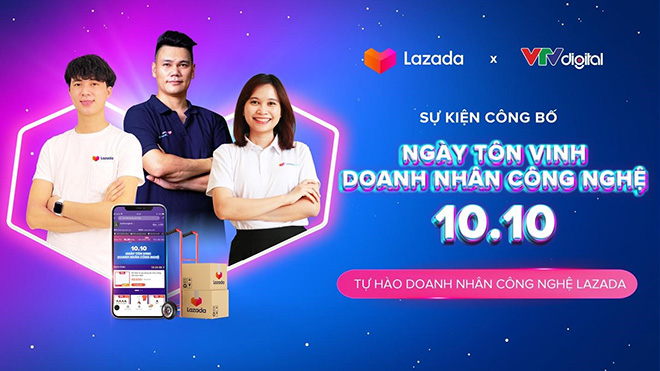 As an e-commerce platform with a large technology entrepreneur community, Lazada has useful and practical business startup support programs such as Lazada Academy, LazMaster campaign, "Selling is easy, go to La-za" contest. -da", a sales promotion package for each new seller listed on the stock exchange with a value of 11 million VND… Not only succeeding in business, the community of Tech Entrepreneurs is growing and helping. together, contribute significantly to the creation of a healthy and civilized online business environment.
Technology Entrepreneurs Honor Day 10/10 officially marks an important milestone in the development journey of the Tech Entrepreneur community and promises breakthroughs in the future ahead.
Source: http://danviet.vn/cau-thu-van-toan-va-cong-dong-mang-dua-nhau-khoe-nghe-doanh-nhan-cong-nghe-502…Source: http://danviet.vn/cau-thu-van-toan-va-cong-dong-mang-dua-nhau-khoe-nghe-doanh-nhan-cong-nghe-502021111019597139.htm
.