Tuesday, November 30, 2021 20:00 PM (GMT+7)
Being served on-site after a long time of separation, many shops in Ho Chi Minh City still choose to sell online to both save costs, ensure safety and have the opportunity to "close" hundreds of orders per day.
More applications, still ensuring safety regulations
Choosing the form of selling through the food delivery app, Ms. Huyen – owner of Dieu Anh grilled spring rolls shop (Alley 75 Ho Tung Mau, Cau Giay District, Hanoi) happily said: "Open from 7am to 10pm, now, the average shop sells about 200-300 orders a day, on peak weekends it can be up to 500 orders."
According to her, the epidemic is still complicated, so the current form of online sales is still the most appropriate and guaranteed. The shop has a "regular order" thanks to participating in many support programs from food delivery platforms.
"The food delivery platforms always have support for small and medium-sized restaurants to increase orders, especially during this epidemic season, so I don't worry about not having customers."Huyen shared more.
Like Ms. Huyen, Mr. Huy's Com Tam restaurant (District 10, Ho Chi Minh City) can sell from 500-600 servings of rice. With a modest area of ​​only about 30m2, if you do not choose to open more "online branches", it will be difficult to serve at "full capacity", especially during peak hours, not to mention ensuring the safety regulations during the epidemic season.
Broken rice restaurant closes 500 orders/day in the form of online sale
Because the restaurant is new, has no name yet, in order to reach the best customers and reduce the cost of space and service, Mr. Huy has chosen to "up the app" next to on-site service.
"Currently, the restaurant is present on almost every food delivery platform, in which, the number of orders on GrabFood still accounts for the majority, about 70% of the total order of the restaurant. Since the beginning of October 2021, the shop is almost operating normally after the period of separation. However, we still continue to sell online because it is still the main selling channel, the "life source" of the shop so far.", Mr. Huy said.
One model, many benefits
It can be said that "applying" is a business form that any restaurant or restaurant applies if they want to have customers, especially in the "new normal" period. In addition to operational benefits such as: no need for premises, no worries about shippers, can focus on improving the quality of the food, etc., the restaurant can also take advantage of promotions from cognitive delivery platforms. eat to attract customers. In particular, GrabFood and Grab Ngon Cheap have been confirmed by restaurants and eateries for their effectiveness, helping them not only stay and develop their business further during the epidemic season.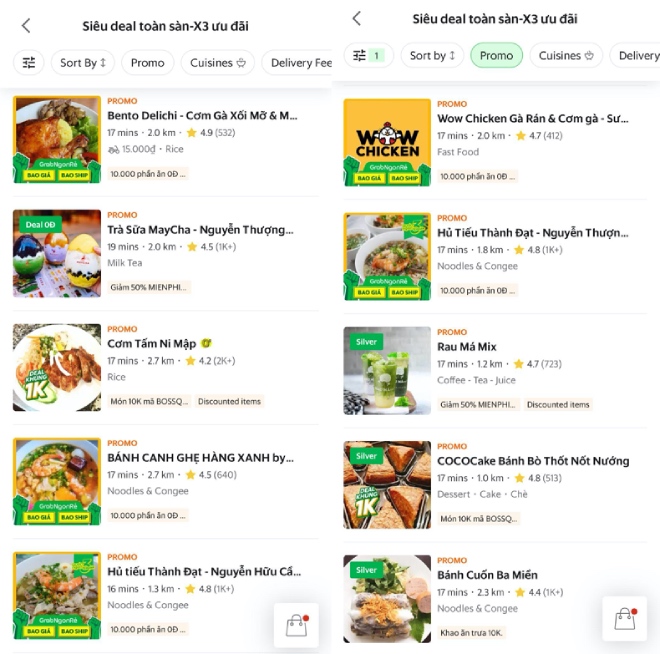 Support programs not only help restaurant partners grow their business, but also bring many benefits to users
According to Mr. Huy (Ni Map broken rice, Ho Chi Minh City), participating in support programs like Grab Ngon Cheap helps attract more customers, especially when users order through GrabFood, they will receive 3 times of incentives, including: Direct discount on the dish, on the total order and on the shipping fee.
"At peak times, sometimes up to 400 orders/day just from the Cheap Grab program. In general, this is a form of cooperation with many parties for mutual benefits: customers order quickly, safely and economically; The restaurant does not worry about difficult "output" during the epidemic season, instead focusing on improving the quality of dishes to better serve customers. The shop has also been increased in visibility, and will be known by more customers in the future." – Huy added. He also said that, in addition to marketing support, at peak hours, Grab also alternates sending people to support at the shop such as coordinating parking shippers, reminding to keep distance as well as ensuring 5K safety criteria when delivery – receive food.
Also putting the shop "on the app" GrabFood early and participating in the Grab Ngon Cheap model, Mr. Tan, owner of the noodle shop 395 Cay Tram (Go Vap District, Ho Chi Minh City) shared, his small shop is still "living". healthy", ensuring an average of 100-200 orders per day.
"I myself am not very tech-savvy, so when I was advised on a reasonable price, I nodded, tested it and found it very effective. In general, I just "buy" everything for the food delivery app, I mainly focus on maintaining the quality of the food, which is safe, delicious, healthy, without increasing the price, there will be regular customers. Due to translation, the shop did not dare to welcome guests on the spot. In short, now the order part, I don't worry, selling on GrabFood is also very good." – Mr. Tan happily said.
Setting up the app early is a way for the shop to increase revenue and stay strong through the epidemic season. On the other hand, it is very important to select the models that help optimize the operation. According to the experience of restaurant owners, the restaurant does not need to participate in many programs of many food delivery platforms at the same time, but should focus on the most effective program.
Source: http://danviet.vn/ban-online-hang-quan-phan-khoi-vi-no-hang-tram-don-moi-ngay-502021301119583171…Source: http://danviet.vn/ban-online-hang-quan-phan-khoi-vi-no-hang-tram-don-moi-ngay-502021301119583171.htm
.