Monday, July 26, 2021 15:00 PM (GMT+7)
This is a startup that wants to build a "terrible" application and social network in Vietnam and reach out to the world.
Thuy Tran – the founder and operator of Pety (app and social network for pets) came to Shark Tank Vietnam to call for 100,000 USD in exchange for 8% stake.
Thuy Tran (left) – founder and Ngoc Giang (right) – Pety's technology director.
Sharing about the idea of ​​​​the Pety application, the founder said that she realized that the reality of dogs and cats was a lot of abandonment, a few lucky people had decent people to adopt, while millions of other cats and dogs could be lost. sold to the slaughterhouse. From the real story and her own experience, Thuy Tran cooked up the idea of ​​​​creating an application specifically for pets, there to help improve and change users' perceptions about pets.
Answering shark Hung's question about pricing and revenue sources, Thuy Tran said that her business had passed the first round of funding with a valuation of $ 1 million, the investor had put down $ 100,000 for 10%. share. The revenue in the first months is only about 10 million, but the latest month is 270 million from the following sources: Advertising on social networks, communication consulting for pet food brands and becoming an official online distributor of these food brands.
"With the 200,000 users we're targeting this year, I expect 5% to become customers. Instantly there will be 10,000 potential customers. The end of May – the beginning of June will launch a group of features about ordering products and services directly on the application.", Thuy Tran revealed.
Shark Lien and shark Binh shared the same assessment, on Facebook there are many communities that love and protect dogs and cats. Therefore, the sharks want the startup to better explain the difference of the Pety application.
Pety's founder said that in this application, pets will have their own profile with full names, species and online health records. From that information, it is possible to customize products and services for each pet. She also said that Pety has 30,000 users and 12,000 pet profiles on the app.
"Facebook only deals with human-to-human relationships, that is the owner's profile. At Pety, we promote pet profiles, helping pet owners find lost pets and adopt abandoned pets." Thuy Tran explained.
"I see the features you say, a group on Facebook can solve it all", shark Binh commented.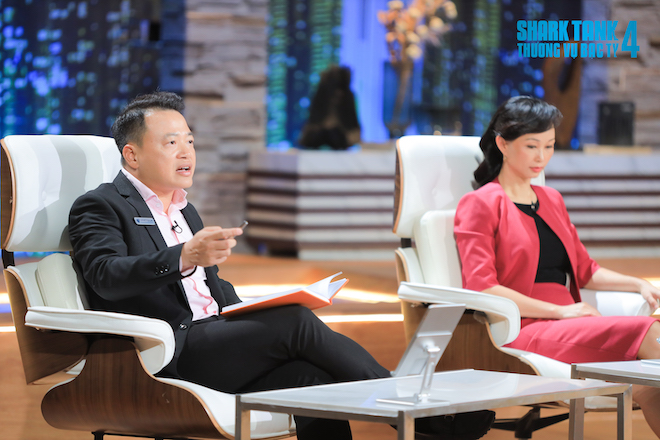 The "sharks" did not see business potential from Pety.
Shark Hung suggested that Pety should develop this app into an e-commerce app about pets. Shark Hung asked the founder, how many users and pet profiles Pety expected in Vietnam.
According to statistics, Vietnam has 23 million people keeping pets and Southeast Asia has 600 million people, Thuy Tran said. She hopes that by the third year, she can cover the entire Vietnamese market. At this time, Ngoc Giang – co-founder and CTO of Pety also expressed his belief that by 2025, Pety will have 100 million users in 50 different countries. causing shark Binh to exclaim: "Dream big".
Answering more questions from the sharks about the cool technological elements of this application, Ngoc Giang said that she has applied artificial intelligence from the smallest steps such as: The ability to self-adjust to the image. cats and dogs show better; use chatbots and personify the application; analyze and remind users of the schedule of medical examination and treatment, vaccination for dogs and cats, …
In addition, Pety also has a feature to assist in finding lost pets, introducing and transparentizing the quality and prices of current veterinary clinics so that owners can feel secure in the process of pet medical examination and treatment. mine. Another special feature of the Pety application is the wishlist function, which describes the pet you want to be raised without financial ability, so that you can connect with people who have pets you want to give.
Although highly appreciative of the startup's idea of ​​​​pet protection, but realizing that the market potential is low along with the startup is not in the investment criteria, shark Lien and shark Phu withdrew from this deal.
Commenting on this model, shark Binh said that making a social network is very expensive and requires a large budget. Despite knowing that the pet community is growing very fast, but it is not suitable for investment taste, shark Binh also announced to withdraw from the deal.
Shark Hung assessed: The application may have potential, but Pety should change the business model, community development is good, but how to develop better cash flow, the advertising business is very unstable. In addition, the shark said that the price right from the first round of Pety was very high, it was difficult for the shark to offer a specific deal, so it refused to invest.
In the end, all 5 sharks shook their heads at Pety.
Source: http://danviet.vn/shark-tank-dan-ca-map-lac-dau-voi-uoc-mo-lon-cua-startup-cong-nghe-nay-5020212…Source: http://danviet.vn/shark-tank-dan-ca-map-lac-dau-voi-uoc-mo-lon-cua-startup-cong-nghe-nay-50202126714592468.htm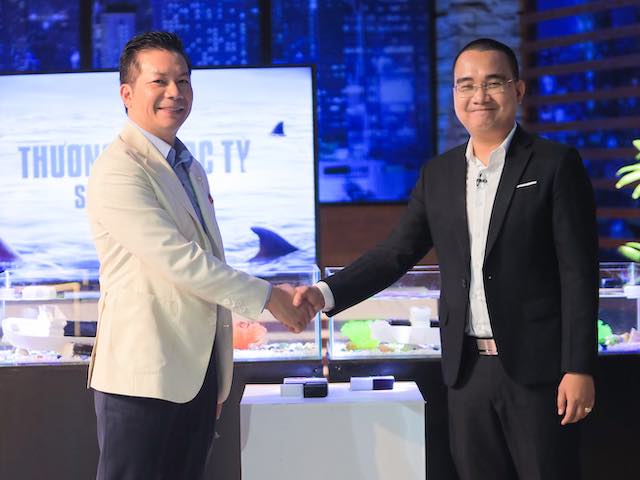 There are different views of the "sharks" in the same tank but Shark Hung did not say it right away, leaving a space alone in the end.
.