Sunday, May 9, 2021 12:55 PM (GMT + 7)
Mainly social network users who are interested and curious about the clip that spread on May 8 are described as recorded at karaoke Sunny.
The "hot" topics always attract "huge" searches on Google tools (Search, YouTube, …). However, with the number of more than 2 million queries like 'Karaoke Sunny' is a phenomenon. Previously, many other hot topics related to storms, floods, football, … also usually stopped at 500,000 to 1 million searches as recorded by Google Trends.
Theme 'Karaoke Sunny' and related keywords.
With 'Karaoke Sunny', related keywords that are most interested by internet users can be listed such as: clip sunny karaoke bar, Sunny, clip sunny bar forever, sunny karaoke, clip karaoke sunny vinh Phúc, sunny bar vinh Happiness, bar Sunny, sunny club, … Through it can be seen that social network users are interested, curious about the clip that spread on May 8 is described as being filmed at karaoke Sunny.
Analyzing more deeply the topic 'Karaoke Sunny', Google Trends said that internet users in 63/63 provinces and cities in Vietnam are searching for it. In which, Quang Nam leads the list, followed by Nghe An, Da Nang, Ha Tinh, Kon Tum, Thanh Hoa, Thua Thien – Hue, … The interest of internet users in Hanoi is in the position 15 and in Ho Chi Minh City is the 35th position.
The peak of searches for 'Karaoke Sunny' was at 22:20 p.m. May 8. Currently, internet users' interest in this topic has dropped by more than half (41% from its peak). However, 'Karaoke Sunny' promises to be a "hot" keyword when many people expect the results of the viral clip verification that is supposed to be filmed at this point.
Before that, from the morning of May 8, a clip was shared on social networks with the description of karaoke Sunny. Karaoke Sunny is an outbreak of COVID-19 with many people involved from staff to customers, especially one Chinese. Also since the appearance of many cases of COVID-19 discovered at this business point, the epidemic situation in Vinh Phuc province has become complicated and spread to many other provinces and cities nationwide.
On the same day, according to information from the People's Committee of Phuc Yen city (Vinh Phuc province), the Finance – Planning Department under the People's Committee of Phuc Yen city issued Decision No. 15 / QD-TCKH to revoke the certificate of household registration. Sunny karaoke bar business of Mr. VTT (in Trung Trac ward, Phuc Yen city). At the same time, Vinh Phuc province police are investigating and verifying that the clip has spread causing a stir on social networks.
Source: http: //danviet.vn/soc-karaoke-suny-thu-hut-hon-2-trieu-luot-truy-van-tren-google-502021951253869 …Source: http://danviet.vn/soc-karaoke-suny-thu-hut-hon-2-trieu-luot-truy-van-tren-google-5020219512538690.htm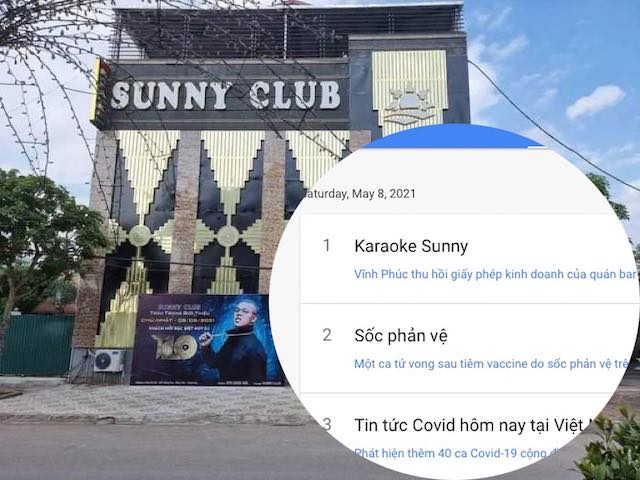 The keyword 'karaoke Sunny' quickly became the hottest topic on Google on May 8.
.