Even though they have become F0, F1, the technology drivers are still calm and optimistic to fight. After recovering from the disease, they also joined the medical support force, spreading positive energy to the whole society.
The hearts "mutual love"
"Having accepted to live with the pandemic, I have to prepare mentally to get sick at any time, no matter how well I cover up, I still have the risk of getting sick. The thing to do is to prepare knowledge so that there is nothing left to know about treatment, don't let yourself be bewildered like others."Mr. Loc Minh Tai, Grab driver-partner recalls having to cope with the epidemic.
Driver Loc Minh Tai spends his lunch break looking for places that need support
Although he unfortunately became F0, Mr. Tai still maintains an optimistic spirit and heart "Injured person as yourself". Immediately after recovering, Mr. Tai and Mr. Nguyen Minh Duc – a fellow Grab technology driver, participated in activities to support F0 cases in the community to share some of the burden with the team. medical. Understanding the anxiety of each patient, every day Mr. Tai spends most of his time counseling and motivating more than 30 F0 patients across Ho Chi Minh City.
While Mr. Tai "rewinds the spirit" of the patient, Mr. Duc still wears the familiar blue shirt, but not to carry passengers or deliver goods, but to transport drugs and oxygen tanks to F0 cases. being treated at home. Previously, within the framework of the program "Saigon, don't skip meals" implemented by Grab, Mr. Duc was also one of the driver partners who volunteered to deliver thousands of meals to hospitals.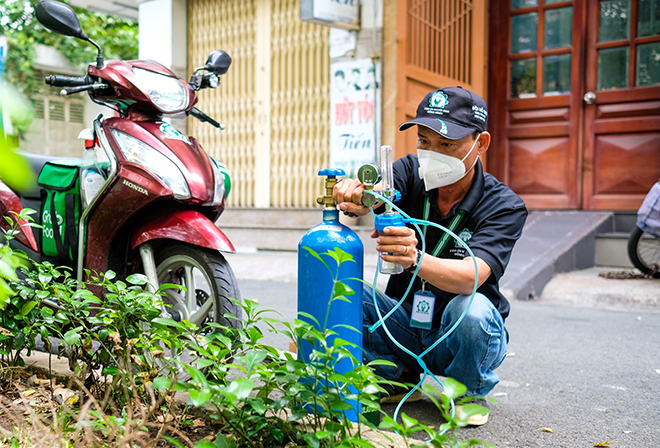 Driver Nguyen Minh Duc on the way to deliver oxygen cylinders for patient F0 for home treatment
Each tech driver happily takes on a different role, but they all share the same spirit of "mutual love", working together to help the city "get well" soon and return to the bustling life as before.
Technologist and rare joy in the middle of the epidemic season
In the context of a prolonged epidemic that caused many workers to tighten their belts, technology driver Vuong Thanh Long was even more worried when he unfortunately became F2, causing his driving job to be interrupted.
However, the timely support from Grab has created conditions for Mr. Long to drive safely and earn extra income to support his family's living expenses. "As soon as the result is negative and eligible to operate, Grab creates conditions for our drivers to return to work to earn money in and out of the fields. In August, we were also supported by PTI's health insurance package Resilience and support for testing fees, so he also felt more secure when driving." Mr. Long could not hide his joy.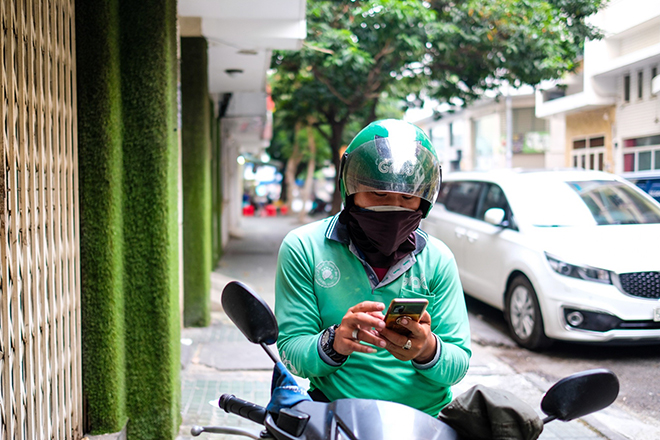 Thanks to the companion and support from Grab, driver Vuong Thanh Long quickly overcame the difficulties of the epidemic season
Although life is still difficult at the moment, it's good that Grab drivers still keep their optimism, continue to firmly handle the wheel to accompany and support people and the whole country to overcome the epidemic. On the completed rides, many Grab drivers have "carried" a lot of love and sharing for the community during the time when Saigon "became the most ill".
The contributions of the drivers are based on a voluntary spirit, stemming from their enthusiasm for the profession. There are also times of fatigue and hardship, but it is the warm affection and genuine concern from colleagues, from Grab's companionship, that motivates them to keep trying.
Perhaps these days because of wearing masks, people are more diligent in looking into each other's eyes and to see many beautiful things. That is the sparkling optimism of technology drivers. Although the epidemic season is full of difficulties, it cannot reduce the love of people and their faith in them.
Source: http://danviet.vn/bac-tai-cong-nghe-nhan-tin-minh-la-f0-nhung-toi-khong-so-hai-50202221117597870…Source: http://danviet.vn/bac-tai-cong-nghe-nhan-tin-minh-la-f0-nhung-toi-khong-so-hai-50202221117597870.htm
.