Saturday, September 25, 2021 19:05 PM (GMT+7)
Grab and Gojek have just released a new announcement about the free COVID-19 test kits for driver partners.
Grab drivers have 2 options
On September 25, Grab said that, following the notice No. 4265/TB-SCT of the Department of Industry and Trade of Ho Chi Minh City, this unit is actively distributing free COVID-19 antigen rapid test kits to customers driver partners in the city, so that the driver can actively perform the test at home and update the test results for Grab.
According to Grab, to ensure the 5K rule, they will send a specific notice on the time and point of receiving COVID-19 test kits to each driver partner, and have planned a specific coordination plan to comply with the regulations. regulations on epidemic prevention and control of the authorities.
Grab technology drivers receive a free rapid test kit to test themselves for COVID-19.
In case of necessity, Grab driver-partners can also perform rapid COVID-19 antigen testing at any hospital, medical center, or medical facility in Ho Chi Minh City, according to the list. the latest updated book of the Department of Health of Ho Chi Minh City, then send updated test results to Grab.
Previously, to support partners, from September 24, Grab launched a program to support the cost of COVID-19 testing for two-wheeler partners in Ho Chi Minh City with a high degree of cohesion and operation. active on Grab app. Specifically, the driver partner who completes the necessary hours of operation on the Grab application will receive a support of 300,000 VND/week to conduct testing every 3 days, thereby ensuring eligibility for operation. according to the regulations of the authorities and rest assured to work with Grab for a long time.
In addition to the program to support the cost of COVID-19 testing, Grab also implemented a program to ensure a revenue of up to 160,000 VND per operating hour, for GrabFood and GrabMart driver partners in Ho Chi Minh City. . In addition, driver partners will also receive an additional bonus of VND 3,000 – VND 5,000 for each completed order when the partner completes the registered operating hours.
Free Gojek until 9/30
On the same day, Gojek said that it has actively worked out possible options to facilitate the highest number of shippers to continue to participate in circulation after September 23, in order to ensure a seamless supply chain. not broken, while ensuring the prevention and control of epidemics.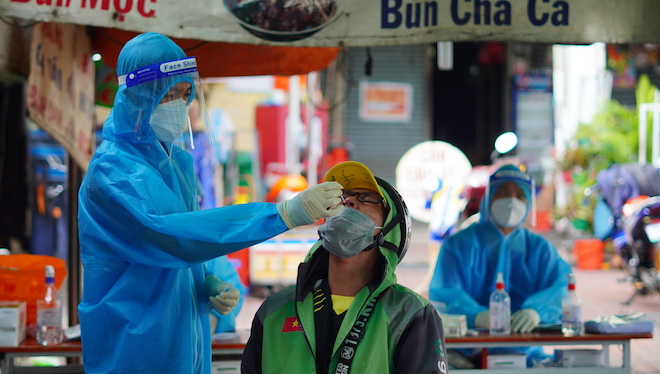 A Gojek driver is collecting a free COVID-19 test sample at a location designated by Gojek.
"On September 23, we received enough rapid test kits for tens of thousands of drivers registered with the Department of Industry and Trade, according to official dispatch No. 3120/UBND-DT, which mentioned the support. Free test kits for shippers until the end of September 30", Gojek informed.
According to Gojek, the rapid test kit is distributed by the company at 36 locations, operating from 6 a.m. to 4 p.m. daily. The company has prepared training materials, self-testing procedures and sent them to drivers via QR code. To avoid crowds, Gojek uses technology to schedule time frames and also integrates this QR code to schedule drivers to pick up the test kits and perform quick tests under expert supervision. subject.
"In the morning of September 25, 80% of Gojek driver partners who received the message received a test kit to perform nasopharyngeal swab sampling. Due to the frequency of testing every 3 days, each day only 1/3 of the total number of drivers on the allowed list received a timer message from Gojek to receive the test kit.After verifying the test results submitted by the driver to the system, Gojek compiled and complete and update this result on the portal of the Department of Information and Communications", Gojek added.
Since the entire test kit is provided free of charge by the authorities, from now until September 30, the Gojek driver partner will not have to pay any cost to perform the rapid test. Gojek said that they will base on the practical implementation in the coming days to continue to improve and offer solutions to support rapid testing for driver partners in the coming time.
Thu Duc City offers free testing for technology shippers
Previously, on September 24, the City People's Committee. Thu Duc (HCMC) said that it will organize free testing for technology shippers at mobile locations in wards in the city. Thu Duc. The free testing period is from 6am to 6pm until the end of September 30.
Shippers wishing to test will register and receive results online. Specifically, register at website https://vnkm.yte.gov.vn or http://vietnamkhoemanh.vn, then choose to register for testing, then choose Ho Chi Minh City or Ho Chi Minh City. Thu Duc. Here, shippers choose the testing location and the most convenient test date and time for themselves; medical declaration and select continue to receive the registration QR code.
Test results will be updated on the website https://vnkm.yte.gov.vn. To check, shippers only need to choose to look up the test schedule according to the registered phone number. City. Thu Duc noted that the shippers arrive on time, make sure to follow the 5K principle, bring the test registration code, phone and identification. For any information that needs support, contact the phone number 19006688 (24 hours a day).
Source: http://danviet.vn/tai-xe-cong-nghe-tu-xet-nghiem-covid-19-cap-nhat-tu-grab-gojek-502021259196296…Source: http://danviet.vn/tai-xe-cong-nghe-tu-xet-nghiem-covid-19-cap-nhat-tu-grab-gojek-5020212591962961.htm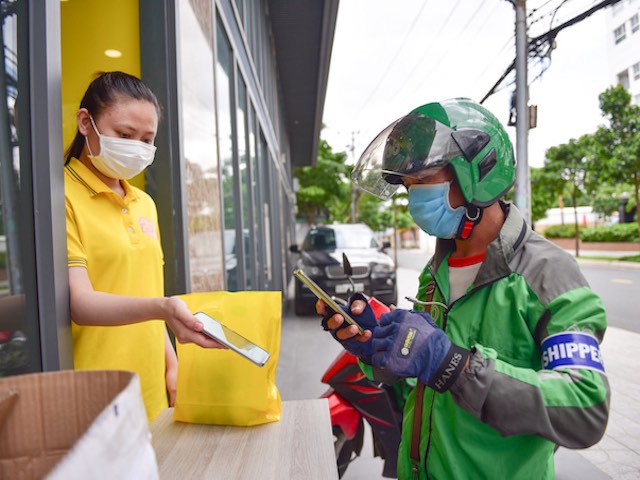 When operating, technology drivers Grab, Gojek, Be, … must comply with equipment according to the shipper identification kit, perform testing …
.