Thursday, September 30, 2021 17:15 PM (GMT+7)
Compared to a week ago "the new normal", there is no longer a scene where the shipping fee exceeds the cost of the goods or the shipper can't be found when ordering through Grab, Gojek, …
Compared to about 2 weeks ago, many people in Ho Chi Minh City said that they have ordered food, bought – sold through the ordering app, and delivery is easier to "stick" to the order. Partly due to the large number of shippers operating again. Besides, compared to a week ago "the new normal", the delivery price has been halved, there is no longer a situation where the shipping fee exceeds the cost of the goods.
Try placing an order GrabFood delivered from District 1 to District 3 with a distance of 2.1km, the shipping fee is 26,000 VND.
It is no longer difficult to "close orders" through the app
Just folded his laptop to prepare for a lunch break, Mr. Quoc Tuan (office worker, District 3, Ho Chi Minh City) received a call from the shipper announcing that he would deliver coffee within 10 minutes. So, after many months of separation, Tuan can finally enjoy his favorite Cheese Coffee to satisfy his "craving".
"In the past, when I was working at the office, I and my colleagues almost every few days would order coffee to drink and "treat" the team to encourage morale. Since the time of separation, working from home has almost completely "weaned off". Luckily this week, when I went to GrabFood to check it out, I saw that the shop "opened" again, so I placed an order, the order was received immediately and delivered quite quickly, "said Tuan.
Sharing the same joy of ordering food, not having to wait for the hard work of the shipper like before, Ms. Khanh Van (Binh Thanh district) said: Her district is in the "red zone", before ordering good food. Essential goods are also … bare because there is no shipper. As soon as the city announced that the shipper could operate inter-district, she excitedly tried it and succeeded.
"Just last week, I opened GrabFood, ShopeeFood, Baemin, GoFood at the same time from morning to noon without any "sticking" orders, sometimes 10 orders got 1 or 2 orders. But this week is different, almost buying food, ordering in a hurry. What I want to eat on the app, I don't waste time cooking like before."
Indeed, not only with Grab but Gojek also recorded a positive signal: If 1 week ago, for every 100 times a customer ordered an order, only 6-10 times could find a driver, then on September 29, the rate The customer has found the driver approximately 80%. It is known that 80% of Gojek drivers are also eligible to work again.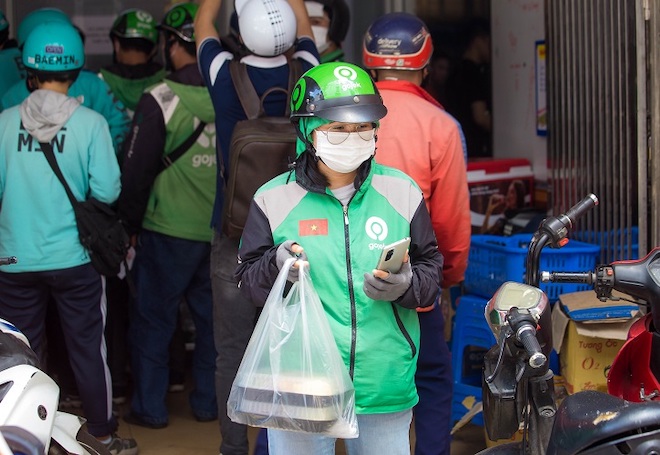 Shops selling take-out are indispensable with the support of the shipper force. (Illustration)
In general, Mr. Tuan and Ms. Van jointly assess that the number of shops reselling on the application is quite a lot from small shops to branded shops. Shipper companies are also more active, with less order being refused due to not being able to find a shipper.
Talking about delivery prices, compared to 2 weeks ago, the price has dropped sharply, many orders previously had a shipping fee of 60,000 – 70,000 VND, now reduced to about 35,000 – 45,000 VND with the same distance. "I see that the current shipping price cannot return to the "normal" level like before the epidemic, but such a reduction is okay. Besides, I think it's okay to ship a little higher, the important thing is that I can order food, but like before, I can't buy anything, it's "sorry", Ms. Van shared.
According to Ms. Van, she sympathizes with the hardships of the shipper world. If they don't wait in line at the shop for a long time, they also have to know many keys, not to mention complying with the regulations on vaccination and COVID testing, which both takes time and affects income.
Sharing the same opinion with Ms. Van, Mr. Tuan shared: "Actually, with the efforts of the drivers in this epidemic season, I personally feel willing to pay a higher price, or even tip more to some extent. commensurate with their efforts during the epidemic season".
Online businesses "breathe"
After many times having to order external shippers with expensive prices for inter-district orders but very few recipients, just this week, Ms. Cam Nhung (an online shop owner in Binh Thanh district) has delivered 9 orders again. on the Ahamove app for guests in multiple counties.
A Grab driver is picking up food at a store in Ho Chi Minh City.
"Before, there were orders to book ships outside, the price sometimes went up to 200,000 VND for places as far away as District 12, for example. I sell oats and other essential foods, so many people need to buy it, both me and the customer "bite their teeth" to ship half of each head, but sometimes there is no shipper to receive. But now it's easy to order the app, the price is clear, the order is regular. The average price per order is around 40,000-50,000 VND, an increase of 15,000-20,000 VND compared to before the epidemic depending on the time frame, I think this level is also reasonable and has decreased a lot compared to a few weeks ago," Nhung shared. .
As a salesperson, Nhung realizes that, during the epidemic season, the role of technology shippers is increasingly important. She herself also sympathizes with this team. "Shipper they run on the street, after passing the gate, they have to stop to present papers and medical declarations, in many places there are barricades, they have to run around, not to mention rain, wind, sunshine, the risk of exposure to F0 is enough. Therefore, on the guest side, I also say the guest sympathizes, not rushes. Many customers also tip the shipper even though my order has already paid for the ship," she said.
"1 – 2 weeks ago, during peak hours like lunch, to be honest, I had to order many times to get a shipper, it took a bit of time; However, it is still a priority to order through the application to easily track orders, grasp the price, and also somewhat rest assured because the shipper's vaccination status can be checked. These drivers are also a professional team, complying with the 5K rule, so both myself and the guests are more secure," said Nhung.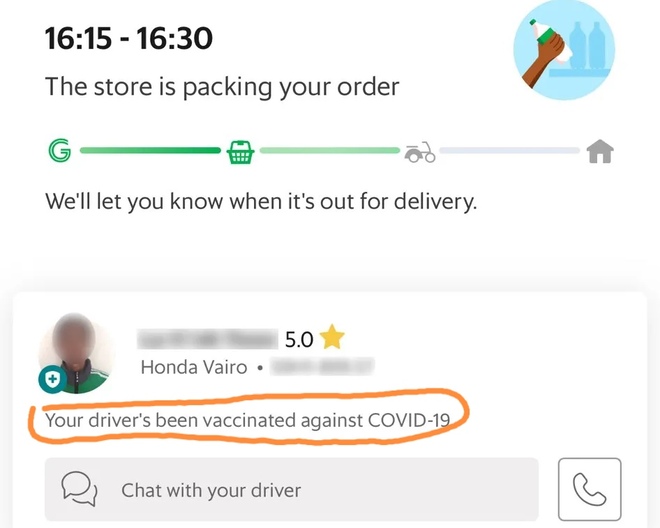 Vaccination information of a tech driver.
Along with the determination to speed up the vaccination campaign, the easing is also opening up hope for a "new normal" in the supply of goods to the people. The shortage of shippers is also relieved when Ho Chi Minh City has about 92,000 shippers registered to operate, which is expected to be more massive in the next few days. As a result, users can have timely access to goods and get prompt delivery at a reasonable price again.
Source: http://danviet.vn/shipper-cong-nghe-tro-lai-binh-thuong-moi-de-dat-hang-va-gia-da-giam-502021309…Source: http://danviet.vn/shipper-cong-nghe-tro-lai-binh-thuong-moi-de-dat-hang-va-gia-da-giam-50202130917152615.htm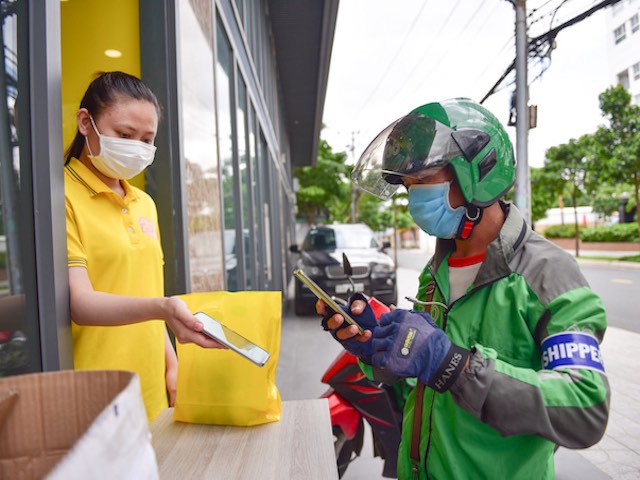 When operating, technology drivers Grab, Gojek, Be, … must comply with equipment according to the shipper identification kit, perform testing …
.