Monday, April 19, 2021 11:00 AM (GMT + 7)
Round 14 of the Arena of Fame Spring 2021 took place with four matches between B2F Gaming – V Gaming, Team Flash – Box Gaming, Fap Esports – Heavy, Cerberus Esports – Saigon Phantom.
Rankings Arena of Fame Spring 2021 after round 14.
Match 1: B2F Gaming 0 – 3 V Gaming
VGM only needs 3 complete points before B2F that they can be completely assured of being in the top 4, no matter how every match then takes place. Therefore, Quang Hai and his teammates entered this match with the highest determination, creating a "comeback" season for them.
Game 1 took place, Maris used Elsu – a general that helped him have his first Mega Kill of the season, combined with Errol in Quang Hai's hand, creating skirmish situations in all 3 lanes. After more than 13 minutes of competition, VGM brought home a first point with 15 kills.
The next two games took place with a similar scenario, VGM quickly won 3 – 0 over B2F, and entered the Top 4 with extremely high form.
Match 2: Team Flash 3 – 1 Box Gaming
The top 4 race is extremely intense when Team Flash needs 1 point to participate in the play-off round. And Box Gaming needs at least 2 points to be sure to stay in the Top 4. Game 1 took place, Team Flash chose a lineup of champions they were most likely to have, ADC went against Fennik, and the duo led the way. playing XB – ProE using Ignis – Y'bneth. On the other side, 20 Percent is in the hands of War God Lu Bu with Akashi and Wonder Woman.
With the determination to have one point in advance to make sure the Play-off rate, Team Flash members actively played, moved properly, restrained the power of main Ara and the 20 Percent "god". Meanwhile, Daim's Violet unleashed a series of damage towards Box, bringing the first win for Team Flash.
However, ProE and his teammates did not stop there, just adding 1 victory, they could take 2nd place, step closer to the final, and they did. Box jumped in game two with Superman's shine in KT's hands, but that's all they could do. Ara and his teammates lost their self-determination when they lost to Team Flash with the score 1 – 3. Thereby, Fap Esports only needs to spend all 3 points against Heavy to participate in the top 4.
Match 3: Fap Esports 3 – 1 Heavy
Fap Esports needs to spend all 3 points before the team "in the way" Heavy to participate in the play-off round. This promises to be an extremely difficult match when GTurtle and his teammates defeated Cerberus Esports, contributing to the elimination of the team from the top 4 race.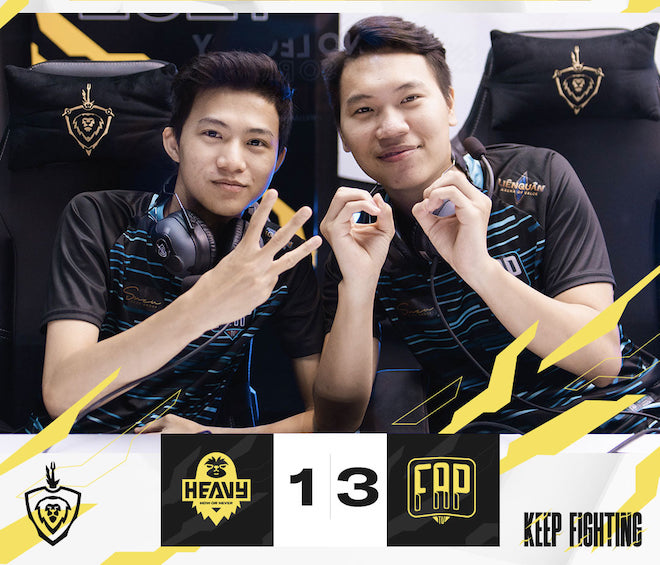 Fap Esports played Heavy.
Game 1 played out, and Lak brought Lorion to the mid lane with the determination to crush The Star, and he did it. Heavy's mid laner moves reasonably well, using the extremely mutant Magnetic Storm in teamfights. In addition, GTurtle always shines in split push situations when constantly bringing in kills thanks to the "solo-kills" phase with General Aoi. Heavy took the first point, pushing Fap Esports away from the top four doors.
However, the first loss game only made KhiênG and his teammates more determined in the next games. The evidence is that in game 2, the FAP members chose a solid lineup with handed generals, they quickly overwhelmed, overwhelmingly won with 14 kills compared to 3 on the Heavy side.
The next two games took place similarly, with no surprises in this match and Fap Esports was the last name to appear in the play-off round.
Match 4: Cerberus Esports 3 – 0 Saigon Phantom
The top 4 race is over, and both Cerberus Esports and Saigon Phantom do not have too many goals to play a fierce match. As promised, Fish appeared in the jungle and Bang replaced Zeref to play the support position. On the other side, Cerberus Esports also changed 3 positions when LH, 16.03, Scizzar replaced 120KG, Huydz and Dyan.
Game 1 took place with an open game, CES competed enthusiastically, proactively advanced through the enemy's forest, focusing on exploiting the "Jungle Player" Fish. Saigon Phantom's rookie used the general "Out-Meta" Violet went to the jungle, was quickly pressed by Judas and repeatedly "assassinated". CES chooses a basic roster while the "Shadow of Saigon" selects rather weird generals to use in their lane. Game 1 quickly ended with a victory for CES, LH owns MVP with General Superman.
The next two games were similar. Although Saigon Phantom rose in game 3, but because the mentality was no longer heavy on achievements, CES continued to get excited and chose 3 points in front of the defending champion. Thereby, closing their season in 5th place.
So the three teams that participated in the Play-off round of the Arena of Fame of Spring 2021 have been revealed, whether Fap Esports, V Gaming and Team Flash. Who will play against Saigon Phantom in the finals?
* Reference: lienquan.garena.vn
Source: http://danviet.vn/duong-kim-vo-dich-dtdv-thua-tham-nhung-van-dau-bang-502021194105825349.htmSource: http://danviet.vn/duong-kim-vo-dich-dtdv-thua-tham-nhung-van-dau-bang-502021194105825349.htm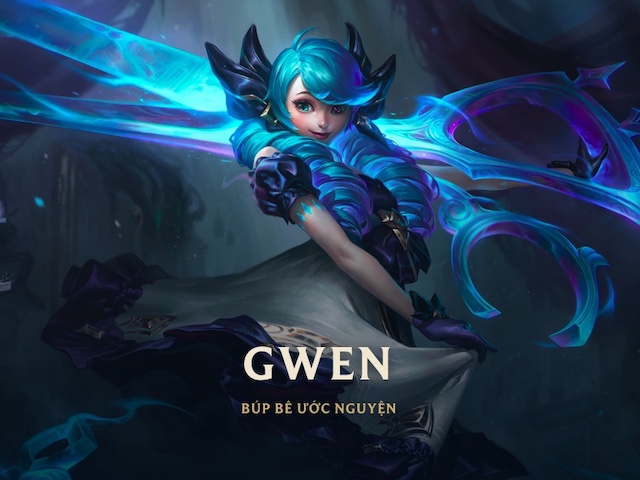 Once a doll, endowed with life through magic, Gwen brings power from the very tools she created.
.