Monday, September 27, 2021 17:40 PM (GMT+7)
The complicated developments of the COVID-19 pandemic made students in many provinces and cities unable to go to school, having to switch to online learning.
Online learning in this situation has been pointed out by experts with a series of difficulties: Students' interaction with teachers and friends is limited, students may have knowledge gaps when listening to lectures passively. through the screen and lack of timely observation of teachers,…
In a seminar recently organized by Grind and Clevai Math startups, Mr. Nguyen Tien Dat (who owns the YouTube channel received the silver button) and Mr. Nguyen Thi Hien – a lecturer at the University of Mining and Geology (who owns the channel). TikTok more than 1.3 million followers) shared many experiences in "Resolving distance when learning online". Both teachers are math teachers.
Webinar "Solving distance when learning online".
Th.S Nguyen Thi Hien said that she mainly teaches on TikTok and Facebook. In online teaching livestreams, she also applies methods to interest students. In which, there is a method of asking open-ended questions related to real problems for students to think about, and a way for students to play some online games related to the subject.
"For example, in the teaching of proportional and inverse proportions for 5th graders, I will ask students to give examples of two quantities that increase in real life. Students give a lot of examples, proportionality such as: The more you study, the more wrinkles your brain gets, the more you learn, the better you get better; the inverse ratio is like vaccinating more people, the number of deaths will decrease. , to interact"Ms. Hien shared.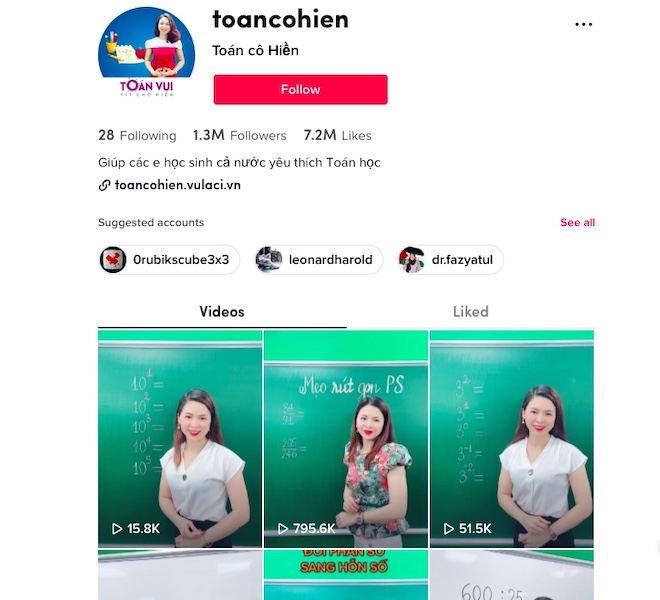 Her TikTok channel has more than 1.3 million followers.
In addition, according to Ms. Hien, she often organizes a game of chasing pictures to catch words so that students can play while studying and relieve stress while studying. But she acknowledges the fact that teachers cannot control the presence and concentration of students; The most important thing is the awareness of the students.
According to Mr. Nguyen Tien Dat, he mainly livestreams on Facebook and YouTube platforms, with shorter sessions using Zoom or Google Meet. According to him, the core of a lecture lies in the curriculum, a successful lecture lies in the preparation of the teacher. But in order to increase the interaction for students, you must always think of ways to be lively when learning online.
"Not interacting with the whole class when studying online is very sleepy, many of you also study in the form of resistance. I will have to think of a way for you to comment, and then when you finish commenting, I will. take the time to talk with you guys, to create a happy atmosphere," Mr. Dat shared.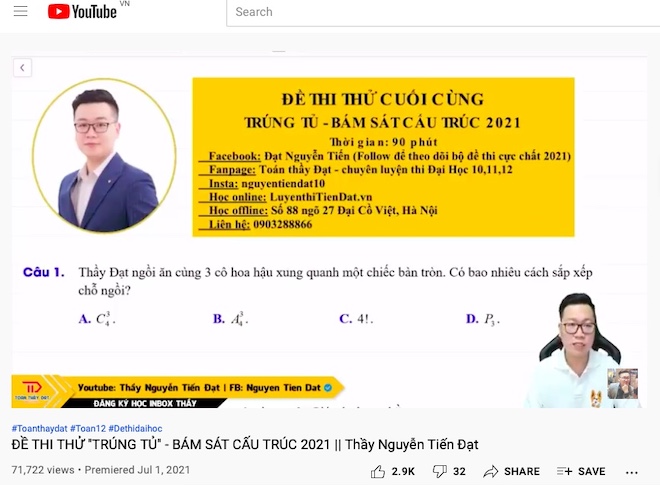 A livestream attracted more than 70,000 viewers of Mr. Dat.
Mr. Dat said that there is a big barrier when teaching on Facebook and YouTube that will teach a very large number of students, up to 20,000 – 30,000 students at the same time. And when so many people look at the Zoom or Meet screen, the teacher can't see all of the students' faces, or it's very detailed and the image quality is low.
Therefore, he had a step of unifying thought when he started teaching. "I see many teachers in the lecture just teach students like that, it turns out that there are students who have a teacher's mindset like a gentle mother, so sometimes they overwhelm teachers. We agree that why Why are you sitting here, and why do you need to study?"Mr. Dat said.
"When learning online, there is often an idea of ​​being comfortable, so students have many ways to oppose the teacher. But I will say the issue of discipline is like teaching face-to-face. At the beginning of the lesson, you must do it. the test, which lasts from 5 to 10 minutes. The test at the beginning of this hour is the questions learned in the previous session, so anyone who is not careful in the previous session will fail immediately."Mr. Dat added.
Source: http://danviet.vn/bi-kip-gay-hung-thu-cua-thay-co-Giao-trieu-view-tren-tiktok-youtube-5020212791…Source: http://danviet.vn/bi-kip-gay-hung-thu-cua-thay-co-Giao-trieu-view-tren-tiktok-youtube-50202127917403959.htm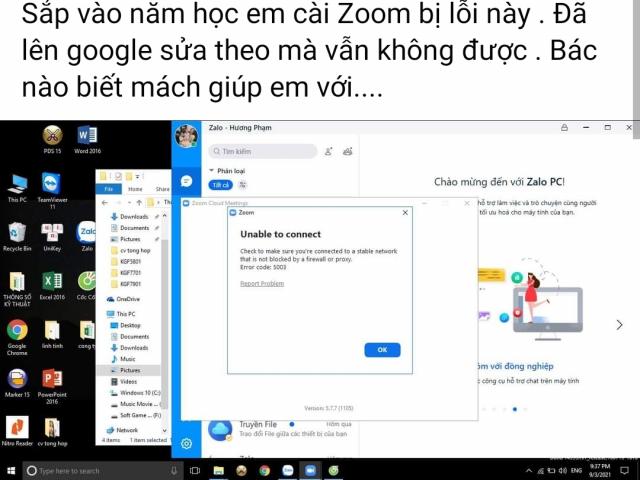 Many families have difficulty in accessing technology devices (laptops, tablets, smartphones, etc.) to study online.
.