Knowing only the numbers displayed on the system of equipment and machines, that is the job of many engineers at SEA Games 31.

Temporarily putting aside the small joys of family meals, not being able to directly watch the matches they love, having to work at maximum capacity, etc. to ensure the IT – Telecommunications infrastructure of the company. SEA Games 31 is safe, throughout, that is the story of the "gatekeepers" for SEA Games 31.
VNPT's team of telecommunications technicians in the rush to prepare and serve for SEA Games 31.
People "behind the scenes"
Throughout the past many days, even though it was 12 o'clock at night, at the National Convention Center, the atmosphere preparing for the 31st SEA Games was still quite exciting. The person who reviews and checks the line; cable pullers, equipment installers; there are both steering speakers, exchange sounds, and machine and equipment sounds. Since the end of April, the entire installation crew of VNPT has started the work of preparing IT – Telecommunication infrastructure regardless of day and night.
"As soon as we received the instructions from the corporation, we had to plan the survey, consider the needs, plan the line connection, etc. There are many items to be constructed and required to be completed. with high accuracy, if it is not completed correctly and early, other departments will not be able to continue their work", Mr. Nguyen Huy Anh – technician of Telecommunication Center 9, VNPT Hanoi recalls the days preparing for the 13th SEA Games that Vietnam will host.
Mr. Nguyen Huy Anh (right) and his colleagues make an international connection to the Internet at the National Center.
It is estimated that in the National Center of Communications alone, the number of cables that need to be connected has reached thousands of meters, not to mention subscriber wires, white optical transmission lines, direct transmission lines to VTV's video cars, etc. All must pull hands, directly spread according to the technical axis.
"There are days when I am so busy working, I am so tired that I just want to fall asleep. But early the next day, still on time on time, still enthusiastically pulling cables and connecting. Tired, but we all feel very happy," Anh shared.
The joy of the "gatekeepers" for SEA Games 31.
In another department, officials and employees at VNPT's information reception desk in the National Center for International Affairs also have to work at full capacity. This is the place to receive information, support services from mobile, 5G, Internet, international broadcasting services, … for not only domestic and foreign reporters, but also support departments and interested parties. relate to.
"The information desk answers questions related to VNPT's services, but in reality, there are many situations that arise. The reporters and units you need to support, we also help, from giving directions, finding places, introducing landmarks, even delicious dishes, culinary culture of Hanoi, Hai Phong, Nam Dinh, …", Mr. Khuong Ngoc Binh – technical expert in supporting satellite broadcasting at National Center of Science and Technology shared.
"Many questions are not professional, but within our ability, we all try to support as much as we can because we know we are contributing to introduce Vietnam to international friends," added Mr. Binh.
Mr. Khuong Ngoc Binh – Technical specialist supporting satellite broadcasting at the National Center for Science and Technology.
At the 31st SEA Games, VNPT has specially invested and brought a series of advanced equipment, machines and technologies, including satellite TV cars, 5G networks for the National Center for International Trade and competition venues. With more than 200 transmission lines including Internet and leased lines, this provider ensures to meet the needs of television stations and media companies of not only Vietnam but also 11 countries in the ASEAN region.
"As the chosen unit to provide services for many major domestic and international events such as the US-North Korea Summit (2019), VNPT understands its responsibility for the success of each event. . Therefore, we are always ready to invest and deploy the items in the most optimal way", said Mr. Pham Minh Thang – technical specialist, VNPT NET Network Infrastructure Corporation.
Mr. Pham Minh Thang (center) – technical specialist, VNPT NET Network Infrastructure Corporation is exchanging work with colleagues.
Sacrificing personal joy for common goals
No noise, no bustle, sometimes feeling a bit dry when sitting alone in the technical compartment, only knowing the numbers displayed on the equipment and machinery system, that is the job of many engineers. , VNPT experts accompanied the 31st SEA Games. In which, there were technicians traveling with mobile broadcasting and broadcasting vehicles.
"The job is related to broadcasting and broadcasting vehicles, so whenever there is an order to move, we will go there. There are big events, you have to go to the car service every week. The task is to always monitor satellite parameters and adjust when necessary, so errors are not allowed, always focused, most alert, most accurate. Going to serve the SEA Games, even though I was about to play a match that I loved, I couldn't watch it directly like everyone else, but I could only watch the replay when I got to my shift on duty. Phan Hong Thuan – technical department of VNPT shared.
Mr. Phan Hong Thuan – VNPT mobile broadcasting and broadcasting technician serving SEA Games 31.
Thuan's story is also the common story of hundreds of VNPT staff during this 31st SEA Games. Even if they have to temporarily put aside simple personal joys such as family meals at the end of the day or favorite matches, all of them voluntarily accept and put all their heart into the task they undertake. All for a common goal, to make the SEA Games a great success, to contribute to glorifying the country's image with regional and international friends. Above all, it is a pleasure to serve the greater joys of audiences at home and abroad.
VNPT is currently providing free of charge IT – telecommunications services, including: Direct Internet channel and monitoring operation at 6 press centers, television, operation center, 37 competition points in Ha Noi. Inner and 10 provinces/cities and competition points, IT center, card center; Wi-Fi network system at Press Center and Television Center (located at the National Convention Center). In addition, VNPT also contributed a large number of equipment as well as technical experts to support data entry of competition results at the competition points (on the part of the organizers) during the organization of the 31st SEA Games. .
"Up to now, all IT – telecommunications infrastructure items that VNPT has agreed to sponsor for SEA Games 31 are operating very smoothly. All officers, leaders, experts, engineers and technical staff of VNPT are trying their best to do their jobs well. VNPT will continue to accompany the organizers during and after the congress to bring the fastest and most accurate information to audiences around the world," said a VNPT representative.
Source: http://danviet.vn/chuyen-chua-ke-ve-nhung-nguoi-gac-cong-thong-tin-cho-sea-games-31-502022215934…Source: http://danviet.vn/chuyen-chua-ke-ve-nhung-nguoi-gac-cong-thong-tin-cho-sea-games-31-50202221593426246.htm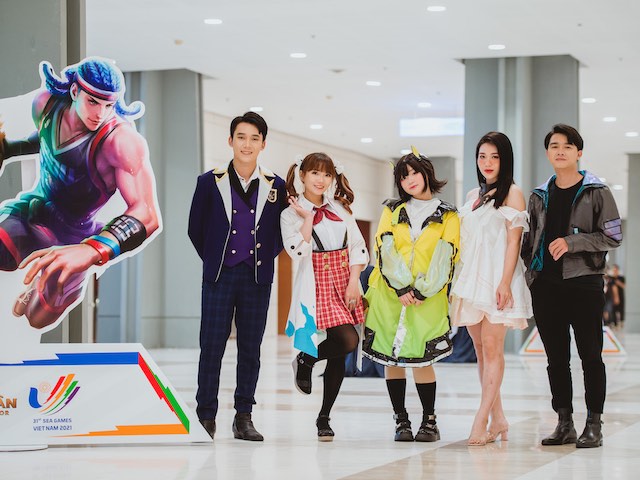 The first images from Lien Quan Mobile arena show the "heat" and enthusiasm right from the opening day.
According to Ngoc Pham (Vietnamese people)
.