Friday, May 14, 2021 16:45 PM (GMT+7)
According to app analytics firm AppFigures, Facebook app downloads have dropped 30% on both the App Store and Google Play year over year.
In May 2020, the Facebook app averaged about 15 million downloads per week. However, that number has now dropped to around 11 million downloads on both iOS and Android. Interestingly, this drop is related to Apple launching the iOS 14 beta in June 2020.
Facebook downloads are decreasing over time. Photo: Appfigures
According to AppFigures, Facebook has experienced a drop in app downloads in the past, but this is the first time this drop has lasted for a year. Although the reason is not disclosed, the analytics company believes this is also partly related to TikTok's growth.
Currently, TikTok remains the most downloaded app on both the App Store and Google Play, with a total of 52 million downloads as of April 2021. On the App Store alone, Facebook has 9.9 million downloads last month, meanwhile, TikTok had 15.9 million downloads.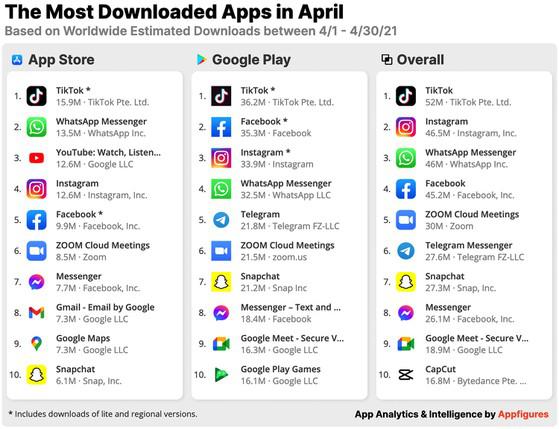 TikTok remains at the top of the most downloaded apps charts on the App Store and Google Play. Photo: Appfigures
Privacy concerns are also the reason some users want to abandon Facebook.
According to a recent Flurry Analytics survey of 2.5 million iOS users in the US, up to 96% of users said they don't want to be tracked online through mobile apps. This means that only 4% of users agree to allow apps to track and collect activity data.
Starting with iOS 14 version, Apple has tightened protection measures, helping users better secure information.
One of the most notable privacy-related features is App Tracking Transparency, which forces apps and websites to ask for permission before tracking and using your data. Not surprisingly, companies that collect a lot of data (such as Facebook) have resisted such a change.
The new rule applies to all apps, including those developed by Apple. To enable this feature, go to Settings – Privacy – Tracking and enable the Allow Apps to Request to Track option.
Recently, Facebook has "encouraged" users to turn on the Allow Apps to Request to Track feature if they want Facebook and Instagram to remain "free". In addition, the company also forces users to accept WhatsApp's new privacy policies if they want to use the full functionality of the application.
Facebook is having a hard time convincing users to enable tracking in the app, but it doesn't appear to be the only thing affecting the company.
Source: https://kynguyenso.plo.vn/ky-nguyen-so/nhip-cong-nghe/day-la-ly-do-khien-luot-tai-ung-dung-faceb…Source: https://kynguyenso.plo.vn/ky-nguyen-so/nhip-cong-nghe/day-la-ly-do-khien-luot-tai-ung-dung-facebook-sut-giam-30- 985167.html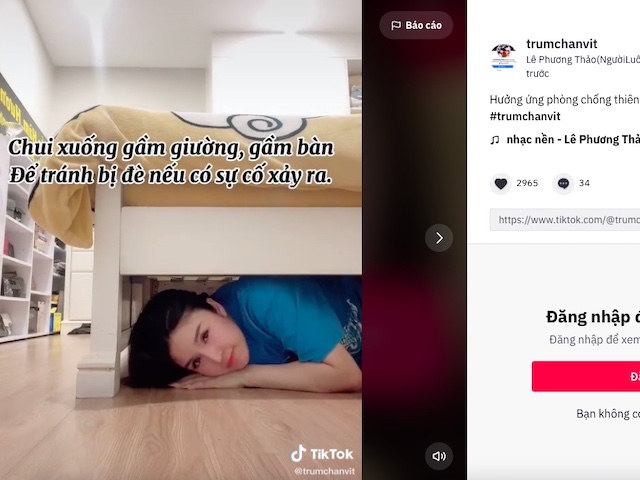 It is the #Phongchongthientai campaign, attracting hundreds of videos with about 6 million views.
.