Tuesday, March 16, 2021 17:00 PM (GMT + 7)
What to learn to become a pilot? Which programming language has the highest salary? 5 Psychological Myths, … are some of the many problems that will be answered by the TikTokers.
With millions of students, April is always a very important time when they have to make career choices to register their aspirations for university entrance exams. Besides the excitement and expectation, many young people still have difficulty in self-directing due to lack of information and practical experience, which in turn leads to inappropriate choices.
Facing that fact, the campaign #TikTokHuongNghiep was born to connect universities, vocational training organizations, experts with the young community of students, students, young people just starting to work. or love business, start-up. The goal is to provide more information, a holistic perspective on the career you want to pursue.
Some clips #TikTokHuongNghiep featured on TikTok.
The campaign is conducted in the form of a hashtag challenge #TikTokHuongNghiep with 2 main contents are "Career Orientation" and "Career Orientation". Hashtags target 3 main groups of participants, including content creators, universities and NGOs across the country.
#TikTokHuongNghiep was officially held from March 10, will last until March 26, 2021. To join #TikTokHuongNghiep, users who shoot and post videos (minimum 15 giaay duration) share experiences and knowledge around subject-oriented or career. The number of videos posted by each person during the contest is unlimited.
Based on the usefulness, freshness of the content and the effectiveness of interaction, TikTok will officially announce the results on March 29. Notably, 3 special prizes including 3 iPad Gen 8 and 10 consolation prizes including attractive souvenirs will be awarded to the creators who own the most impressive video.
After 5 days of implementation, the challenge has received an impressive number of interactions with more than 265 million views and nearly 72,000 videos participating in the response. The diverse content from industry overview, soft skills for students to a marketer's working day are all recreated creatively by the community.
#TikTokHuongNghiep is the latest campaign under the EduTok project ever deployed by TikTok in June 2020. Among them, the most prominent is the hashtag #LearnOnTikTok with more than 800 accounts, 100,000 videos posted and 70 billion views. The EduTok project has opened up a useful knowledge sharing space for the TikTok user community.
Source: http: //danviet.vn/tiktok-mo-kenh-giai-dap-1001-cau-hoi-truoc-ky-thi-thpt-quoc-gia-2021-502021163 …Source: http://danviet.vn/tiktok-mo-kenh-giai-dap-1001-cau-hoi-truoc-ky-thi-thpt-quoc-gia-2021-50202116316592891.htm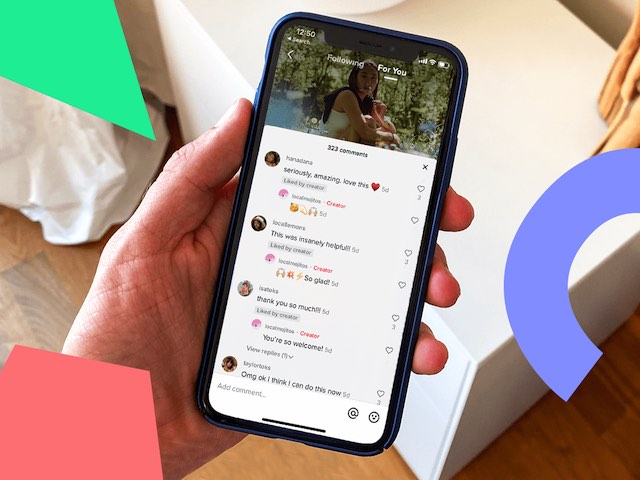 These two features are designed to build a safe, positive and creative environment on TikTok.
.