Saturday 31/10/2020 14:45 PM (GMT + 7)
Nearly 10,000 subscribers of Viettel and MobiFone in 3 provinces of Quang Nam, Quang Ngai, Binh Dinh have been roaming via VinaPhone network.
Typhoon No. 9 caused heavy damage to the provinces / cities in the "intestines" in the Central region, especially Quang Nam, Quang Ngai, Binh Dinh. This storm caused tens of thousands of houses to be blown off their roofs, many electric poles fell down due to falling trees over power lines. Communication systems of mobile carriers are also affected when many BTS base stations cannot operate properly.
VNPT operator's staff works in the middle of the flood and storm season.
In order to ensure communication for the authorities and people, on October 31st, VNPT Group said that they quickly coordinated and supported MobiFone and Viettel to carry out roaming for rent. bag. Accordingly, in areas where MobiFone and Viettel lost the signal, VNPT has opened the roaming of VinaPhone network, allowing MobiFone and Viettel subscribers to use VinaPhone's signal.
According to representatives of VNPT Group, this network operator has opened roaming for MobiFone's subscribers since the afternoon of October 30, while Viettel has completed it on the night of October 30. So far, all Viettel and MobiFone subscribers can roam via VinaPhone network in three provinces of Quang Nam, Quang Ngai and Binh Dinh.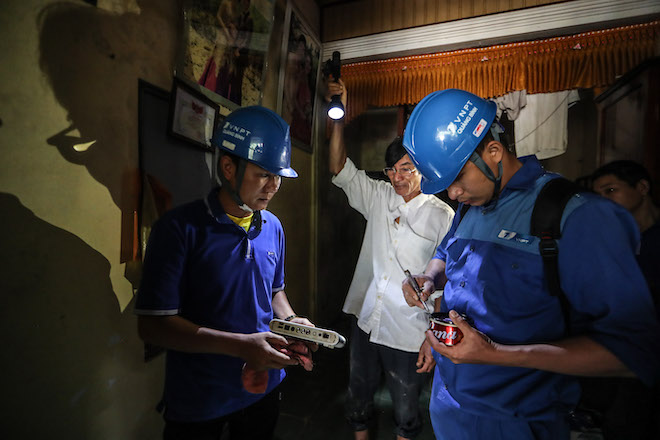 VNPT staff responding to network incidents in the night.
"That is because VNPT has ensured the network security during the last storm and flood. According to statistics, at the peak this morning (October 31 – PV), there are nearly 10,000 subscribers of the network. Viettel and MobiFone in the three above provinces are roamed via VinaPhone network, thereby ensuring smooth communication, "the representative of VNPT added.
Previously, each staff member of VNPT Group also donated a day's salary to support 5 central provinces with the total amount of 10 billion VND in order to help the localities to quickly overcome the consequences of floods. .
On the same day, the representative of Viettel's network operator said that by yesterday afternoon (October 30), Viettel mobile network was basically restored in the central provinces, with no significant damage to assets and security. Absolutely safe for people.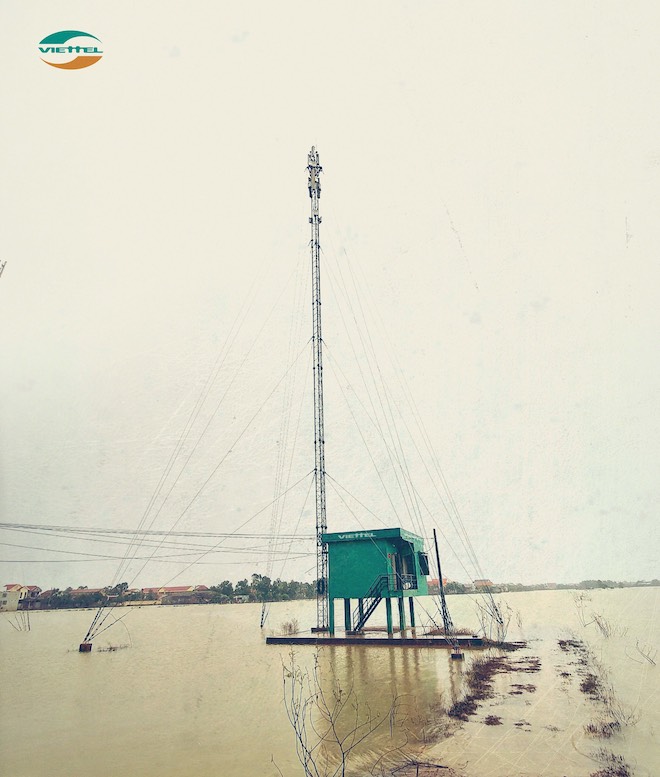 A wave column of Viettel network between flood water.
"Right in the morning of October 30, Viettel Telecom Industry Group was the only operator that completed the restoration of the coverage station in Tra Leng area (South Tra My, Quang Nam). Before that, in Thua Thien – Hue. , Viettel is also the only network that sends telephone waves to the Rao Trang 3, Rao Trang 4, A Lin B1 and A Lin B2 hydropower areas.The presence of Viettel waves in the areas where the above landslide incident occurred. It has an important meaning to help the functional forces' rescue and rescue process take place quickly and help people and workers here connect with their relatives, "Viettel said in a press release.
Mr. Dao Xuan Vu – General Director of Viettel Network Corporation (a member of the Military Telecom Industry Group) added: "We mobilize more than 1,000 personnel, 24/24 on duty, to promptly handle incidents to ensure communication for authorities and people after the storm No. 9. We have also implemented a technical plan for mobile subscribers to automatically connect to the coverage area of ​​the Different carriers (roaming), helping people using any network to maintain communication in emergency situations ".
As with information from VNPT, up to now, Viettel has completed the roaming deployment for mobile subscribers in Quang Nam, Quang Ngai and Binh Dinh; is willing to expand to other localities affected by natural disasters.
Source: http: //danviet.vn/vinaphone-mobifone-va-viettel-bat-tay-chuyen-mang-cho-thue-bao-vung-lu-5020203 …Source: http://danviet.vn/vinaphone-mobifone-va-viettel-bat-tay-chuyen-mang-cho-thue-bao-vung-lu-502020311014451846.htm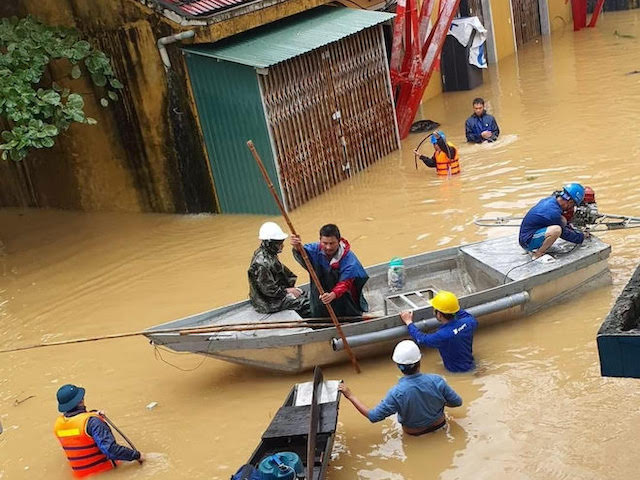 Rain, floods and landslides in Quang Binh, Quang Tri, Thua Thien – Hue caused some telecommunication stations of the network operators …
.