Thursday, September 23, 2021 20:45 PM (GMT+7)
When operating, technology drivers Grab, Gojek, Be, … must comply with equipment according to the shipper identification kit, perform periodic COVID-19 testing and other regulations.
From September 16, technology drivers Grab (with GrabExpress, GrabMart and GrabFood), Gojek (with GoFood and GoSend), Be,… in Ho Chi Minh City have been reopened for inter-district delivery, district and Thu Duc city from 6am to 9pm daily. These drivers must meet the requirements of the authorities, including testing for COVID-19 (from September 24, Ho Chi Minh City allocates kits for businesses to self-deploy).
A Grab driver is making a cashless transaction with a customer.
In order for drivers to operate with peace of mind, limiting the impact on income due to testing costs, Grab has just announced a program to support the cost of COVID-19 testing for 2-wheeler driver partners in Ho Chi Minh City with a high degree of engagement and active activity on this application, starting from 24/24. 9. Specifically, the driver partner who completes the necessary hours of operation on the Grab application will receive a support of 300,000 VND/week to conduct testing according to the regulations of the authorities.
Grab drivers can register with Grab to get a quick test for COVID-19 (75,000 – 160,000 VND/person) at hospitals and medical facilities in Ho Chi Minh City, currently with Tam Anh General Hospital. and 2 facilities of Le Van Thinh Hospital. Those are medical facilities that are cooperating with Grab, have outdoor space large enough to ensure distance as well as ensure 5K compliance during testing.
Tech drivers of ride-hailing apps Beige They will also be tested for COVID-19 antigens meeting the standards of the Ministry of Health at locations in the city. It is worth noting that the testing process is fully digitized by Be, helping to reduce the procedures of queuing, registering, and returning results online within 15 – 30 minutes.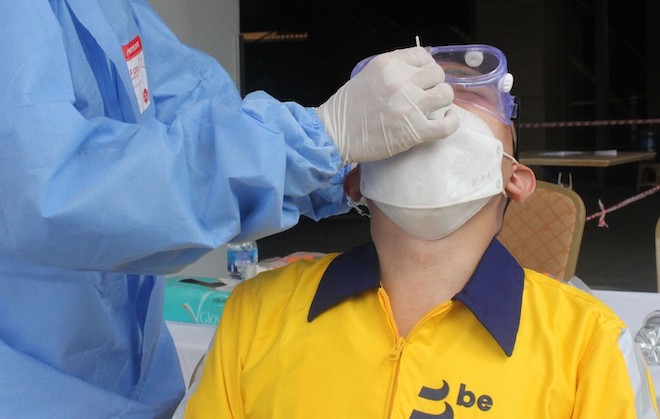 The process of registering and receiving COVID-19 test results for Be drivers has been digitized.
Be affirmed to work closely with the authorities in the management of test data, and at the same time ensure the most reasonable costs possible for drivers. "The whole process is managed by Be's technology platform, which reduces direct contact, is safe and fast, and makes 100% contactless online payments through digital banking," said a Be representative.
Represent Gojek then said that they have registered with the Department of Industry and Trade of Ho Chi Minh City with a list of tens of thousands of drivers eligible to participate in the operation. Only drivers on the list published by the Department of Industry and Trade are allowed to operate. Gojek drivers are also required to comply with shipper identification equipment, testing and other regulations.
Currently, the COVID-19 rapid test kits distributed by Ho Chi Minh City have been moved to 36 locations by Gojek to organize testing for drivers from 6am to 4pm daily. In addition to preparing training materials on the self-testing process, Gojek also uses technology to arrange a time frame and integrate it in a QR code sent to the driver, schedule a time to receive the test kit and do a quick self-test. under professional supervision.
"Since the entire test kit is provided free of charge by the authorities, from now until September 30, the Gojek driver partner will not have to pay any costs to perform a rapid test. We will base on the actual implementation in the coming days to continue to improve and offer support options," said Gojek.
With Grab, in addition to the program to support the cost of COVID-19 testing, they also implement a reward program to ensure the revenue of each driver is up to 160,000 VND in each operating time frame, for customers. GrabFood and GrabMart driver partners in Ho Chi Minh City. In addition, driver partners also receive an additional bonus of VND 3,000 – VND 5,000 for each order completed within the registered time frame.
Currently, Grab is still implementing a program to support driver partners affected by the COVID-19 epidemic with a financial support of 2 million VND in addition to isolation costs, for driver partners who unfortunately have no results. tested positive for COVID-19. These partners will also receive an additional support of 100,000 VND/day (maximum 21 days).
Source: http://danviet.vn/grab-gojek-be-ho-tro-gi-cho-tai-xe-phai-dinh-ky-xet-nghiem-covid-19-5020212392…Source: http://danviet.vn/grab-gojek-be-ho-tro-gi-cho-tai-xe-phai-dinh-ky-xet-nghiem-covid-19-50202123920433016.htm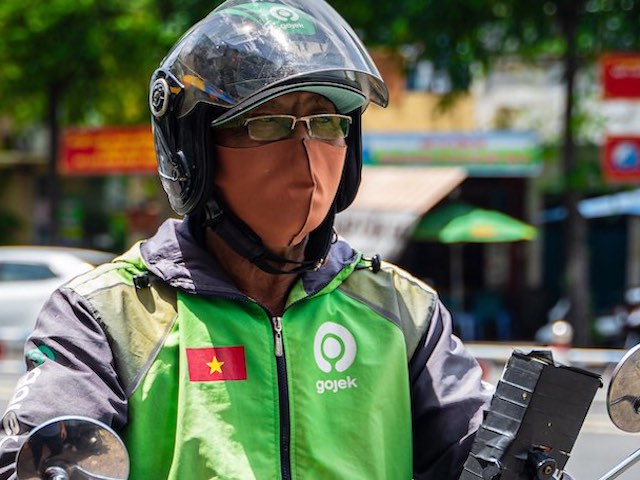 The story of a young man wearing a technology driver's shirt jumping from Binh Trieu bridge (HCMC) as reported by Labor Newspaper…
.