Tuesday, May 4, 2021 09:00 (GMT + 7)
Although it is a food startup, this startup is not dependent on any food delivery unit on the market like Grab or Now.
The startup to launch Shark Tank Vietnam season 4 is King Cua with the appearance of Anh Thu (founder) and brand ambassador of singer Will (former member of group 365) as a shareholder. According to the representative of King Cua, the business was established in March 2016, currently has 5 restaurants with processed crab dishes and exclusive sauces.
Right from the first days of its establishment, King Cua decided to go in the direction of system development, no franchise (franchise). Currently, King Cua is developing a model "King Crab Bike", at a cost of 110 million per vehicle, is expected to open 40 vehicles in 2021. According to the calculations of the founder, breakeven point of King Cua Bike is from 10 – 18 months.
The "sharks" look for potential startups to invest in in Shark Tank Season 4.
With the development of this new model, King Crab comes to Shark Tank to raise the amount of 3.5 billion for a 5% stake. Will said, the general perception of people with average income and below is that seafood is a high class food. Therefore, the development of King Cua Bike costs only 110 million for both the premises and the car will reduce the cost when bringing this item to customers.
Founder Anh Thu shared, in 2020, King Crab's revenue will increase by 20%, profit in 2019 is 4.7 billion and in 2020 is 7 billion. This number caused shark Phu to question the Crab King's appearance at Shark Tank because the amount of profit of King Crab was enough to invest in King Cua Bike. Founder Anh Thu shared: "With the ecosystem of relationships and the resources available to the sharks, King Crab can go faster, the level of victory will be higher".
When asked by shark Binh about Unique Selling Point (competitive advantage), the representative of King Crab said that it is of high quality with exclusive homemade sauces and reasonable prices for middle-income earners because ground costs can be controlled. In addition, King Cua is confident that he can stabilize the quality and taste despite opening 100 restaurants because the business has developed a clear systematic process.
Sharing the digital transformation story, Anh Thu added, King Cua has converted numbers and has an online sales website, not dependent on any food delivery unit on the market like Grab or Now. In this regard, shark Binh acknowledged: "My business path is on the right track, reducing costs, popularizing food can be said to be high-end, pulling it to the intermediate level".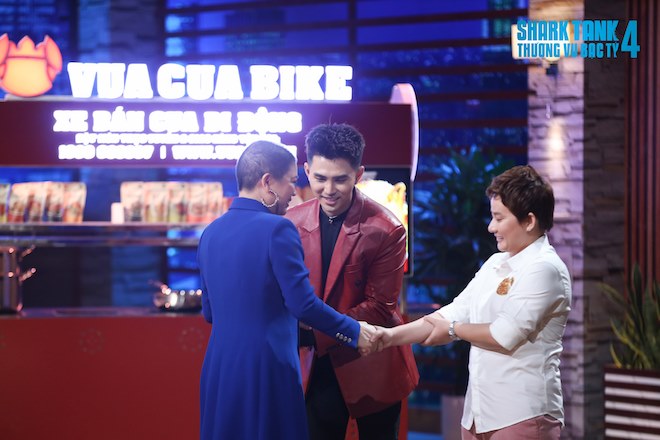 Digital transformation does not depend on Grab or Now, a culinary startup funded at Shark Tank season 4.
Shark Hung said that the restaurant shark invested will payback within 3 years. If you invest in King Crab, the payback period can be about 10 years. Therefore, shark Hung suggested that King Cua could calculate according to DCF (discounted cash flow – discounted cash flow) and payback in 3 years. Therefore, shark proposed an investment of 3.5 billion for 5% and 7% of the brand value of shark Hung goes with King Cua, a total of 12% stake.
And shark Binh offered to invest 3.5 billion for a 10% stake. Additionally, shark Binh can assist with digital conversion and administration issues. Because of different investment fields, Shark Phu and Shark Viet withdrew from this deal.
At this time, shark Lien had not made a decision, so Will convinced "Grandma": "The common ground for Vietnamese people to access seafood is very low … When doing this (King Cua Bike), I want to reach low-income customers and make seafood easy to consumers.". Will also expressed his wish in the future, when referring to Vietnam, people would refer to King Cua as a brand representative for the country.
Shark Lien very sympathizes with the views of Will and King Crab, aiming to bring specialties to low-income people is the value that the shark himself cares about. Shark also shared the story of helping young people to open 10 restaurants in Germany during the time when the shark was stuck in this country because of the COVID-19 pandemic. Therefore, shark Lien offered to invest 3.5 billion for a 10% stake. Shark Lien did not forget to warn: "Remember one thing: Want to go the long way, who do you two choose to fulfill your desires and dreams?".
Shark Hung and shark Binh continued to convince King Cua with their pledges to help the startup compensate for its shortcomings as well as assist the startup in expanding its business network. Shark Hung guarantees to accompany the startup in many things such as assisting with finding and selecting locations, the number does not stop at 40 locations but can be up to a few hundred based on its real estate ecosystem. And Shark Binh affirms: "Digital transformation or death".
After a period of thinking and consultation, King Cua's representative decided to close the deal to invest 3.5 billion in 10% of shark Lien's shares. Explaining this, Anh Thu said that although he was impressed with shark Hung and saw the shark's desire to invest in King Cua, the number of shares currently available to share with new investors is not much. Besides, Anh Thu likes shark Lien because shark is very interested in the LGBT community, as well as shark Lien has the same opinion as Vua Cua on other social issues.
Source: http: //danviet.vn/chuyen-doi-so-khong-phu-thuoc-grab-now-startup-duoc-3-ca-map-tranh-gianh-50202 …Source: http://danviet.vn/chuyen-doi-so-khong-phu-thuoc-grab-now-startup-duoc-3-ca-map-tranh-gianh-5020214585941791.htm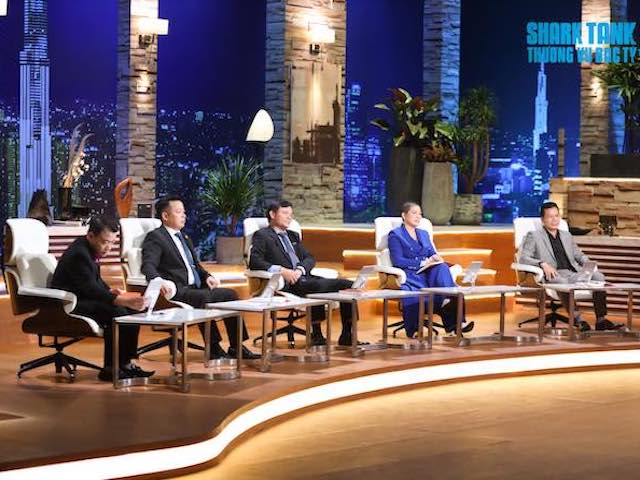 For startups over valuing themselves like Shark Tank season 3, Shark Normal calls them "shitty".
.